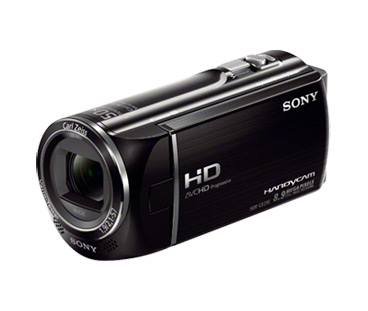 With the advances in social media, and digital and mobile photography, the number of camcorders available on eBay is always high. There are a wide range of manufactures that have a long-standing reputation of creating powerful and inexpensive models for entry-level or budget shoppers, and higher specification camcorders for those who work in the media industry or take photography as a serious hobby.
About Camcorders
Camcorder is the term most popularly known and used to refer to a video camera recorder, which specialises in capturing video footage rather than still images. DSLR and regular digital cameras can also perform this function, though it is commonly thought that the picture produced by these types of camera is not as high-quality as a camcorder designed specifically for the job, suffering lower frame rates, a less powerful autofocus function and being less capable of tracking fast-moving scenes.
Thus it is important to consider whether the intended use of the camcorder is indeed to be used mostly for capturing video footage rather than still images. If this is the case, then there are a number of aspects of the equipment to consider when choosing a model.
Choosing a Camcorder
The following headings detail the various components and functionalities of a camcorder and the things that should be considered before making a decision to purchase a model.
| | |
| --- | --- |
| Price range | Prices for camcorders vary greatly and depend upon a vast number of factors, including the size of the equipment, the recording quality and maximum resolution, and the storage capacity for videos. Second-hand models can reduce the initial outlay, but will likely not include warranties and may have cosmetic defects. |
| Intended use | Carefully consider the intended use of the camcorder, as this will dictate the best features to include in the model purchased. Playback on a widescreen television and video sharing on a website like YouTube will require very different resolution capabilities. An occasional holiday video will take up far less room than daily video blogging. |
| Pocket size or large model | Larger models often have a wider range of features and are more suitable for professional shoots, as they are much easier to purchase equipment such as tripods for. Conversely, pocket-sized camcorders are good for capturing special moments on holidays, at weddings or perhaps for recording videos to share on social networking websites. These pocket-sized camcorders are also usually cheaper. |
| Resolution | The resolution that a video is captured in will determine how clear the picture is, and this will carry across onto bigger screens. If recording in a low resolution, though the picture may appear to play back clearly on the camcorder, it will be more grainy and unfocused when fed into a widescreen television. Higher-resolution video consumes greater memory. |
| Media format | Most camcorders have some degree of built-in storage capacity, so that some video can be stored on the unit itself. However, this is usually very limited and buying a flash memory card is advised. These cards are not too expensive, are offered in varying sizes, and can generally hold a great deal of footage. |
Core Features
This is one of the most important considerations; the core features of a camcorder include some of the following.
| | |
| --- | --- |
| Optical zoom | The optical zoom is important for recording at a distance, without having to be up close to a target constantly. This is represented with an 'x', such as a 10x zoom, 20x zoom and so on. |
| Image stabilisation | This reduces the blur of an image when the camera is moved during a recording. It is almost a necessity for good-quality recordings and is included in most decent cameras and camcorders. |
| Photograph features | Though designed especially for shooting video, most camcorders can capture still images. Some also offer additional features such as a flash, burst shooting and photo effects. |
| Tripod attachment | To get a stable recording or ensure that everybody can be involved in the video, a tripod attachment can be useful, though a tripod is usually an additional cost to purchase. |
Popular Camcorder Brands on eBay
Sony is generally the most popular brand of camcorder sold on eBay, often having nearly twice the number of items for sale than any other particular brand. A large portion of the market share is also taken up by Panasonic, JVC, Canon, Samsung and Toshiba, all of which are well reputed and known as big-name brands. Many of these companies produce televisions and kitchen appliances, amongst other electronics, so feeling safe when purchasing one of these models is easy.
Listing Types
There are two different types of seller listings available when creating an auction on the eBay website, which are the Auction and Buy it Now listings. However, they are not necessarily exclusive, and both parameters can be used in the same sale. There are benefits to using each type of listing, and sellers can use both options to increase their chances of selling an item in some cases.
Auction
These listings work in the same way as traditional auction houses, with buyers placing virtual bids on an item until the timer stipulated by the seller ends; at this point, the highest bidder wins the item and is bound contractually to pay for it. These auctions can be beneficial for getting a good deal, as auctions can often go for less than the price charged in retail outlets or major online retailers. This is not always good for the seller though.
Buy it Now
Conversely, these listings may charge more than auction sales, but allow a much quicker purchase to the buyer, without having to wait until the auction ends and risk being outbidded on an item. Unfortunately, sellers often overprice items using this tool, which in fact discourages those looking to buy the item. This is why some listings have both an auction and a buy it now price.
Search Filters
The seller listings under any category can be narrowed down to suit a range of specific requirements, using filters that include type of, brand of camcorder, the physical condition of the item, the price range that each item falls into, the model name or number, the storage type used, and a range of other options.
Choosing a Seller
Camcorders are a popular item on eBay and as such are sold by a wide range of individual and bulk sellers. Individual sellers usually include those selling off a used camera or passing on an unwanted present, whereas those selling in bulk or selling multiple items are usually running businesses on eBay. The marketplace allows sellers to create virtual shops in order to host a large number of listings in one easy to browse place, and this is common with those specialising in one area such as Cameras & Photography.
Delivery Options
Postage and packaging costs are determined by the respective seller of each item on eBay, who can choose to follow guidance set by the eBay website. There are tables that provide guidance on the best means of determining postage cost based on item size, weight and distance required to post. Alternatively, members may simply set their own estimate or choose to offer postage as free.
Postage for larger or more expensive items is usually higher in cost and comes with more risks. Generally speaking, it is often advisable to opt for recorded or signed-for delivery wherever possible on items that have some value. Camcorders are one example of this.
Conclusion
Camcorders are great for recording special occasions, or for those using photography as a hobby or in their job. Though many digital cameras can capture video as well as still images, they are generally not as adept at performing this function as camcorders designed specifically for the job.
It is important to take a range of things into consideration when purchasing a camcorder, such as the intended use, the budget available and the core features that are needed in the equipment. Online reviews by those who have bought and used the camcorder are a useful tool to use in making a decision. Some of these features are more important than others.
A range of camcorders can be found on the eBay marketplace under a number of different brands, and there are models to suit everyone, from the entry-level budget range, and those suited to shooting casual, occasional videos, up to the more expensive models, ideal for using in a full time job or recording videos on a regular basis.