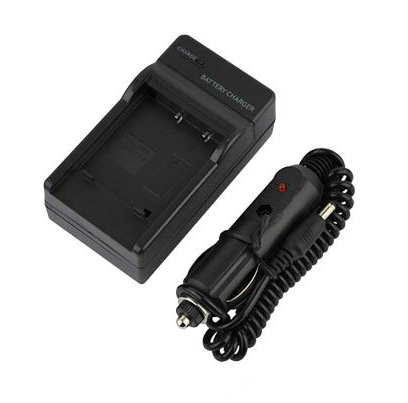 It can be difficult to keep camera batteries charged while travelling. Mains power may not be available or may require a bulky travel adapter to use, or the traveller may simply not be in one place for long enough to charge a camera fully.
A car charger, which allows the camera to draw charge from a car's battery, can be a good solution. The camera can charge during the journey, and it is still conveniently to hand if it is needed.
Typically, the camera is plugged into the DC power socket or cigarette lighter socket of the car using a charger which uses cables with compatible plugs to connect the two. The charger may also regulate the power output from the socket, since this can sometimes be higher than expected, or fluctuate, potentially damaging the camera.
Types of In-Car Camera Charger
While some cameras have a USB charging port, many use their own proprietary shape and style of socket. Even different models of camera from the same manufacturer are likely to have different sockets, so it is important to check the compatibility of the charger before purchase. Other cameras have a removable battery pack, which is charged outside the camera.
Still others use standard household batteries, such as the AA type. Where rechargeable batteries are used, these too can be charged using the accessory socket in a car. The advantage of this kind is that the charger can be used to power batteries for many other applications too.
| | |
| --- | --- |
| Model Specific Chargers | Camera manufacturers will sometimes produce a car charger for their own models of camera, alongside other accessories. This is the best way to ensure a charger will work with the camera in question but may be a more expensive option. Car chargers are not, as a rule, bundled with a new camera on purchase but must be bought separately. Mains chargers will usually be supplied with a camera, however, and it can be possible to use these with a car socket by means of an adapter. |
| Third Party Chargers | Aftermarket chargers made by third party companies are often cheaper than those sold under a brand name. Buying a third party charger may also be the only way to obtain a charger for older models of camera which are no longer supported by their manufacturer. Third party chargers cannot be guaranteed to work with the specified model, however. Some chargers, usually those from third party manufacturers, support multiple models of camera by making use of several different leads and plugs. These may be a permanent part of the charger or may be interchangeable, and they are useful for people with more than one device requiring a charge, such as laptop computers, mobile phones, or MP3 players. |
| Power Fittings | Because there is no standard for powered sockets in cars, the diameter of the socket may vary, and due to their original function as cigarette lighters, their shape is not ideal for retaining a plug. It is possible that a purchased charger will not fit in the socket at all or that it may come loose and fall out of the socket during travel. Newer cars may have USB ports as well as, or instead of, an accessory socket, meaning that cameras and other devices can be charged using a USB charger. However, not all USB ports are powered, and some may not output enough power to charge a camera. There are also USB adapters, which allow USB chargers to connect with an accessory socket. |
How to Buy Camera Chargers for the Car
Shopping for car chargers on the high street has the advantage of letting the customer see the charger before purchase, and perhaps even try it out to make sure it is the correct type for the camera. Since it is not possible for all shops to stock chargers for every model of camera, however, it can be quicker and easier to buy online. This is often the cheaper option, too.
Shopping online for camera car chargers encompasses the online web stores of high street shops, specialist Internet only retailers, and general internet retailers. General sales and auction sites like eBay will probably have the widest range on offer, with a choice of proprietary and third party chargers from all over the world.
Conclusion
Car chargers are a useful accessory for cameras, allowing batteries and battery packs to be charged on the go so that the camera is ready for use when required.
Both cameras and cars have a range of different sockets, so it is important to be sure before purchase that the item chosen is the correct one. Also check that the terms and conditions of the sale will allow the charger to be returned and replaced with a different model, or the cost refunded, if it turns out to be incorrect. This is particularly important to remember when buying online.