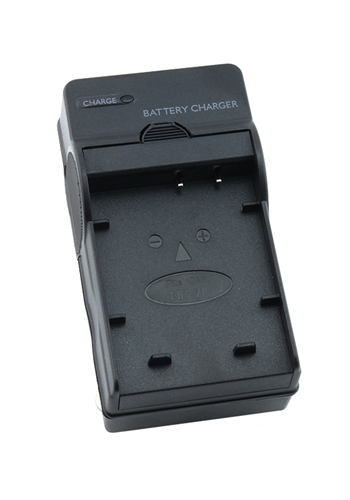 Most digital cameras are sold with an accompanying charger. This is most often the case with cameras that use Lithium ion batteries, as these chargers are so unique to the type of battery used. However, AA rechargeable batteries have wide availability in high street stores, and are also used for a range of other electronic devices such as electronic toys; therefore, the chargers for these battery units are also commonly available, and thus not always supplied with a camera that uses AA batteries as its source of power.
Depending on the camera model, and the type of battery that it uses, a battery unit may be charged in different ways.
| | |
| --- | --- |
| | This type of battery can be sold either as a single pack, for use in an already-owned charger, or as part of a pack that contains a battery charger, in the case of a consumer buying these batteries for the first time. The charger connects to an AC mains plug socket and houses the batteries while charging. Generally, the unit contains an LED light, which changes colour to indicate when the batteries have been fully charged. |
| Lithium ion (external charging) | Lithium ion batteries, charged externally, follow a similar means of charging as listed above, albeit with a different design of charger. Most digital and DSLR cameras and that use a Lithium ion battery will be shipped with a charger supplied. This can then be used to connect to an AC mains plug socket in order to charge the battery, which is housed within the charger for the duration. |
| Lithium ion (internal charging) | Some cameras, using lithium batteries, work in a different way to the above listed methods, by allowing the camera to be plugged directly into the AC mains plug socket via a cable; this still charges the Lithium-ion battery, which can also be removed when necessary. There is no need for a supplementary charging unit. |
Using and Storing a Camera Charger Safely
As most cameras come with a charging unit, safely using and storing the charger can reduce the chance of breakage and thus the need to buy replacements in the future.
Camera chargers should always be kept away from sources of moisture and not left in the plug sockets for extended periods of time; the battery charger should be switched off and removed from the socket as soon as the charging cycle is complete.
Furthermore, many users make the error of winding the charging unit's cable around the central body when storing it between uses. This can damage the cable, particularly at the point where it enters the charging unit, resulting in exposed wires or a faulty connection.
Choosing an eBay Seller When Buying a Camera Charger
Having narrowed the search results to just camera chargers, and picking out items of interest, it is important to consider the seller of each item before committing to buy one. Some sellers could be considered to be more trustworthy, and a positive reputation can help to give a greater sense of reassurance that a sale will proceed smoothly, and that the charger will be delivered quickly.
Feedback Ratings
There are many sellers on eBay with a long track record of delivering reliable and trustworthy sales, with rapid dispatch and delivery, and these can be discovered via the eBay feedback rating system. This system requires buyers and sellers to leave positive, negative or neutral feedback, plus comments, following each completed sale. Reliable sellers generally have high levels of positive feedback.
If a seller has sold many camera chargers in the past, it is possible to view feedback for these specific items to gauge the level of customer satisfaction with the item, if there is a tag stipulating how many of these chargers have been sold thus far.
Large Sale Volumes
Some sellers run their own businesses on the eBay website using the function of the website that allows a virtual space to be used as an online shop. In these spaces, sellers can list all of their item listings, which are useful for those sellers specialising in one area of business, such as cameras and camera accessories. This is a great way to find a wide variety of camera chargers to choose from all under one seller.
What Listing Type to Choose
Sellers have the option of choosing two different methods to list their camera chargers; alternatively, they can choose to use both methods. Buyers can also choose to filter their search results to show only one specific type of listing should they wish, such as chargers manufactured by a specific brand.
Auction Sales
This kind of listing carries a predetermined time limit, during which prospective buyers may place bids on the camera charger. Like a traditional auction, all buyers are competing against one another to obtain an item, and the price paid by the winning bidder is often much less than the RRP of a charger. However, buyers can easily lose out on the item if they are outbidded at the end of the sale; a problem that would not occur with buy it now sales.
Buy it Now Sales
These listings do not carry a timer – unless the seller chooses to use both kinds of listing – but instead have a fixed price that buyers can choose to pay to instantly obtain the camera charger, much like with any online retail website. This means that buyers can avoid the disappointment of being outbidded at the end of a bidding period, and also obtain their charger much quicker than waiting several days for an auction to end.
Postage, Packaging, and Delivery for Camera Chargers
Costs for postage can vary widely. Sellers determine these costs on their own listings and can stipulate any value that they desire, which is then displayed alongside the cost of the camera charger. The type of postage used is also listed, with sellers having the option to use first or second class postage, recorded, or signed-for delivery or an external courier service. For expensive items, it is good to look for a recorded method of delivery to ensure that the item arrives safely and can be tracked. However, it is generally quite safe to send camera chargers by padded first-class postage.
Sometimes it can be beneficial to seek out bulk sellers trading from eBay's virtual shops, as these sellers can often negate the cost of postage due to their large transaction volumes, which results in a saving for the buyer.
Delivery times can vary, and the exact time between a completed purchase and dispatch is usually given by the seller on the item listing. For items coming from international locations – China is a common point of dispatch for many clothing and accessory items – a longer period should be allowed.
Conclusion
The majority of cameras purchased in new condition are supplied with a charger, with the exception being some of the cheaper models that use AA batteries as their source of power.
The method of charging used can vary between camera models and brands, but eBay is an excellent place to locate the many available charger options. With an efficient feedback system and helpful guides and reviews, finding the right product is made easy.