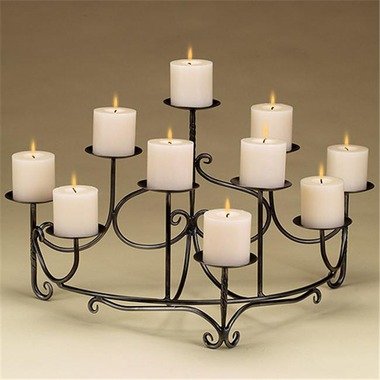 A candelabra is a holder for candles, which supports either just two candles or many more, to form a pleasing display. If the holder supports only one candle, this is called a candelabrum and refers to a different product. Candelabras will enhance the beauty of a dinner table, serving as a dramatic centre piece. Alternatively, they are used to form part of the elegant decor at a special occasion or simply add a touch of understated glamour to a home. The wealth of finishes, materials, and designs available means that every shopper will find a candelabra to fit in with their existing decor, or to suit the purpose they have in mind. Research the huge variety of brands that are on offer and then focus on individual items to discover the perfect candelabra at the right price.
About Candelabras
The word candelabra is from the Latin for candlestick. Candles have been used by people for thousands of years, both to provide light and to mark the passing of time. Devices used for supporting candles effectively, such as candelabras, have also been used since ancient times. At first, candelabras were used in a mainly utilitarian way; the branching arms provided a way of holding multiple candles, greatly increasing the amount of light shed on the surroundings. However, over the centuries their potential for creating an agreeable ambience meant candelabras became far more ornate. They were frequently used in churches, on stage and at social gatherings. Soon, the soft glow of candles presented in such a charming way, made candelabras a popular choice for use in domestic settings too. To this day, although electricity has replaced any need for candles, shoppers still choose to include the timeless warmth of candlelight in their homes. Candelabras are used to add glamour, romance and chic to a modern home. Use one in any room of the house, in a grand or understated manner, to provide a unique talking point for guests. Increasingly, candelabras are used at weddings as part of a theme; they are either positioned in an entrance hall or on tables inside the venue as a stylish centre piece. Similarly, at Christmas, an ornate candelabra could take pride of place on a festive table, while guests enjoy their food bathed in twinkling candlelight.
Choosing a Candelabra
Deciding which candelabra best matches the existing decor of a home, or compliments the palette of a special occasion, will be down to personal preference. Nevertheless, there are a number of factors which can be used to refine a search and obtain the right candelabra. These include the style, design, and price of the product.
Styles of Candelabras
Many candelabras of equally high quality are available; these come with a diverse range of stylistic attributes. This table looks at the most common designs of candelabra.
| | |
| --- | --- |
| Fountain Dropper | A fountain dropper candelabra is highly decorative. It boasts a cascade of either crystal or pearl beads, attached to its branches and flowing toward its base. |
| Crystal Droplets | Crystal droplets come in a variety of sizes, from tiny sparkling dots to larger diamond shapes. They catch the light, effectively magnifying the glimmer of the candles they support.Hanging Candelabra |
| | Hanging candelabras are good for outdoor spaces, as well as inside. They can simply be attached to exposed beams or any ceiling, for an unconventional addition to the home. |
| Glass Tea Light Candelabra | Glass tea light candelabras are constructed to hold a number of small tea lights or votives. They look particularly vintage and provide an air of shabby chic. |
| Standing Candelabra | Standing candelabras make an impact in most settings due to their size. They are often used in pairs to provide a graceful symmetry and balance to any setting. |
| Cake Candelabra | Cake candelabras are added to an iced cake in order to hold the birthday candles. A small yet charming novelty item, for candelabra fans. |
Safety and Maintenance of a Candelabra
As a candelabra uses real candles that burn with a live flame, there are a few safety and maintenance tips which should be followed. Keep the candelabra at a safe distance from any textiles or flammable materials. Do not leave a candelabra unattended once the candles are burning and extinguish any candles which are still lit before leaving the room. Certain designs of standing candelabra should be anchored in place in order to remain stable. Be sure to follow the manufacturer's guidelines when installing this kind of candelabra and use any fixings provided in the original packaging. From time to time, the candelabra will need to be cleaned. Always use a specialist cleaning agent tailored to the material in question, be it silver, enamel, or glass etc. In order to remove any wax that may have run onto the surface of the candelabra, first gently warm the area with a hairdryer, taking great care not to overheat it. When the wax is sufficiently fluid, wipe it away immediately with a clean cotton wool ball, or some robust kitchen towel. During this process, be aware that the surface may heat up significantly. To avoid touching an uncomfortably hot area, wear protective gloves. Also, in order to preserve the integrity of the candelabra, support each branch when cleaning. If undue pressure is placed on an arm during cleaning, it may bend, affecting the look of the product.
Finishes Available for Candelabras
The finish of a candelabra refers to the colour and surface appearance of the product. There are many finishes to choose from, this table looks at some of the more popular ones.
| | |
| --- | --- |
| Glass | Glass candelabras add an air of sophistication. The neutral tone means they are able to be adapted for many different occasions. |
| White | White is a pure and clean colour, a favourite for brightening up a dining table at any time of year. |
| Cream | Cream candelabras are associated with a continental or shabby chic style. The muted tone allows them to blend into any space effortlessly. |
| Antique Gold | Antique gold is a very traditional finish for candelabras. This colour adds a dash of opulence to its location and fits well in a period property. |
| Silver | Silver or silver effect candelabras are also reminiscent of past times and often very decorative. A silver candelabra will be a statement piece in any setting. |
How Does a Candelabra Enhance a Room?
Candelabras are used to complement any room or event. Because they come in such a variety of shapes, sizes, and colours, they are adaptable enough to decorate both modern and period homes or party settings. Candelabras are not necessarily expensive and are customised by using a variety of different candles. Try taper candles for an elegant occasion, or tea lights for a cosier feel. Changing the colour of the candles will alter the atmosphere further, or alternatively use scented candles to fragrance the air and banish odours. Spend some time trying out different looks and locations for the candelabra, to gain the required effect.
Find Candelabras on eBay
In order to buy a candelabra, begin by heading to the eBay homepage. Next start the search by navigating to All Categories and select the home furniture & DIY tab; followed by home decor and then click Candle & Tea light holders. From the type section on the left hand side of the screen, choose candlesticks and candelabra to refine the search. Either examine the results in this section or enter the term "candelabra" into the search box higher on the left of the page. Alternatively, to seek a specific product, for example an unused glass candelabra, use the search box to enter the term "new glass candelabra" to gain a significantly refined set of results.
Conclusion
A candelabra is an attractive and affordable way of brightening a room and makes a unique gift idea for friends and loved ones. There are a wide range of products available, catering for each of the numerous ways and places in which candelabras are used. The process of selecting and purchasing a candelabra will involve a detailed search on eBay, to ensure the purchase is made with confidence. When choosing a candelabra, consider what its intended purpose is, where it will be placed and the effect to be created. Investigate the brands available and the sellers, before centering in on individual products. In this way, be assured of obtaining the most well-suited product at a reasonable price.