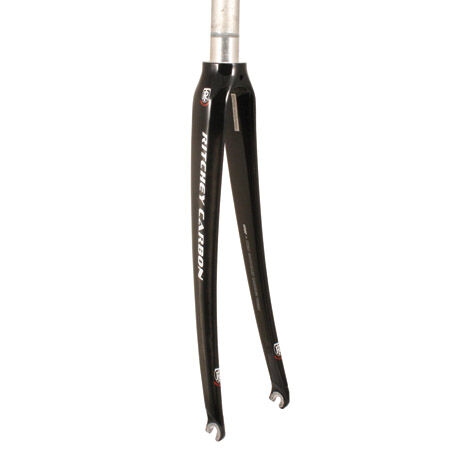 Biking is a hobby that thrill-seekers have taken up in huge numbers, and as such has resulted in many types of bicycle and parts becoming increasingly expensive.
eBay is home to thousands of biking products with everything from forks, brakes and wheels, to fully-fledged bikes available to buy from the site's huge number of knowledgeable sellers.
One of the biggest dilemmas facing owners is whether to upgrade to a carbon fork, and the following guide will explain how to solve this problem and how to buy one safely and securely using eBay.
What Is a Bicycle Fork?
A bike simply isn't able to run without the fork, as it connects the handlebars to the front wheel, which allows movement.
The fork comes in a variety of different styles depending on the type of cycle.
For example, if the bike in question is a mountain bike, then the forks are likely to have some kind of suspension built in.
Each fork has two fork ends that connect to the wheel and these meet at the fork crown that is affixed to the steerer with the handlebars at the head of it.
Different Types of Fork
Most carbon forks are focused on the rigid fork market that is concerned almost solely with racing bikes.
Suspension forks can also be made from carbon, and the table below explains the differences between the two types of fork.
Fork Type

Description

Suspension Fork

Suspension Forks are used on mountain bikes in order to create a greater level of comfort and control.

Usually listed by the amount of travel they feature, which is expressed as a measurement in mm e.g. 150mm to 200mm.

Shock absorber is made from a spring and a damper.

Spring material affects the amount of shock it absorbs and how well the bike performs.

Most forks can be adjusted and require regular maintenance to keep performing at their optimum level.

Rigid Fork

Rigid Fork are usually seen on road or racing bikes.

Can be bought in many different materials and will help or hinder speed depending on the composition.
Fork Materials
To work out which carbon fork is right for you, the buyer, it's appropriate to understand the types of carbon fork available.
The table below lists the different materials used to make the forks and what characterises them:
Fork Composition

Description

100% Carbon Fork

Lightest fork available to buy and is up to 40% lighter than any other.

Can sustain more impact damage than other more affordable alternatives.

The fork is one continuous moulding with no breaks.

Carbon/Alu/Carbon Fork

Carbon fork blades and steering tube.

Crown is made of aluminium and as such, it means they are slightly heavier.

More affordable than full carbon.

Carbon/Alu Fork

Most affordable variety of carbon fork.

Fork is made from carbon.

Steerer tube manufactured from aluminium, along with the crown.
Style of Bicycle
eBay allows buyers to narrow down the selection of forks based on the type of bicycle they are designed to fit.
The following list gives a brief description of the five bicycle types that eBay has listed when it comes to choosing a carbon fork:
BMX– A casual type of bike that has small wheels, and is usually used by either children or those involved in extreme sports.
Cruiser/ Lowrider - Cycle that lets the rider sit in an upright position and is another that is popular amongst casual riders.
Hybrid– Combines aspects of road bikes, touring bikes and mountain bikes in order to make a cycle that can handle a variety of different terrains.
Tandem– General purpose cycle that has two seats and two sets of pedals with two wheels. Normally ridden by two people, although larger versions can seat many more.
Town Bike – Also known as a city bike and designed to be a hop-on, hop-off type of vehicle. Don't traditionally have any gears and are heavier than other bikes.
In terms of actual cycles, eBay also has the following listings:
Mountain Bikes
Racing Bikes
Buying Considerations When Buying a Carbon Bicycle Fork
The purchasing of a carbon bicycle fork on eBay means taking a number of different things into consideration before finalising a deal. The sections below explain some additional considerations to take:
Condition
The carbon bicycle forks for sale on eBay are listed in widely varying conditions, and it's something that must be looked at closely before completing a purchase.
Below is a table outlining the different conditions and what to expect of each one:
Condition

Description

New

Item is brand new and has never been used.

Likely to cost the standard retail price, as if it was bought in a shop.

New other (see details)

Fork will be new except for some slight wear

Most are ex-display models and only have wear from being out in the open. For instance, being accidentally knocked into by a customer.

Used

Fork has been used on another bike.

How much use will vary from one fork to another and it's something that must be questioned before buying.

Not working

Item no longer works and is only useful for replacement parts.

Usually low cost and very useful if trying to fix a fork.
Cost
One of the main considerations when buying a carbon fork from eBay is how much it will cost.
Bicycle forks vary a lot in price and carbon is among the more expensive types of fork on the market.
Many outside factors can influence how much a carbon fork costs and these include:
Condition of the fork
Age of the fork, including the year it was made
Brand
Style
Type
All of these must be taken into consideration when working out if the item is value for money or not.
Age
Older items are much more likely to develop problems further down the line and asking the seller the item's age will determine just how reliable it is.
If kept in excellent condition though, it's unlikely that there will be any problems with the item just because it is older.
Newer items, on the other hand, will last for longer if they are kept in a good condition and not neglected.
How to Buy a Carbon Bicycle Fork on eBay
eBay is home to thousands of different biking products with carbon forks an integral part of the site's extensive selection.
Given there are so many cycling items available to buy on the site, there are now a large number of sellers that have the relative know-how and understanding to make sure the fork that ends up on your bike is the right one.
In order to find carbon bicycle forks on eBay, first go to the Sporting Goods category and follow that by selecting the Cycling sub-category.
When on this page, it's simply a case of clicking on Bike Parts on the left hand side of the page, followed by Forks to bring up a list of every single fork for sale on eBay.
To narrow it down to just 'Carbon Forks', go down the left hand side of the page until you reach 'Material' and click on 'see all' next to it. Tick the box next to Carbon, which will bring up a list of all the Carbon bicycle forks for sale on eBay.
Here is where the buyer can narrow down the selection even further by choosing to list the carbon forks by 'Bike Type', 'Brand', 'Component Type', 'Component Sub-Type' or 'Condition'. These, along with price, are the key considerations to take when buying any product on eBay.
Before committing to a purchase, it's important to check out the seller's past transactions.
eBay gives the buyer the opportunity to do this with an extensive transaction history that is at the heart of every seller's account. If there is a large amount of negative feedback on the profile, it should prompt the buyer to 'Ask the Seller' more questions about any item they're selling.
When confident about an item, the buyer has a number of choices to make in terms of the type of listing. They can make a 'Bid', place a 'Best Offer' if it's an auction, or choose to 'Buy It Now.'
Conclusion
A carbon bicycle fork is an ideal addition to any cyclist's bike and gives riders the chance to become a lot faster. eBay offers thousands of different varieties of carbon forks, and the guide above helps buyers through the process of identifying the correct one before buying it.
The main considerations that buyers need to take before purchasing include:
What type of bike is the carbon fork for?
Is the composition of the fork correct for the cycle in question?
Has the condition of the fork been taken into consideration?
None of the answers to these questions should in any way limit the decision, and the final choice is always with you, the buyer.
When ready to complete a transaction, remember to use PayPal to finalise the purchase in order to make sure everything is done as safely and securely as possible.