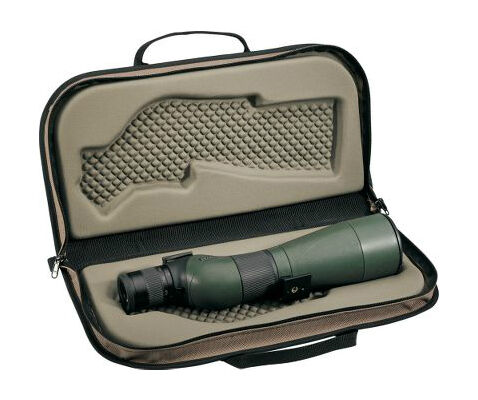 Whilst the sights and scopes used on rifles and other such hunting guns can be permanently attached, it is recommended that after use they are removed from the scope mounts.
Therefore, to prevent any unnecessary damage occurring to the sights and scopes whilst not in use and not attached to the rifle, a case may be required as a means of protection.
There are many different cases available for sights and scopes, ranging in a number of materials, as well as there being an extensive variety of designs to suit personal requirements and tastes. There are also cases that come with additional features to help enhance the shooting experience.
Cases for sights and scopes can be found regularly online, yet auction sites such as eBay offer a chance for a more affordable price. This guide aims to explain how to buy a case and the best way of doing so.
Sight and Scope Case Material
When buying a case for a gun sight or scope, one needs to carefully think about the material of the case. This is for a number of reasons. Firstly, the material needs to be suitable enough to protect the sight or scope. However, some hunters may find it necessary to have a case that, whilst offering protection, can be carried around easily enough. Some hunters also appreciate scope cases for their aesthetic nature, so material is important for them also. Here are the main types of sight and scope case materials:
| | |
| --- | --- |
| Metal Cases | Often, sight and scope cases will be found to be made from metal. Cases of this nature are commonly used for travelling purposes, as well as for the safe storage of sights and scopes. Metal is also appreciated for their aesthetics as a metallic look makes the carrying of sights and scopes look professional. Metal sight and scope cases come in a variety of sizes. There are those that are box shaped that may be able to carry one or more sights and scopes, as well as longer thinner ones that may also allow for the hunter to carry the rifle alongside the scope as an efficient means of storage. Metal cases tend to have metallic handles and are slightly heavier than some of the other materials used in the manufacturing of sight and scope cases. |
| Polyester Twill Cases | Polyester Twill is used regularly throughout the hunting world. It is used for clothing with the likes of jackets, waistcoats and hats all being made from this material. This may be one of the reasons as to why gun scope and sight cases are available in this material. Polyester twill is therefore appreciated as a scope case material as it tends to match the majority of the rest of the accessories and clothing that are used in hunting. Furthermore, polyester twill is a durable material and it is relatively waterproof. There are scope cases available in polyester twill that may also provide the opportunity for the hunter to carry the rifle and scope in the same case, if not whilst the scope is actually mounted on the rifle. |
| Canvas Cases | Canvas is generally regarded as the cheaper option when it comes to gun scopes and sight cases. It is extremely light to carry in comparison to the likes of metal cases and plastic cases. This, however, may be of benefit to hunters who are travelling long distances whilst carrying their equipment by hand as the only weight they feel is the weight of the scope. Canvas cases are not especially waterproof, which is not particularly advantageous. Their design tends to match the general size of a gun scope to allow for the carrying of a number of different scopes and sights. |
| Plastic Cases | Plastic cases are often very similar in design to the likes of metal cases. They can be found as longer cases to enable the carrying of a gun alongside the sight or scope. They can also be found in more of a box shape. Hunters appreciate these box shaped cases as they often contain a number of compartments. Hunters can also use these compartments as a means of storing other necessary equipment such as ammunition and gun maintenance tools and necessities. Plastic cases are lighter than metal cases but tend to provide the same protective qualities. Cases of this nature are often referred to as 'hard cases'. |
Features of Sight and Scope Cases
As well as taking the material of the sight or scope case into consideration, one should also think about the features that are available alongside the case itself. These features can often affect price, as well as affecting the weight of the case and the way it can be transported and carried. Here are some of the more regular features that appear on sight and scope cases:
| | |
| --- | --- |
| Reinforcements | Sight and scope cases will often have reinforced areas of the case to protect certain parts of its contents. For example, a polyester twill case or a canvas case may have reinforcements installed at both ends of the cases in order to protect the lenses. Due to the fact that this is a standard practice amongst sight and scope cases, the price should not be affected too much by the installation of reinforcements. These reinforcements may be made of metal or hard plastic and they follow to the design of the case; so as not to affect the aesthetic or the size too much. |
| Pockets | Some sight and scope cases will feature pockets on the side of the case. This only tends to occur with canvas and polyester twill cases, however. The number of pockets can vary in both size and design. Some pockets will be designed to carry ammunition, whereas others may be able to carry a gun mount. Sight and scope cases with pockets are also of a size that means that they are designed to carry the rifle alongside the sight or scope. |
| Straps | The handles and straps of a sight and scope case are important to a lot of hunters, especially those that wish to carry equipment over extended periods of time. There are sight and scope cases available with smaller handles for short trips, as a small handle would not be an efficient or comfortable means of carrying a case. There are also cases available with shoulder straps that may be cushioned. These are best suited to long hunting trips that may require the hunter to carry a large amount of equipment. |
| Lining | The lining of sight and scope cases is considered to be the most important feature. The lining is the first line of defence for sights and scopes against damage. Commonly, if a sight or scope is placed in a case designed to carry both the scope and the rifle, then the case will have a thick foam lining. Foam is the regular choice for manufacturers and buyers as it is cheap, as well as being extremely effective. Foam lining, however, often only tends to come in metal or plastic cases. A case without lining should be lower on the price scale than a case containing lining. |
Buying a Case for Sights and Scopes on eBay
Once an understanding of the types of case available has been gained, the buying process can begin.
What with there being so many sellers of hunting accessories and equipment online, there is a wide spectrum of prices. However, auction sites such as eBay allow buyers to try and name their own price, especially through the Best Offer and Bidding options that are provided. One also has the chance to buy a case straight away with the Buy It Now option. All of these buying options can be used in conjunction with PayPal, a secure means of taking part in a transaction on eBay.
To see the sight and scope cases available on eBay, one should visit the Sporting Goods category of the site and choose the Hunting option. From here, one can either visit the Sights and Scopes section or the Accessories section and type in specific requirements into the keyword search bar to narrow the search down.
One should also remember to read the product description of the case carefully to ensure that the product matches up to specific and personal requirements when it comes to the likes of material and other additional features.
Conclusion
There are many different things to think about when buying a case for sights and scopes, all of which are mentioned throughout this guide. However, there are two more factors that can also play a role in deciding the best and most suitable case to purchase:
- Size: One needs to buy a case relative to the size of the sight or scope. With there being cases available that allow hunters to carry scopes and guns in the same case, one may also need to buy a case relative to the size of the gun, also.
- Conditions: This is an important deciding factor, especially if one is planning on taking a hunting trip or planning on being outside for an extended period of time. One should take into account the weather conditions for the simple reason that cases should be waterproof. If one is going to be shooting in rainy conditions then the likes of a canvas case will not be suitable. Metal and plastic cases are suitable for all weather conditions and polyester twill cases are somewhat waterproof in comparison to canvas.
Being well read on the types of sight and scope case available can lead to a sensible and secure purchase being made, especially when using an auction site such as eBay that provides plenty of opportunity for this to happen.