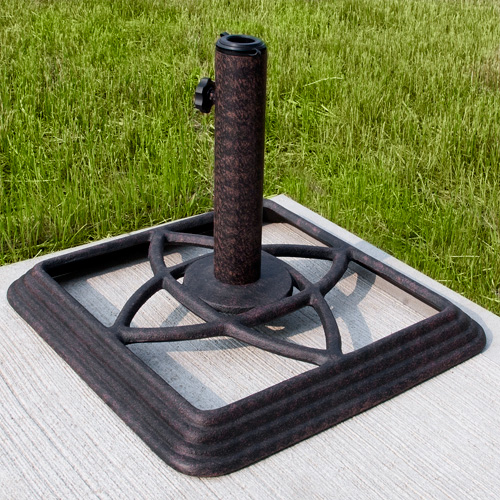 In nice weather, many people enjoy relaxing on their patios, taking in the fresh air and the sights and sounds of the outdoors. With a patio parasol set, homeowners and apartment dwellers alike have a space for dining or playing games with friends. A parasol set includes four chairs, a table, and a parasol that can be opened and closed to provide shade and protection from the bright and often hot sun. If the patio furniture is made of cast iron, as so many are, add-ons such as custom chair cushions make the sitting experience more enjoyable and comfortable.
For those garden furniture sets that do not include a parasol base, the addition of one better anchors the umbrella, ensuring that it will not tip over or topple the table. For this reason, many people opt to purchase a cast iron parasol base, thereby ensuring the umbrella and table will remain solidly planted on the ground even on windy days. Prior to purchasing the cast iron parasol base, however, potential buyers are advised to do their homework. By learning what their options are, warm weather enthusiasts can ensure their satisfaction with their purchase for years to come. Once they have come to a decision with regard to the product they wish to buy, they can take their shopping list to a big-box hardware or department store, a furniture outlet, or a convenient online shopping marketplace such as eBay.
About the Cast Iron Parasol Base
As its name implies, a cast iron parasol base is constructed from durable and long-lasting cast iron. The weight of the cast iron anchors the parasol base, thereby preventing table movement keeping the parasol from flipping over. Long a symbol of outdoor enjoyment, the cast iron table and chair set, including the parasol base, provides a classic and fashionable accent to any backyard patio or deck. Another benefit to the parasol base in particular is its durability, the cast iron able to withstand both weight and weather. Serving dishes and plates full of food are well supported by the table, and guests can feel comfortable in the secure and steady cast iron chairs.
In general, the cast iron parasol base will measure 46 cm in diameter and 36 cm in height, the perfect size for a steady anchor. Cast iron parasol bases generally weigh between 18 and 34 kg, the former recommended for use with a table and the latter for freestanding parasols. A cast iron parasol base requires no assembly and supports a range of designs as well as umbrellas of all pole sizes.
Incorporating a Cast Iron Parasol Base into an Outdoor Living Room Design
Those who enjoy spending great amounts of time entertaining and enjoying the fresh air may opt to create an outdoor living room. A cast iron table and chair set, complete with an eye-catching umbrella anchored by a cast iron parasol base, is often a part of this backyard design. Other accents may include cushioned chairs and foot rests, coffee or end tables made specifically for the outdoors, and an outdoor fireplace or chiminea to take the edge off a cool evening. The addition of a protective wall and gentle lighting make the space semi-private and inviting, thereby illuminating dinners and other gatherings at the table.
In addition to the cast iron dining set, including the parasol and its base, other popular patio accents include fountains or freshwater ponds, LED or solar lights, and even sisal or other outdoor-appropriate rugs. Of course, the garden itself should not be overlooked. The homeowner will want to select shrubs, trees, flowers, and foliage that accent the living space, including the cast iron parasol dining set.
Why Individuals Choose to Purchase a Cast Iron Parasol Base
The primary reason people seek to purchase a cast iron parasol base is to add sun protection to their out-of-doors experience. With a table umbrella, they can enjoy the pleasant weather and gentle breeze without the added heat or UV rays delivered by a hot sun. Beyond protection from the elements, though, a patio umbrella adds a degree of privacy, making the space cosy and concealed. Another benefit to incorporating a cast iron table, chairs, and parasol set into a garden or patio design is the means of suspending Chinese lanterns or other light sources from the bars of the umbrella, illuminating the space and creating a warm and inviting glow.
Supported by the cast iron base, the table and parasol help create an ideal spot to start the day with the morning newspaper and a cup of coffee. By making their parasol base purchase one of cast iron, buyers are assured of the table having added weight and, by extension, stability.
Accenting a Living Space with a Cast Iron Parasol and Base
To be sure, end tables and relaxing chairs are a desirable way to accent and improve the liveability of a backyard or garden sitting area. However, for those who wish to dine out of doors, a table and chair set is a necessity. Unless the backyard or deck area is protected from the sun, buying a set with a parasol is a great idea. With the variety of dining set designs on the market, buyers decide the level of style and fashion for their space. Whatever its design, a cast iron parasol base ensures the umbrella remains upright and in place, a must for any such outdoor dining set.
Cast Iron Parasol Base Designs
Outdoor patio sets can be made of a number of materials, including wicker and wood; however, the cast iron set generally relays the highest level of sophistication. With its intricate scrollwork, often incorporating floral or other design motifs, the cast iron table and chairs help an outdoor enthusiast make a bold fashion statement. The addition of a shade-providing umbrella and comfortable seat cushions provides another means for homeowners or renters to display their personal style. A cast iron parasol base secures and unites the entire cast iron patio set.
Cast Iron Parasol Base Colour Options
When people think about cast iron parasol bases, they generally picture them as being relatively plain and black in colour. However, these hefty garden products are available in a range of colours, including bronze, chocolate, forest green, sage, terra cotta, white, and yellow. In addition, intricate designs in parasol bases, such as a rose or other floral motif, can lend added style to the dining set.
Before Making a Cast Iron Parasol Base Purchase
Obviously, a buyer will need to make a few decisions before bidding or buying a cast iron parasol base on eBay. As detailed above, they will first want to consider any existing parasol, table and chair set; more than likely, they would like the parasol base to coordinate with the rest of the set. If their patio set is of a simple design, they may opt for a more intricate parasol base; conversely, a detailed table and chairs may best be accented with a simple parasol base.
Buying a Cast Iron Parasol Base on eBay
After navigating your browser to eBay, the best place to begin is with a broad search for 'cast iron parasol base&'. There, you can easily review the items for sale, including both freestanding and table-set parasol base options. As you scroll down the page, photographs display a range of colours and designs. Once you know what you are looking for, you can narrow your search by colour, style, weight, or even manufacturer.
Buying on eBay is an easy and secure experience. On the search results page, you can easily review the price of the parasol base as well as the shipping cost and terms, thereby obtaining a precise cash outlay. Make sure to note the buyer's return policy, too, including time limit and who pays for the return shipping. It is also a good idea to review seller ratings and feedback, or even narrow your results by eBay's top-rated sellers. If you prefer to see the parasol base prior to making a purchase, a search on eBay Local may be the right action.
Conclusion
It is human nature to want to spend time out of doors. All winter, people look forward to spring and the warmer weather it brings. When the days are warm, a backyard patio set offers a soothing and comfortable place from which to enjoy the gentle breezes and fresh air. One can dine and entertain in style with a patio set with table and chairs; those constructed of cast iron and that include a shade-producing parasol are popular and functional garden accents.
People purchasing such sets will want to anchor the parasol for stability. This is where the cast iron parasol base comes into play, as it secures the parasol and provides owners with peace of mind. Cast iron parasol bases come in a range of colours and styles, facilitating the selection of the perfectly coordinated and functional accent.
Purchasing a cast iron parasol base may take a bit of research and consideration, but the time spent will pay off in years of enjoyment. An online marketplace such as eBay not only offers an extremely broad range of options, but makes shopping for the parasol base convenient and hassle-free. After finding their perfect item online, buyers can look forward to many days of enjoyment.