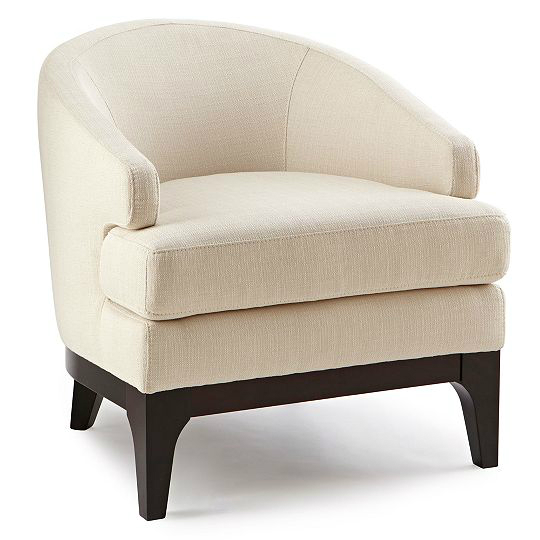 Those furnishing a living room for the first time, as well as those who want to add a chair to an already furnished living room, have some very important choices to make. A quality chair can last decades, meaning that the choice you make now, is one you will be living with for quite a while. There are several variables to take into account when choosing a chair for a living room, only one of which is the style. The size of the chair in comparison with the size of the room and the sofa is also a consideration. Another thing to think about is the seat height and depth.
Chairs today also have a wide variety of features like reclining backs, and different kinds of head support. Finding out about these before buying a chair, can help one avoid regrets later on. The materials and the construction of the chair are also points a consumer should know about, because low-quality chairs are just as commonplace (if not more) than high-quality chairs. Shoppers who are well versed in different chair styles, chair features, living room decor tips, and the signs of high-quality construction, can begin shopping for their next favourite chair, either in furniture stores or online.
Chair Styles
Most people start chair shopping with an idea in mind of the style of chair they want. In many cases, they change their minds after starting to shop. Since impulse purchases often lead to regrets, it is a good idea to know about the different living room chair styles before shopping. Doing so ensures that one will not get sidetracked into buying something that looks attractive and posh, but that does not fit in with the rest of the living room.
Wing Chairs
Wing chairs usually fit in with traditional and classic decor styles, especially when they are made of leather. This type of chair has "wings" on either side of the back that extend forward just a little and create an "L" shape along with the armrests. Modern fabrics can give this kind of chair a more contemporary style, especially when the back is not as high and the wings are a little shorter.
Tub Chairs
Tub chairs have a low-curved back that surrounds the person who is seated. These chairs fit in a variety of decor types but they are often used in minimalist settings because of their clean and simple lines.
Recliners
Recliners tend to be one of the biggest chair types because they are intended to support the entire body in a partially reclining position. Recliners can have one of a few different reclining mechanisms. Some require the user to push back to swing the chair into a reclined position, while others recline with the use of a lever.
Rockers
Rocking chairs come in many designs, shapes, and sizes. They are a classic piece of furniture, providing a gentle rocking motion that many people find very relaxing. Like recliners, rockers need at least a metre of space behind them in order to move freely.
Slipper Chairs
Although many people might not be familiar with their name, slipper chairs are very common. They have short stubby legs, a plush seat, and a low rectangular back. The seat and back are covered in fabric and it has no armrests. Because of the simple design of the chair, it is fairly easy to find slipcovers for slipper chairs. This means the chair can be given a new look simply by adding a slipcover, something that will be appreciated by those who frequently change their decor.
Living Room Chair Features
Of course, there are many more chair styles than the ones listed above. In choosing between all the chair designs that one will inevitably come across, it may be helpful to search by the features it has. Perhaps you need a chair with a firm back. Become familiar with some popular features of chairs before starting to shop for one.
Ergonomic
"Ergonomic" means that a chair is designed to provide optimum comfort and avoid stress or injury. While this is a feature most commonly found in office chairs, it also a feature of many other chair types. Anyone who suffers from chronic back problems should look out for chairs with ergonomic designs.
Head Support
The amount of head and neck support is an important feature of a chair that is easily overlooked when shopping. When trying out a chair in a store or looking at one online, keep in mind the purpose for which the chair will likely be used. If it will only be used briefly, or when there are guests, low-back chairs might be acceptable. However, for relaxing or even reading or watching television, the most comfortable chairs are those that extend all the way up and allow one to rest their head.
Padding
Chairs have different kinds of padding materials. Some padding types include foam and batting. Make sure it is plush enough, but not so plush that you sink deep into the chair. Also remember that too much padding in the wrong areas can lead bad posture and back pain when using a certain chair.
Armrests or Armless
Some people need armrests to feel comfortable, while others find them to be quite a nuisance. Some armrests on specialty recliners, include cup holders or a place for a remote control. Personal preference is the best way to determine whether or not a chair with armrests is right for you.
Seat Height and Depth
Make sure the chair is at a comfortable height and that it has a comfortable depth. There is nothing more tiring than struggling to get to your feet every time you want to stand up. A chair that is too short will make it awkward to stretch out your legs properly, while one that is too tall will leave shorter peoples' feet dangling uncomfortably.
Living Room Decor Tips
Trying to match furniture styles with the overall decor of the room, can seem intimidating if one is not an interior decorator. However, by keeping a few key points in mind, anyone can choose a chair that will fit perfectly with all the other pieces in a room.
Chair, Sofa, and Room Sizes
A new chair should be proportional in size to the rest of the furniture and the room itself. It will be difficult to match a plain wooden chair to a room furnished with large plush armchairs or sofas. Similarly, a huge recliner will call attention to itself in a tiny apartment that barely has space for a sofa and a centre table.
Focal Point
Only one object in any room should call attention to itself. This is the focal point of the room. A fireplace, a scenic view from a window, a striking painting, the television, or a chair can be the focal point of the room. For a chair to be the focal point, it should be of high quality, a unique design, or remarkably comfortable. It may often become a conversation piece. The other objects in the living room should not distract from it. If a chair does not meet these qualifications, it is best not to choose a glaring pattern or a new experimental design. In most cases, the chair should quietly fit in with the rest of the furniture, giving the appearance of having been chosen at the same time.
Complementary colours
A matching colour does not mean the same colour. In fact, it is usually best to avoid choosing a chair that is the same colour as the rest of the furniture. This is because differences in fabric and tone will invariably make the chair stand out as slightly different, even if all the pieces in a room are black, cream, or beige. Instead, choose a colour that is complementary. Consider buying darker colours that will hide stains if there are children in the household. Alternatively, slipcovers and throws can cover and protect a chair. Neutral colours like cream and brown are a good choice since a blanket or a throw can always be used to add a splash of colour if it is needed.
Quality Construction in Chairs
There are several signs of high-quality chair construction. Knowing what to look for will prevent buying a chair that soon starts to sag, warp, or wobble. These signs have to do with the construction of the frame of the chair and the springs inside the seat. Make sure to check with the seller about each of these points.
Kiln-dried Wood
Wood must be dried in a kiln for it to be used as furniture. This is because anything more that a 7 per cent moisture level in the frame, will likely lead to warping. The seller should be able to verify that the frame is kiln-dried; if they cannot, look for a different chair.
Dowelled Joints
Dowels are small wooden pegs used to join pieces of wood in the frame, they are inserted and reinforced with glue. Dowels are stronger than nails and high-quality chairs usually have double, or triple-dowelled construction. Corner blocks add stability to a chair so that there is no play in the joints. Test the stability by putting weight on the chair and wiggling it. Look for corner blocks where the seat meets the legs.
Coil Type
The highest quality coils are eight-way, hand-tied coils. These are interconnected so that they distribute weight more evenly. While they are are more expensive, because of the work involved in making them, they also last longer than other spring types. Other types, like "S"-shaped sinuous springs, are found in many chairs, but tend to sag more frequently.
Cushion Fill Type
The padding can be natural goose down, foam, or some other synthetic material. Down is generally the softest and most comfortable. However, advances in technology are creating foam and other materials that are just as comfortable, plush, and durable. If choosing foam, look for a foam density of 1.5 to 1.8 to provide a good combination of durability and softness.
How to Buy Living Room Chairs on eBay
In the past, furniture shopping involved visiting one furniture store after another until you went through all the local stores and settled on a chair. Today, consumers have a much greater selection available to them with much less work, by shopping online. eBay is a popular place to find furniture for this reason, and because it offers online security as well as competitive prices.
To find a chair on eBay, simply enter a search term like "living room chair&" in the search box on any eBay page. You can refine the listings that appear by choosing a subcategory, or defining various search criteria like condition, price, and even location. Within the correct subcategory, there are even more options you can use to refine a search. These include brand, style, and colour, among others. eBay's advanced search criteria make it fast and easy to find any kind of chair within a matter of seconds.
As with any online transaction, you should always research the seller before entering into a transaction. This is easy on eBay because every seller's feedback history is available for viewing at any time, by clicking on the seller's feedback score. Also make sure to check the warranty on the chair, the return policy, and the shipping information.
Conclusion
Buying a new chair can be a daunting task if one has no idea what to look for. There are so many kinds of chairs that one might be at a complete loss starting out. Some chair types include wing chairs, tub chairs, and recliners. One good way to narrow down the search is to decide on the features that are necessary before starting to shop. This can reduce the chances that one will buy a chair on a whim only to find out that it does not offer enough head support or padding. Many people will also find some home decorating tips useful.
The focal point of the room and the colour scheme are some things to take into account when choosing a chair. Finally, shoppers should be able to spot the signs of shoddy construction. Knowing enough to ask the seller if the frame is kiln-dried and if the joints are dowelled is a good start. High-quality chairs can be found on eBay at competitive prices. With eBay's advanced search functions and safety features, shoppers can find a chair they love in a matter of minutes and order it with confidence.