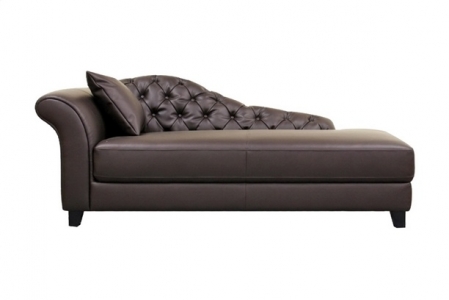 The chaise longue gets its name from French, meaning "long chair". Depending on how you look at it, a chaise longue is either a sofa with a backrest at one end, or a chair with a reclining back and extended seat. The design concept of a bed-chair combination dates back to Ancient Egypt; the chaise design was also present in the ancient cultures of Greece, Mexico, and Africa. In modern Europe, it appeared in France in the sixteenth century as a seat that allowed one to recline on the back rather than the side. In England they were a popular item for wealthy women, who could rest on them during the day without retiring to their bedrooms.
Chaise longues still function as chairs for rest and relaxation, but they can also prove useful as extra seating for guests. They make a unique decorative statement, and come in a range of styles and sizes to match different interior spaces. Given the number of choices, shoppers looking for a chaise longue should consider several issues in advance of their purchase. Factors like size, style, construction, and materials all factor into the decision-making process; informed consumers can find a perfect chaise longue for their home.
Measure in Advance
Before setting out to shop for a chaise longue, buyers should decide where they expect to put it. To help visualise where it should sit, spread out old newspapers on the floor planned for the chaise longue. The average chaise longue measures approximately 150 cm in width, but there are longer and shorter versions available as well. After measuring the area for the chaise longue, also measure the width of door frames, hallways, and stairwells, or any narrow space through which the item needs to pass when being delivered. Shoppers should keep these measurements on hand when shopping, and always confirm that product dimensions comply with their space availability before purchase.
Decide on a Chaise Longue Style
In addition to size, the style of a chaise longue is another preliminary decision that helps focus the buying process. Shoppers should consider their own decorative tastes and the overall look of the room. Chaise longues should harmonise, rather than contrast, with the existing decor. Traditional furnishings include heavier, more ornate pieces. Modern styles gravitate toward neutral colours and simple, straight lines, usually coordinating pieces in a strict format. Contemporary interiors tend to feature geometrical shapes over lines, and can sometimes have a stark aesthetic.
Traditional Chaise Longues
The traditional chaise longue takes its cue from designs of the past. With sumptuous lines, carved legs, scrolled armrests, buttoned backs, and rich fabrics, these pieces complement formal interiors. Their cushions may be overstuffed for luxurious comfort.
Modern Chaise Longues
Modern chaise longues scale back ornamentation in favour of clean, straight lines and an emphasis on form and function. They usually feature exposed legs in wood or chrome, and are generally in neutral colours.
Contemporary Chaise Longues
Often confused with "modern", the term "contemporary" refers to a trend in furniture that began in the 1970s. While contemporary chaise longues may have shared features with modern, such as spare ornamentation and exposed legs, contemporary pieces emphasise geometric forms and may come in bold colours.
Famous Chaise Longue Designs
Pioneering designers of the modern and mid-century modern movement created famous chaise longues that are still in production today. While authentic pieces are quite expensive collectors' items, there are plenty of affordable imitations available. Le Corbusier, for example, displayed his version in 1929 at the Salon d'Automne in Paris. This armless chaise longue with an exposed chrome frame and angular leather seat remains a popular design. The husband-and-wife designers Charles and Ray Eames created a very different version, "La Chaise", for a 1948 competition at the Museum of Modern Art. Inspired by a sculpture by Gaston Lachaise called "Floating Figure", the Eames' curving fibreglass design also seems to float in a featherweight silhouette.
Design Features and Options
There are some variables when it comes to choosing a chaise longue design, including armrests, armrest orientation, and the number of backrests.
Armrests and Armless Chaise Longue
Traditionally, a chaise longue has an armrest along one side. However, some chaise longues may have two low armrests, or none at all. An armless chaise longue does not feature the traditional armrest. In addition to having a sleeker look, it can be placed in any direction.
Left- or Right-Hand Orientation
Some manufacturers offer different configurations for their chaise longues, depending on which side the armrest is located. Left-handed chaise longues have the armrest to the left of the backrest, while right-handed have the armrest to the right.
Double-Ended Chaise Longue
Double-ended chaise longues feature two ends, or backs, with the armrest extending between them. These can be ideal for use by more than one person.
Look for a Quality Chaise Longue Frame
In order for a chaise longue to last, it should have a quality frame. The most durable frames are of hardwoods like maple, oak, elm, beech, birch, elm, or walnut. Look for wood that has been kiln-dried: this process eliminates 93 percent of the moisture in the wood, which greatly reduces the chances that it will warp or shrink. Less expensive frames made from medium-density fibreboard (MDF), are not as durable, nor are those made from pine, which tends to warp after five years or so.
Filling Options for Chaise Longues
The look and feel of a chaise longue is affected by the material used to fill it. Duck down and feather fillings are luxuriously soft and cosy; however, they need to be plumped regularly in order to keep their shape. Foam is another option: it can vary in firmness, but tends to lose its shape over time. A combination of materials may be the best choice; for example, down and foam fillings should keep their shape while being indulgently cushy.
Whatever the material, shoppers should make certain that it is comfortable for them, and suits their needs. Firmer cushions may be better for chaise longues used when entertaining, while softer ones might be preferable for relaxing, reading, and watching television.
Chaise Longue Cover Fabrics
Another very important consideration is cover material. There is a wide range of options from which to choose. Materials vary in appearance as well as durability and cost.
| Material | Characteristics |
| --- | --- |
| Leather | Highly durable, natural material; may be finished for extra durability or unfinished for a soft, natural feel; aniline and semi-aniline are good choices for easier maintenance with superior texture |
| Faux Leather | More affordable than leather; made from synthetic material; resists stains; easy to clean |
| Velvet | Plush fabric with rich, formal appearance; susceptible to wear |
| Crushed Velvet | Posh, mottled velvet; wears better than velvet |
| Chenille | Tufted material of natural or synthetic fibre; adds warm look; durable |
| Silk | Luxurious, lustrous natural material; however, not very durable; requires dry cleaning; expensive |
| Wool | Durable, soft, natural fibre; must be dry cleaned; prone to fading in sunlight; often blended with synthetics |
| Cotton | Durable natural fibre; usually machine-washable; can be dyed any colour for rich hue that does not fade easily; may be blended with synthetics for more wrinkle resistance and easier care |
| Linen | Natural material with slightly fibrous texture for casual, natural look; wrinkles easily and may require dry cleaning |
| Microfibre | Made from polyester fibre with an extremely close weave; soft, suede-like feel; extremely durable, stain resistant, and machine washable |
| Synthetics | Often blended with natural materials for affordability and improved durability; acrylic has wool-like texture and is fade-resistant; rayon resembles silk, but wrinkles easily; polyester, nylon, and olefin improve durability |
When selecting a fabric, consumers should consider how they expect to use the chaise longue. Luxurious fabrics like silk or velvet may be perfect for chaise longues in guest rooms, or which will only get occasional use. For everyday use, shoppers should look for more durable fabrics.
Another consideration is how the fabric blends with the rest of the room's furnishings. Crushed velvet, for example, does not blend well with more subdued textures, whereas a simple cotton chaise may look too plain in a highly decorative room.
Flame Resistance
Cover materials should be flame resistant in accordance with British fire and safety regulations. Buyers should confirm this before purchase.
Care Instructions
The fabric selection should also be informed by the amount of care it requires. Ask for care instructions before purchasing a chaise longue. Some fabrics must be dry cleaned or washed by hand; others can be machine-washed. Certain synthetic fabrics like microfibre are stain-resistant, while natural fibres may be treated against stains.
Chaise longues that are going to be in direct sunlight should have fade-resistant fabric.
Households with small children and pets are best suited by highly durable, stain-resistant materials like finished leather, faux leather, or microfibre.
Tailoring
Shoppers should examine the chaise longue's tailoring, looking carefully at the seams, corners, welting, and cording. There should not be any loose threads, and the seams should be tight or invisible. Patterns should line up at the seamsand flow over the sides continuously.
How to Buy a Chaise Longue on eBay
eBay has a wide range of new and used chaise longues, all at competitive prices. To browse for a chaise longue on the auction website, start at eBay's home page. Enter keywords such as "cotton chaise longue", into the search bar. eBay then lets you narrow your search results by selecting factors such item condition, seller location, and more. For additional information about efficient searching, visit eBay's Search Tips page.
Steps Before Bidding
To ensure a positive transaction, take a few essential steps before placing your bid. First, check the product description carefully for details on materials, condition, and the seller's return policy. If you have a question, you can contact the seller through eBay. Remember too that postage costs are in addition to your bid. Some sellers require local pickup for large items.
Get to know the seller by looking at their feedback rating and reading comments left by previous customers, especially those who have bought furniture. This helps you gauge how reliable and knowledgeable they are.
Conclusion
The chaise longue first appeared in European home decor in the sixteenth century. Since then, this "long chair" has been a furnishing meant for relaxation and leisure. It can also double as extra seating when entertaining guests. Shoppers should consider their personal decorative taste and the intended use of the chaise longue in order to help them make decisions about size, style, structure, and materials.
Choosing a size and style is an important preliminary step, as it helps buyers narrow down the wide field of options. They can choose between traditional, modern, and contemporary pieces in small, medium, or large sizes. Next, they need to choose materials. The best frame materials are kiln-dried hardwoods, and sitting cushions may come in different fillings depending on the desired firmness and shape. Finally, shoppers should choose a fabric that is the best combination of appearance and durability within their budget.
Informing themselves of different choices helps shoppers find the perfect chaise longue for their home.