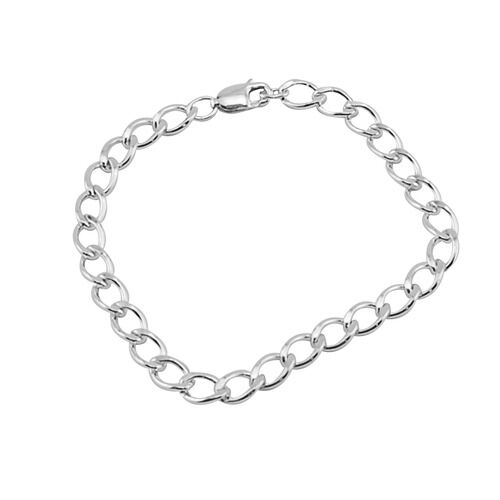 A charm bracelet is a fun and unique piece of jewellery. No two charm bracelets are ever alike, because every buyer can customise her own bracelet to reflect her travels, hobbies, interests, and preferences. Charm bracelets themselves come in a variety of types and styles, and there are many different charms ranging from letters, animals, holidays, and fun tokens such tiaras, purses, and shoes that a consumer can hang from her bracelet.
The great thing about charm bracelets is that they go with just about anything. The majority of charm bracelets are made of silver, and charms are any colour. A charm bracelet also makes a wonderful heirloom that is passed down to future generations as a scrapbook of sorts which depicts the wearer's personality and interests. A charm bracelet is so much more than a bracelet; each charm represents a memory. Adding charms to a bracelet is a lot of fun for a woman of any age. Select a charm bracelet by looking at the various metals, styles, and charms which are available for bracelets to find the perfect one.
Types of Charm Bracelets
There are a few different ways to create a charm bracelet. The most common and traditional type of charm bracelet is made with links that charms clip onto, usually with a lobster style clasp. But there are other types of charms and charm bracelets that fit every personality and style. Choosing a charm bracelet can be a lot of fun.
Traditional Charm Bracelet
The most common type of charm bracelet which most buyers are interested in is made of links. The links are either very small or large, and the bracelet itself is sterling silver or gold. The variety of charms is endless, and buyers are able to personalise their bracelets with initials, animal shaped charms, and charms that commemorate special events like a graduation or Sweet 16, and there are a wealth of charms depicting favourite hobbies, teams, or sports as well.
Charms are simple to clip on and switch out as buyers desire, which makes the bracelets easily customizable pieces. Some charm bracelets have embellishments of their own, such as heart shaped toggle clasps or sparkly bow adornments.
Sliding Charm Bracelet
Another type of charm bracelet is a bracelet where beads slide on to personalise it. Instead of having links to hang charms on, the beaded charm bracelet, also called a European charm bracelet, is simply a rope style chain which allows the wearer to slide charms onto the bracelet, such as name beads, heart-shaped charms, dangling charms, and many other types of charms. This looks more like a beaded bracelet instead of a traditional charm bracelet, but there are a variety of ways to customise this type of charm bracelet, too. These make wonderful mother or grandmother bracelets, as the alphabet beads can be used to spell out a child's name or the words "Grandma".
Beads come in a range of colours and styles. Beads and charms are easy to switch out and change, so the bracelet is made to look different at the buyer's whim. These are great for women of all ages and may even have decorations dangling from the clasp, such as small charms or beads for added embellishment.
Leather or Suede Charm Bracelet
A leather or suede charm bracelet is more like a wristband than a bracelet, and charms have flat backs which allow them to slide onto the band. Charms spell out a name, have animals or other designs on them, or are encrusted with rhinestones. Slider charm bracelets make good friendship bracelets because young girls can trade them and spell out their best friends' names using alphabet letter charms.
These are more simple types of charm bracelets and the range of charms may not be as wide as the other two types of charm bracelets, but for a buyer who wants to customise a bracelet without a bunch of dangling charms, it is a good option. A mother can spell out her kids' names, or a young woman can add charms depicting cats or sports.
Modular Charm Bracelet
Another type of charm bracelet that is similar to the leather or suede type is called an Italian charm bracelet, but it is made of silver with charms that are square and able to be fitted flat against the bracelet. These are also called modular bracelets and charms.
Selecting the Right Charm Bracelet
To find the right charm bracelet, the buyer needs to consider several different aspects of charm bracelets. Since there are several distinct types of charm bracelets, the bracelets not only vary in style, but in price as well. The price of charms varies based on how big they are and what they look like. Essentially, selecting a charm bracelet comes down to the buyer's personal style and preferences, along with buying budget for the charm bracelet.
Style
The buyer should consider her personal style when selecting a charm bracelet. A traditional charm bracelet with dangling charms is an asset to any outfit, and it complements any type of style. However, a beaded bracelet may work more with a buyer's personal style and taste. Choosing the style of the bracelet is a decision solely based on personal taste once the buyer has considered and looked at all of the options.
Charms
Some consumers enjoy the wide selection of charms that a standard charm bracelet offers, while some buyers just want a simple bracelet with letter beads or charms. They should peruse the charms which can be used to personalise a bracelet to see which types of charms might be more appealing, and this could be a big factor in which charm bracelets buyers might end up selecting.
Personalisation
Some charm bracelets lend themselves better to personalisation. A traditional charm bracelet does not offer a way to put a name on the bracelet like a beaded or wristband charm bracelet does. For a buyer who wants a personalised name on her charm bracelet, she may want to purchase one of those two types of bracelets. A traditional charm bracelet cannot be personalised, but different charms can be added to make the bracelet one of a kind and unique to the buyer.
Metal
Although the majority of charm bracelets the buyer sees are made of sterling silver, there are charm bracelets available in yellow gold and white gold. If the buyer would rather have a gold charm bracelet, there are also gold charms available to match a yellow gold charm bracelet. As with most gold jewellery, gold charm bracelets come in different carats, which represent the purity of the gold. A higher number of carats represent a more pure gold charm bracelet.
Sterling silver charm bracelets are often more affordable than yellow gold or white gold charm bracelets, and the charms may be less costly, as well. For a buyer on a budget, a silver charm bracelet might be a better option, especially if the buyer wants to purchase many charms for the bracelet.
How to Buy a Charm Bracelet on eBay
Find a charm bracelet on eBay as well as some new charms to decorate your bracelet with. Search charm bracelets to see what is available, then you can narrow the search based on what type of bracelet you want. Sliding charm bracelets, also called European bracelets, are a good option for you if you like beads that slide on a bracelet, but a standard charm bracelet is fun if you like clipping small charms onto links to create a bracelet. There's loads of great brands available such as Pandora. Pandora offer a wide selection of charm braclets that are available to buy on eBay.
When you are looking at the bracelets, comparison shop for a charm bracelet based on the listings. Read each product description carefully, then you can compare the bracelets by price, the condition the bracelets is in, and what items come with the bracelet, such as extra charms or a jewellery box. You may have questions about the charm bracelet that you would like to ask the seller, and this can be done quite easily by clicking the "Ask a Question" link on the page to communicate directly with the seller before purchasing the item. This ensures you are getting the exact item you want.
Conclusion
Charm bracelets are neat because the buyer can make them unlike any other piece of jewellery, and unlike anyone else's charm bracelet. Collecting charms can become a hobby, and a buyer can pick up new charms when she travels, celebrates a holiday or special occasion, or simply on a whim when a new charm strikes her fancy. Charms are removed easily and switched out to create a whole new bracelet. Charm bracelets are very versatile pieces of jewellery which work for any outfit and are fun for women of all ages.
A charm bracelet also makes good gifts if a consumer is not sure what to buy for someone, because a gift recipient can always customise the bracelet to her own liking. A charm bracelet represents many memories, especially for a woman who has owned her bracelet and collected charms for many years. A charm bracelet which is worn, loved, and filled with charms makes a wonderful heirloom piece to pass down to a daughter or granddaughter, and even the simplest charm bracelet makes a stylish statement.