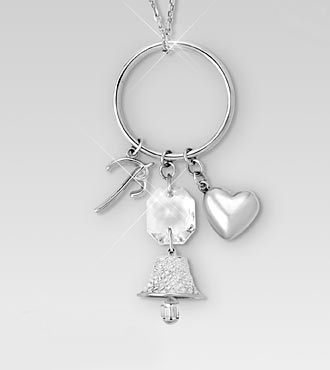 Charms are a beautiful and attractive piece of jewellery that can be worn with bracelets, anklets, and necklaces. They can be worn individually or clustered together. The least expensive charms are made from enamel, plastic, or glass, while others made of precious metals and gemstones can be quite costly. Charms are often worn to commemorate special occasions such as birthdays and graduations, but some are chosen on a "just because" basis.
It seems like there is a charm for just about everything. Nearly every animal, event, hobby, sport, or sentimental feeling has been captured in a charm. For an extra special touch, buyers can have the charm engraved with a personal message or the date. If the buyer needs to buy a chain to accompany the charm, she or he needs to know what size to buy. In order to find the perfect charm for a necklace, buyers should familiarise themselves with the symbolism behind the most common charms and select one that fits their budget and the wearer's style.
Considerations When Buying Charms
Selecting a charm for a necklace takes a bit of time and luck; shoppers should make some choices between a few key factors before commencing their search. Charms are available in a wide range of materials. Most often, the materials used and price are correlative. Before buying a charm, shoppers should set a price range to avoid overspending. The subsections below offer advice on how to select a charm based on the most important criteria.
Material
Charms come in an assortment of options, and the material it is made from is one important aspect to consider. Glass charms, plastic charms, and enamel charms are typically inexpensive, but the downside is they are more likely to break or crack than metal. Alloy metals are in between; they are both durable and inexpensive. Charms typically increase in value the more precious the metal. Sterling silver charms, gold charms, and platinum charms are often the most expensive. Precious gemstones can also raise the price of a charm.
Size
Many charms designed for necklaces are designed to be small, some just a centimetre. Others can be several centimetres in length. Buyers should consider the wearer's style and preferences before choosing a size. Petite women and young girls look best in dainty charms and a thin chain. Tall women can wear long chains are larger charms to accentuate their height.
Price
Charms may be a small addition to a necklace, but they come with a wide range of price tags. The least expensive charms are made of enamel, plastic, or glass. The next price jump is with alloy metals; they are typically inexpensive as well, and the metal design makes them more durable. Gold, silver, and platinum charms are the most expensive, and high end charms can increase in value with the addition of precious gems.
Choosing a Charm
When selecting a charm for a necklace, buyers must first consider for whom they are buying. Many DIY crafters can make a charm, from glass beads to metal castings, and even more personalised. If the charm is a gift, there are several factors to consider, including age, occasion, and preferences. However, if the charm is intended for personal use, then buyers should make sure the charm matches the chain and wearer's style. The following sections offer titbits of information on how to buy charms as gifts or for oneself.
As a Gift
Buying a charm as a gift is a thoughtful endeavour. Many charms have symbolic meaning for the wearer; therefore, it is a good idea to know about the receiver's personality and preferences before beginning the search. Buyers should think about what inspires the receiver, and if there is a charm that embodies his or her beliefs or attitudes. Hobbies are another important element to consider. For example, an equestrian may love a horse charm or horseshoe. Irish lasses or those feeling a little lucky may appreciate a four-leaf clover.
If buying the charm for a milestone, such as a birthday, marriage, graduation, or other significant event, then shoppers should think about getting the charm engraved with the date or a little phrase. The element of personalisation makes these types of charms cherished mementos and keepsakes.
For Personal Wear
There is no rule that charms for necklaces, or any piece of jewellery for that matter, must be received as gifts. Plenty of men and women buy charms for themselves. The first rule is not to mix metals. If buyers have a sterling silver chain, then they should stick with a silver charm. Similarly, gold necklace and charms should be paired together. Once customers know which material they are looking for, they can then select a charm based on personal preferences. For example, many wearers choose a charm based on a hobby or athletic activity. Roller skate charms are perfect for jam skaters and derby players. Cupcakes and sweet treats are great options for bakers and kitchen enthusiasts.
Common Meaning for Charms
Finding the right charm involves knowing the likes and dislikes of the wearer and a little bit of searching. If buying the charm for personal use, the search is typically easier. There are limitless amounts of charms available for purchase. While the list is nowhere near comprehensive, the chart below contains information about some of the most popular charms on the market.
| Charm | Occasion or Significance |
| --- | --- |
| Airplane | For the traveller or those who always seem to have her head in the clouds |
| Anchor | Nautical charm symbolising stability and security |
| Angel | Typically religious charm reminding the wearer she or he is watched over |
| Baby Bottle | Arrival of a new baby; can often be engraved with baby's birth date |
| Ballerina | For the princess or tiny dancer |
| Bride | Celebrates union with spouse; generally engraved with the anniversary date |
| Butterfly | For those who appreciate beauty or are precious |
| Cake | Appropriate for bakers and those with a sweet tooth |
| Cross | Christian charm for those who feel blessed |
| Dolphin | For the fun, playful, and lighthearted |
| Dragonfly | Good fortune |
| Elephant | For those with a life of cherished memories |
| Four Leaf Clover | Brings good luck to the wearer |
| Flower | Many meanings: budding romance, beauty, and vibrancy |
| Heart | The wearer is loved |
| Horseshoe | For horse lovers and those feeling lucky |
| Key | Keys to success and happiness |
| Star | For the dreamer and those who wish upon a star |
| Wishbone | Another charm for the wishful thinkers |
From animals to sports, religious icons to commemorating special occasions, customers can find an array of charms in local jewellery stores and online websites. The chart above is designed to give a broad interpretation of many charms. However, each relationship between the buyer and the seller is unique, and buyers should focus more on their personal connection and find a charm that is significant to both of them.
Chain Length
Charms are sold individually, and other times they have a chain included. In addition to considering the necklace's composition, buyers must account for its length. Moreover, customers must consider the size of the charm. Small charms are ideal for shorter chains, and they may get lost on longer ones. If purchasing a chain in conjunction with a large or heavy charm, shoppers must make sure the chain can hold the weight. The following chart gives the average length of certain types of necklaces and wear they fall in relationship to the neckline.
| Necklace | Length (cm) |
| --- | --- |
| Choker | 40 |
| At the Collarbone | 43-48 |
| Right Below the Collarbone | 50 |
| At or Slightly Above the Neckline | 55 |
| Below the Neckline | 60 |
The previous information is accurate for adult sizing, and the scale should be adjusted for children. If the buyer is purchasing both a necklace and charm for a small child, it is a good idea to buy one that he or she can grow into.
Buying a Charm for a Necklace on eBay
After getting back your first search results for charms on eBay, you have the opportunity to refine your search with even more specific criteria. Use the filters to narrow down your results even more. The more filters you apply the more focused your results are. Select a charm based on style, theme, material and more, you can even enter in an acceptable price range to stay within budget.
Once you have found a listing that fits your search criteria, read the entire listing to ensure you understand what the seller has to offer. If any part of the listing seems unclear, feel free to contact the seller through the Ask a Question link. It takes you to a Find Answers page that has answers to several common questions. If the question still remains unanswered, when prompted to reply if the question had been answered, buyers can select "No, I want to contact the seller" and follow the onscreen instructions to get the seller's attention.
Conclusion
Charm necklaces are a great way to personalise an outfit, or they are a thoughtful gift for those reaching an important milestone. Chains can hold a single charm, or several at once; wearers must make sure the necklace durable enough to hold the weight. They should be mindful of the size chain they need; moreover, wearers should shy away from mixing metals. If the chain is gold, the charm should be too. Buyers with expensive taste can opt for diamond-encrusted charms, or for a budget friendly choice, cubic zirconia is viable option.
Charms should be selected based on the wearer's personality, hobbies, and other interests. The charm should also be age appropriate. While little girls might love a ballerina or a juvenile-themed charm, big girls have different tastes. Whether buying for a gift or for personal use, charm necklaces can be worn every day or for special occasions. Charm necklaces are sentimental piece of jewellery that wearers can keep close to the heart and cherish for years.