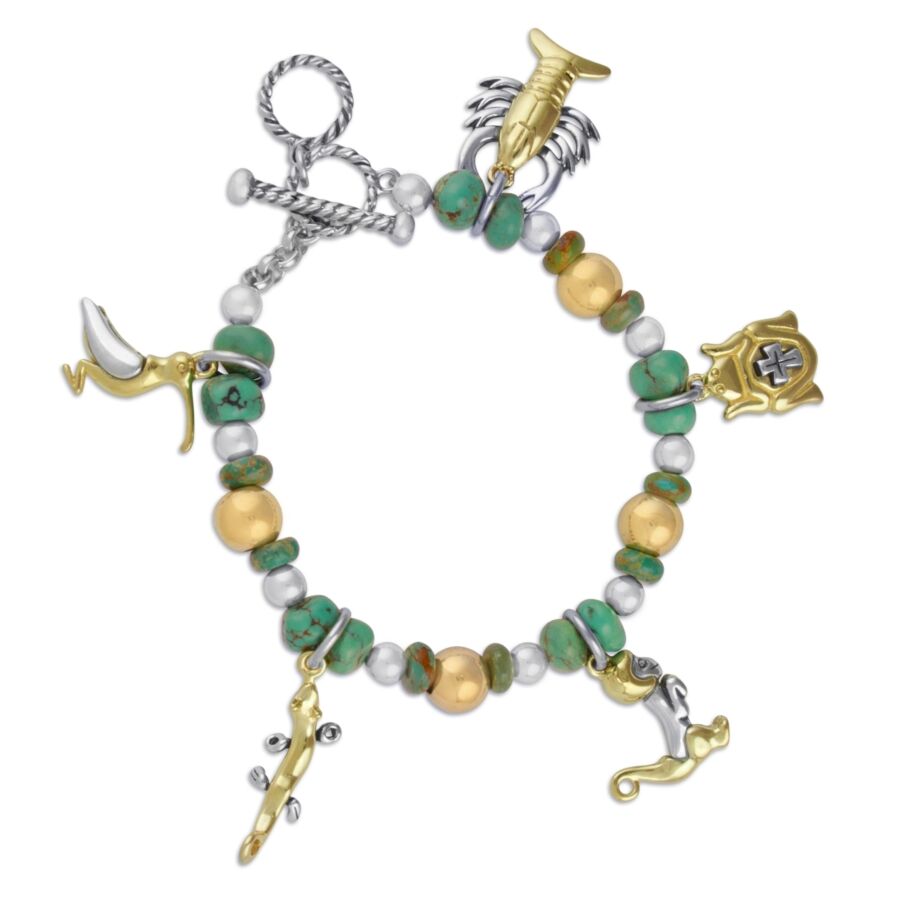 Jewellery collectors, young and old, adore quirky charm bracelets. Each charm carries a particular meaning for its wearer, and when several charms are placed together into a bracelet, they create a unique fashion statement. Children's charm bracelets are made to fit tiny hands, but they are similar to those worn by adults. They make a great gift for a mother and father to give to their daughter on a special occasion.
Customers can choose to either purchase a complete charm bracelet that is already put together, or they can buy the bracelet and charms separately, allowing the child to select different pieces as she grows older. Both the bracelets and individual charms, are often sold in jewellery stores and online at websites like eBay. When buying a charm bracelet, buyers need to consider the bracelet theme, as well as the design of the charms along with the quality of the materials.
Children Charm Bracelet Basics
A charm bracelet is a unique piece of jewellery made of out a simple chain bracelet combined with several charms. Some charm bracelets for children also use beads to add a splash of colour. The bracelet itself is usually made out of metal, though some designed for girls tend to use leather instead, because it is softer on the skin. By understanding the different parts of the charm bracelet, buyers can educate themselves on making the right purchasing decision.
Bracelet Style
There are two main types of bracelets used for charms. The first type features an open link chain design. Each charm directly attaches onto the link, and owners can add several different pieces onto each link. However, the chain style only works with charms, as opposed to beads. Buyers who want a charm bracelet with both charms and beads, are better off selecting the slider style. This type of bracelet features a tightly woven band of metal or leather. Owners usually attach charms and beads by sliding them over the band. However, a downside of this type of bracelet is that the number of charms and beads are limited to the length of the bracelet.
Charm Style
Charms come in an almost endless selection of styles. There are plastic charms shaped like cartoon characters, tiny toy metal charms, and shining crystal charms, just to mention a few. Some owners prefer to only use charms that are similar in colour, material, or style on the same bracelet, while others have no problem mixing different charms. Ultimately, part of the fun of wearing a charm bracelet is creating a unique look that says more about the owner than a straightforward fashion statement.
Buying Charm Bracelets for Children
When selecting a charm bracelet for a child, buyers need to keep several things in mind. First, choose a charm bracelet that is appropriate for the child's age. Very young children may not like bracelets with very large charms that interfere with their hands. The child may take the bracelet off in frustration and likely end up losing it. Secondly, make sure the charm fits the child's wrist. Some bracelets for children have adjustable lengths, allowing the bracelet to grow with the child. Others do not, so always measure the diameter of a child's wrist, and the upper part of the hand, to get the proper dimensions. Ideally, the bracelet needs to be slightly larger than the wrist, but not large enough to slide off the hand.
Pre-Made Charm Bracelets
Charm bracelets that are pre-made already come with a set theme, as well as all of the charms and beads to match. They make easy gifts since all of the materials are already in place. At a later time, if the child wants to add more charms or beads, the bracelet design can always be altered. Some buyers prefer this type since it is already put together, and often looks wonderful. Others dislike it because they believe it takes the fun out of constructing a charm bracelet from scratch by collecting different charms.
Creating a Charm Bracelet
The second option when it comes to buying a charm bracelet, is to allow the customer to create their own based on personal preference. Buyers typically start out with a bracelet, and then add the charms and beads they want to make their own designs. Charm collectors often prefer this method, and many choose to add different charms over the years, creating a bracelet that is always a work in progress.
Choosing a Theme
The first step to creating a charm bracelet is to choose a theme. Good charm bracelets always follow some sort of theme, whether it is something simple one such as a colour theme, or more complicated one such as a life story. A bracelet with a romantic theme, for example, can include charm hearts and pink and red coloured beads. A bracelet with an ocean theme, can include seashell and dolphin charms with coral beads. Start by picking out a theme, then it becomes easy to select the right charms to match.
Choosing Charms
Charms need to match the theme of the bracelet. For example, a charm bracelet that tells the life story of a child should include charms that he or she feels are important. A pair of ballet slippers can represent dancing, or a charm with a birthstone can represent the month he or she was born. The overall selection of different charms, especially those on eBay, are almost too many to count. It is almost impossible to narrow down the scope of looking for the right charm without picking a theme first.
Charm Material
Charms are made out many different materials. The metal charms are the most durable, and are likely to last well into adulthood. Plastic and glass charms may not survive the test of time, depending on the child. Some charms are made out precious metals like gold and silver, but these are also very costly. Parents know their own children best so they can evaluate if the child is responsible enough to own a valuable charm bracelet. In many cases, children appreciate all types of charms, and it does not matter to them if their charm is made out plastic or gold.
Choosing Beads
With the advent of Pandora bracelets, beads are becoming more popular on charm bracelets. If the child wants a charm bracelet with beads, then they need to select the banded type. Then they need to pick out the beads they want according to colour and style. The most expensive beads are made out of glass while the cheaper ones are plastic. Glass beads are usually more colourful, and some of them have unique swirling patterns that plastic beads cannot match. However, plastic beads are lighter, an important consideration for children who could quickly get uncomfortable wearing a heavy bracelet.
Buying Children Charm Bracelets on eBay
When it comes to creating a charm bracelet from scratch, or selecting one that is already full of charms, nobody has a selection that can match eBay. Sellers from all around the world market their charms and buyers can find authentic vintage pieces for sale along with the latest selection. There are plenty of name brand charms, and there are rare charms that could cost a small fortune. Chances are, if you have an idea for a charm, it is already for sale on eBay.
Searching for Children Charm Bracelets on eBay
Everyone starts out their search on eBay's home page. From there, buyers can choose to do a general search for the phrase 'charm bracelet' to get the most results. Give yourself a little time to just browse through the collection and see if anything catches your eye. Once you know the theme of the bracelet you want, you can start narrowing down your search. For example, if you want to search by colour, you can type 'pink charm bracelet' to return relevant results. You can also search by material, such as 'stainless steel charm bracelet'. Try combining terms to get the narrowest results possible.
A Note on Vintage Charms
Many used items are also for sale on eBay, and it is highly likely that buyers will run across vintage charm bracelets. Many vintage charms are extremely collectible, and depending on the condition, can be more expensive than normal charms. However, buyers should always make sure that the charms for sale are actual vintage charms, and not vintage reproductions or vintage style. Carefully check the auction listing before placing a bid, and always ask the seller if you are unsure out the origin of the charms.
Conclusion
Charm bracelets for children are truly unique jewellery pieces. Made out of different charms and beads, every bracelet is different. Some buyers prefer to purchase their charm bracelets already made with charms, allowing them to wear them immediately. Others like to create their bracelets from scratch, taking years to craft a complete bracelet from carefully chosen charms.
When selecting a charm bracelet for a child, parents should always start with picking the right size and following a theme. If they are buying individual charms, then they should make sure each charm fits with the overall theme and is made out of appropriate materials. eBay has an incredibly vast selection of both charm bracelets and individual charms at its disposal, allowing anyone to find the perfect piece of art. By carefully selecting a charm bracelet, parents can give a gift that a child will truly treasure in their jewellery collection forever.