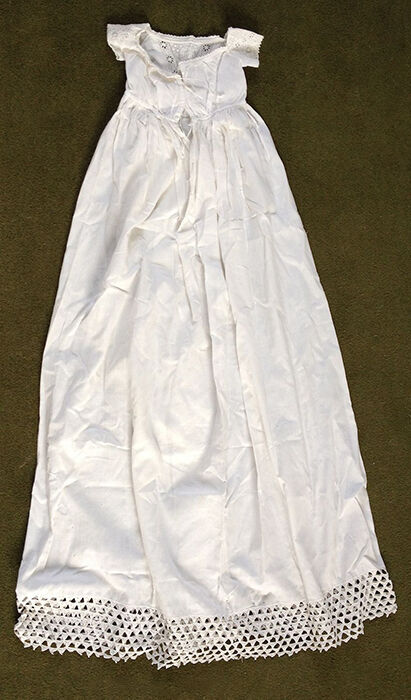 A christening gown is any gown or dress worn by a baby during a baptism ceremony. The christening gown includes a variety of styles but is usually very long, white in colour, and comes with a matching cap or bonnet. Christening gowns are made to fit both boys and girls without variant per sex and are often handed down through generations as 'heirloom gowns' and used for each new baby who is born into a family.
There are many styles of christening gowns on eBay including very fine gowns and more affordable variations. Styles on eBay include nearly every type ranging from the traditional long gown for babies to the short-coated version for small toddlers who have already begun to walk. Buyers looking on eBay for a christening gown should consider the factors listed here including the length, size, value, and material of the gown, as well as the shipping time if the christening has already been scheduled.
Styles of Christening Gowns
While the traditional Catholic christening gown is a long smock-style gown, there are a great deal of variations including short coated options that allow an older child to walk. There are examples of each style available on eBay so buyers can look for options that suit them and the style of the christening ceremony. Christening gowns also range in fabrics and materials with styles including genuine silk and satin with seed pearls to very inexpensive cotton or polyester. Choosing between materials should be a personal decision as the only difference is the appearance of the gown.
Smock
The smock is a shortened version of the Christening gown that is often given to toddlers and slightly older babies so that they can still move around. Some parents choose to use smocks for infants as well because smocks are more practical. Smocks are often characterized by a shorter hemline and often little to no waist or decoration. Anyone who does not want to bother with a full formal baptism gown can choose a smock instead, although some churches do prefer the full gown.
Traditional Christening Gowns
The traditional style baptism gown is the most famous as it is the most elaborate and elegant, and was most popular during the Victorian era. Still popular around the world, Victorian styles are also available on eBay and commonly sold as 'traditional' baptism gowns. These christening gowns feature rich fabrics such as silk, satin, or a similar material, with lace, beading, and other decorative designs. Usually Victorian style gowns are more suitable to girls as the gowns are very pretty, but anyone who wants to purchase a traditional christening gown on eBay can choose this style whether they have a boy or a girl. Traditional styles are usually very long and can actually be two or three times as long as the baby is.
Dress-Style Christening Gowns
The dress-style Christening gown is similar to the smock except that it usually features the lace, designs, and other elaborate additions of the christening gown on a shorter dress. Christening dresses are usually chosen for slightly older girls who may or may not be able to walk. Advantages of the dress over the gown include that it is still elaborate and beautiful, but often more convenient and practical than the longer gown. Some christening dresses are just that, and literally nothing more than a white girl's dress.
Jumpsuit
Jumpsuits, baby outfits and sets, and even small tuxedos are very popular for boys and girls of all ages. As long as the suit is white, most pastors have no problem christening the baby. Jumpsuits are a practical option for anyone who does not want a dress and can be more appropriate for someone who wants a more modern photo of a boy at the christening ceremony.
Choosing a Christening Gown to Fit a Baby
Christening gowns come in different sizes, although these are not uniform across all age groups. Usually the gowns are sized according to common children's sizes, although with some old and antique gowns, this may not hold true. Most christening gowns come in sizes 0 to 24 months, but other options are available at up to 3 or even 4 years of age. Essentially, christening gowns are available for normal size ranges, but anyone who purchases an old or antique gown on eBay might have to look at the measurements instead. Many heirloom christening gowns being sold on eBay were never made with a size tag and so only have the actual physical measurements.
| | | |
| --- | --- | --- |
| Size | Weight (kilograms) | Chest (centimetres) |
| 0-3 months (X-Small) | up to 5 | 43-47 |
| 3 months (Small) | up to 6 | 45-49 |
| 6-8 months (Medium) | up to 8 | 48-50 |
| 12 months (Large) | up to 10 | 51-60 |
| 18-24 months (Extra Large) | up to 13.5 | 54 and more |
It is important to consider that different brands use different sizing techniques per model, so it is necessary to check the description for a size chart or measurements before placing an order on eBay. Some sizes can simply be chosen based on the fact that they are loose and intended for infants, but others have fitted sleeves, a snug chest, or other factors that require them to fit perfectly. It is very important to know the size specifications before ordering anything on eBay, especially if the gown is intended for a ceremony that has already been scheduled.
Different Buying Options Available on eBay
One of the major benefits of eBay is that buyers can choose to purchase christening gowns in almost any condition. Whether for budget reasons, or because they want to purchase an antique or new heirloom, many people actually choose to purchase used items, especially heirloom christening gowns that are likely beautiful and extremely costly if purchased new. Others choose to purchase new christening gowns and choose either an expensive or affordable model based on current budget and preference.
New Christening Gowns
New items on eBay include anything that is new and unworn. Some variations of new christening gowns on eBay are gowns that are new with tags, such as an item sold by an authorised eBay seller directly from the manufacturer; and gowns that are new without tags, for example someone purchased a christening gown, removed the tags, never used it, and is selling it on eBay. New with factory defects means that the item has never been worn but is cosmetically damaged in some minor way. These items are usually more affordable, but also might feature small stains, rips, or need repairing before they can be used.
Used Christening Gowns
A used christening gown on eBay is one that has been pre-owned and worn by a baby to a christening. These gowns are often a great deal more affordable than new items, and due to the nature of the garment, have likely only been worn once. Buyers can choose to purchase used christening gowns on eBay but should take care to read the description to decide on any stains, rips, or tears that might have resulted from it being worn.
Vintage and Antique Christening Gowns
A vintage or antique christening gown is one that is valuable because of its age. There are many eras of antiquity on eBay but the older the gown, the more valuable it is likely to be. Many christening gowns have been passed down from baby to baby for generations and if someone should chose to sell theirs, buyers on eBay could get a beautiful christening gown from another era. These gowns are great for anyone looking for something special that they cannot find in stores.
Tailored or Custom-Made Christening Gowns
Some eBay sellers offer tailored or custom-made work according to the specifications provided by the buyer. In this case, it is important to understand that the shipment will take longer and could be delayed due to problems. These gowns are obviously the most unique but often cost more, and are actually quite rare on eBay.
Buying a Christening Gown on eBay
If you are ready to purchase your christening gown on eBay, you can start at the home page of the site. Decide which style of gown you are looking for such as traditional, short, or romper, and then search for it on the site. Examples that you could use include 'antique christening gown', 'heirloom christening gown', 'boys christening gown', or other options. Usually the style is completely up to you, so you could also choose a simple white dress or gown designed for babies.
It is very important to check the measurements and the shipping time of the christening gown. If you have already scheduled the christening and need the gown to arrive within a week or so, you should consider making a purchase from a local eBay seller who will either allow you to pick up the item or ship it to you more quickly. If the date is set further into the future, you can purchase your gown from anywhere in the world.
Conclusion
Christening gowns are a traditional baptism garment for young babies and are traditionally worn by children up to 18 months, although some are made for children as old as four years. Traditionally, the christening gown is quite long with a skirt that extends well beyond the length of the baby and often more than 70 centimetres. Newer styles and options allow parents to choose more practical versions with shorter skirts or even no skirt at all. Christening gowns are traditional for both boys and girls although some more modern options include a pantsuit or jumpsuit for a boy. These are more practical, and for most, more masculine than the traditional gown.
Buying a christening gown on eBay is relatively easy as long as the buyers consider their budget, the condition of the gown they are purchasing, and the shipping time. Items on eBay include new, used, and antique options, so it is always important to read the description and contact the seller with any questions as well as to check measurements and any flaws.