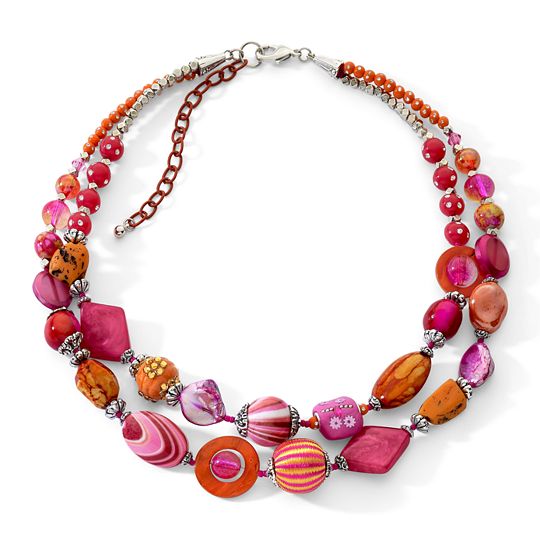 A chunky necklace is a type of women's necklace that can include multiple styles of chain, dangle, bead, and large ornaments or pendants. A chunky necklace is any necklace that is very large, heavy, and usually considered an interest or statement piece or the most important part of an outfit. Chunky necklaces are popular in fashion, and have been for hundreds of years, most notably during the 1960s, 1980s, and throughout history on fashion models and the very wealthy.
Today, chunky necklaces are suitable for anyone to wear, although not always suitable for all occasions. They can be purchased as informal or formal pieces, although most chunky necklaces do tend to lean towards the fashion and formal wear side of jewellery due to their large size. Women looking for chunky necklaces should choose styles according to what they can wear with their clothing, what suits them, their budget, and any basic fashion styles that they have.
Choosing the Chunky Necklace Style
Chunky necklaces come in a variety of styles, which can be found in a range of different shops including high-street shops, designer stores, online, and stores catering to many types of items such as eBay. One chunky necklace can vary greatly from another, so buyers should pay attention to necklace styles and types and, most importantly, their fashion style and taste.
Bohemian Chunky Necklace
Bohemian styles are often very large and can be similar to tribal, but usually rely on 'chic' patterns rather than nature-inspired designs. Popular styles include large stones, feathers, heavy chains, shells, knits, and more. Many bohemian-style necklaces are actually handmade, appear to be handmade, or simply large and beautiful. Popular styles include bead and jewel mosaics, feathers, chunky Egyptian-style collars, and of course, the bib necklace in a variety of materials and colours.
Chunky Chain Necklace
The chunky chain necklace is simply a very thick chain that is looped around the neck. These chains can include almost any length and can be wrapped one or more times depending on the size. Considerations include that longer lengths might be quite heavy and fine jewellery chains are quite expensive. Variations of the chunky chain necklace include small layers of chains looped many times around the neck and often decorated with small beads, charms, or even spikes. This second form of chunky necklace is popular in a variety of lengths but most commonly seen in princess and matinee lengths.
Bib Chunky Necklace
Bib necklaces have been popular for thousands of years as a beautiful and stunning way to accessorise an outfit. These necklaces are choker or collar length and hug the neck. From there, the necklace flows down, usually in a triangle pattern. Materials range from the inexpensive such as plastics and base metals to very pricy genuine gold, diamond, or crystal. Bib necklaces are mostly worn to formal events and with wide necklines or off-shoulder styles.
Pendant Chunky Necklace
A pendant chunky necklace can include a chunky chain and a very large pendant. Usually on the shorter side due to the weight of the large pendant, this type of necklace is available in princess or matinee length. Pendants feature a chain or tie and a large drop object that can be in any shape and material. Popular styles include large crystals, hearts, animals, and geometric shapes.
Tribal Chunky Necklace
Tribal chunky necklaces include any type of chunky necklace with an ethnic pattern or design. This can include the use of ethnic-type stones such as turquoise, tourmaline, topaz, and more, or simply the use of tribal patterns such as Aztec, Navajo, Celtic, Norse, or any of a wide variety of popular tribal patterns. Tribal chunky necklaces can originate in design from a variety of countries including England, Ireland, Eastern Europe, Africa, Asia, South America, North America, or pretty much anywhere recognisable ethnic cultures existed. Tribal chunky necklaces are popular for women of all ages, easily worn with fashion, and can be fun to pair with prints and other styles.
Other Chunky Necklace Styles
There are many unique styles of chunky necklaces. For example, the false collar necklace, bead or pearl necklace, dangle necklace, choker or ring necklace, spike necklace, and many more. The exact style of the chunky necklace does depend on the maker, usually individual brands make styles that go well with their fashions, and jewellery makes create popular styles. Some designers also create 'fantastical' jewellery that is not normally meant to be worn, but can be an excellent statement piece for a special occasion, or can be a collector's item.
Choosing a Chunky Necklace
Buyers who want to wear a chunky necklace should look into their fashion, their style, and what they want to wear the necklace for. Wearing a chunky necklace every day requires finding one that can be worn with a variety of outfits and necklines, unless of course most of the clothes in the buyer's wardrobe are about the same. Important considerations include the ability of the necklace to be worn to work and the weight of the necklace, since wearing a very heavy necklace for extended periods of time can cause neck pain. Some chunky necklaces are quite large and should not be worn every day, but by taking the time to examine the options available, buyers can choose something suitable for their lifestyle.
Styling a Chunky Necklace
Styling a chunky necklace is a bit more difficult than styling a standard necklace. Because of the size and often eye-catching design, a chunky necklace should be paired carefully with patterns, fabric cuts, and styles to create a pleasing and aesthetic look. Many women find that chunky necklaces are very appealing with a wide- or low-cut neckline because they draw attention away from the bust so that the look remains classy and beautiful.
Some chunky necklaces are best worn against the skin, in which case they require a wide neckline or a very low-cut one in order to achieve their full potential. Others are suitable for wearing over clothes, and owners can simply use the necklace to hide a small neckline on a dress or shirt, or use it to accent the dress. For example, Peter Pan collars are a form of chunky necklace often worn with high-cut collars and used to create a false collar on the dress. On the other hand, the same chunky necklace could be worn with a sleeveless dress to create a unique look.
There are many options for styling a chunky necklace but usually it is a good idea to remember to balance the look. Pairing a chunky feather necklace with an Aztec print shirt and Palazzo pants might be very 'bohemian' but it probably is not very flattering. Instead, one should try pairing the same necklace with a solid print jumpsuit or a solid print shirt and the same pants since both options give a sense of balance to the entire outfit.
Where to Purchase a Chunky Necklace
Chunky necklaces can be purchased from a variety of venues. Buyers should decide which type of quality they are looking for and use this decision to choose a purchase place. Chunky necklaces made of glass, copper, feathers, and other base materials can often be purchased from many fashion shops and online stores. Designer items must be purchased from a designer shop or second-hand store with designer items such as eBay. Fine jewellery should be purchased from a jewellery store, online jewellery store, or eBay. Most buyers should choose a place of purchase based on availability, convenience, and selection. For example, eBay might have the largest selection of chunky necklaces, but it is not suitable for anyone who needs a necklace the same or next day. On the other hand, a local jewellery store might only have one or two styles of chunky necklaces.
Buying a Chunky Necklace on eBay
Buyers can look on eBay to find almost any style of chunky necklace including chain, bib, bohemian, tribal, collar, choker, and unique styles. Individual styles can be found by searching for that item directly, or you can choose to browse through eBay's selection and see which styles you like before making a purchase. Great search ideas include 'feather chunky necklace', 'Swarovski crystals bib necklace', 'designer chunky necklace', or any other specifications you might want to look for.
Decide when you need the item by if it is for a specific date and then check the date against the shipping time. You can consider that local sellers can ship to you more quickly, and you might even be able to arrange a local pickup if the seller is close enough. Finally, if you are purchasing fine jewellery, ensure that you read the description, ask about the item, and check to see if the item is new or used.
Conclusion
A chunky necklace can be used as a formal or casual accessory for a variety of occasions but, generally, it is suitable for wear outside of work environments. The chunky necklace includes a variety of styles and is used to name any large or oversized necklace whether it is only slightly larger or a great deal larger than the norm. These necklaces are attention grabbing and often used as statement pieces to add interest to an otherwise basic outfit.
Women shopping for chunky necklaces can choose to purchase their jewellery online or in shops, although some styles might be hard to find in shops. Great options include tribal, chain, bib, collar, bohemian, feather, and many more styles. Whether purchasing the chunky necklace as a gift or for personal wear, it is very important to consider the wearer's style, where the necklace is meant to be worn, and whether or not it can be worn to work or for other semi-formal occasions.