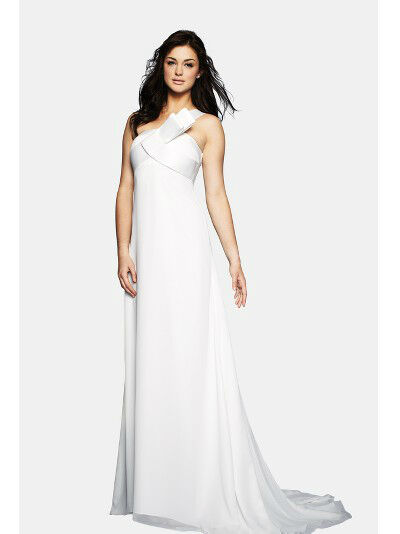 Wedding dress styles are constantly evolving, but they still retain certain basic designs that make categorizing them relatively easy. Due to the constant evolution, there is a wide variety of styles to choose from, but this can be daunting to the bride-to-be if she is completely new to the task. Additionally, searching for a wedding dress requires the bride to get familiar with certain gown terminologies. This includes the different wedding dress styles, such as A-line, classic column, mermaid, and ball gown.
Even after deciding that she wants a classic column wedding dress, the bride-to-be will have numerous other factors to consider, such as the type of design that will suit her body type, her wedding budget, and whether she wants to buy or rent the gown. These determining factors will subsequently affect her choice, but a bride should always base the final decision on how she looks and feels in her gown. This guide highlights and expounds on the factors that brides should consider when searching for a classic column wedding dress.
What is a Classic Column Wedding Dress?
The column wedding dress could also be categorized as a sheath wedding dress depending on the store or brand. This dress type has a slim silhouette that is generally long and straight from hollow to hem. One of the most advantageous characteristics of column wedding dresses is their flexibility as they can be worn to both casual and extravagant weddings.
Slim brides often go for a column wedding dress to accentuate their figure. This dress type is also ideal for short brides who want to appear taller and leaner. While slim, short women are ideal candidates for a column dress, brides with other body types can still pull off the style as long as they choose an appropriate dress design. For instance, a bride with a slightly chubby midsection should choose a design with a belt or waistband to flatten the tummy area.
Diverse Body Types
Initially, female body shapes were only categorised as cone, spoon, and hourglass, or apple, pear, and hourglass. Since then, two British fashion advisors, Trinny Woodall and Susannah Constantine, have revolutionized the way women categorize their body types. Below is a chart that will define the various female body types and their characteristics. This chart is based on the book "The Body Shape Bible" by by the aforementioned fashion advisors Constantine and Woodall.
Shape

Characteristics

Hourglass

Busty with wide hips

Small, short waist

Average or long legs with ample thighs

Average or broad shoulders

Brick

Broad shoulders with little to no waistline

Average tummy with a relatively flat bum

Thick thighs and calves with average legs

Skittle

Small or average sized breasts

Slim waist with similar hip width

Average or short legs with thick calves and thighs

Narrow or average shoulders

Lollipop

Big breasts with a slight waistline

Slim hips and long legs

Average or broad shoulders

Cornet

Broad shoulders and small breasts

No waist with slim hips
Long, slim legs

Pear

Narrow shoulders and small breasts

Long waist with a flat tummy

Bigger hips with possible saddlebags

Shorter, thicker legs

Cello

Average or broad shoulders

Big breasts and hips

Short waist with thick thighs and slim calves

Goblet

Broad shoulders with ample breasts

No waist and narrow hips

Long legs and maybe a slight tummy

Column

Shoulder width similar to hips
Slight waist with long legs

Bell

Small shoulders, which are often much smaller than the hips

Small breasts and a small, short waist

Average or long legs with thick thighs

Apple

Narrow shoulders with average-sized breasts

Average legs

The tummy area often protrudes past the breasts

Vase

Big breasts with equal hip width

Long waist with a gentle curve

Slim thighs and legs
Each bride should purchase a dress that compliments their most outstanding characteristics. For instance, hourglass or lollipop women should consider a sweetheart neckline with an empire waist to flatter and minimize the bust and waistline. However, a pear or cornet woman should go for a scoop, Sabrina, or jewel neckline, which will make them look bustier.
Selecting the Perfect Wedding Dress
Brides often find themselves with a large support group. This can be welcoming in most areas, but it is not always conducive to selecting the perfect wedding dress. A large support group means that there will be a lot of opinions and that can sometimes make the selection process even harder because the bride often tries to please everyone except herself. Below are a few things that each bride should personally consider before selecting their perfect wedding dress.
Personal Dress Style
Even though brides should consider their body types when choosing a wedding dress, they should also maintain their personal style. The dress options should reflect the bride's personality. For example, a bride who likes cheerful environments and colours could opt for a coloured dress rather than a traditional white or ivory gown. If a woman has always been a fan of ruffles or ruched dresses, she should be able to find a wedding dress that suits her body type and still has her preferred designs.
Comfortable Wedding Dresses
It does not matter how beautiful a wedding dress is; if it is not comfortable, the bride will not enjoy her wedding day. Numerous brides have fainted at their weddings simply because their corset dresses were drawn too tight. A corset dress is almost always ideal because it allows size flexibility, and it helps flatten a woman's stomach and reveals a sexier waistline. However, some brides allow the corset to be drawn too tight in an attempt to improve their figure and end up spoiling their wedding day due to excessive discomfort or minor health issues.
Brides should ensure that their dresses are not too constricting, especially if their wedding programme includes a lot of movement oriented activities, such as jumping the broom, bride and groom's first dance, or father daughter dance.
Comfort also relates back to personal style. In essence, a bride will feel more comfortable in a dress that is similar to ones they have looked beautiful in before. If a woman finds a wedding dress that is 95 percent perfect, she can opt to purchase the dress and have a seamstress make the necessary adjustments to make the remaining 5 perfect.
Wedding Location, Season, and Time
Women should consider their wedding location before they choose a wedding dress. The location, season, and the time of wedding will help brides narrow down their selection to dress materials and designs. For instance, a tropical, daytime, beach wedding would require a light, chiffon, classic column, sleeveless or strapless gown, whereas a late evening wedding at the same venue would require a thicker material with more coverage because the beach tends to become very windy in the evening.
Brides may also choose a wedding dress style based on the season, so a winter bride's dress may have long sleeves and fur around the cuffs and neckline. Spring wedding dresses may incorporate lace or floral patterns and can be worn with similarly themed accessories.
Wedding Dress Size Chart
Selecting the right dress size is very important for all brides; therefore, they should consult the seller's size chart and compare it with their recent measurements. Many wedding dress retailers accept custom measurements to make a dress from scratch or adjust the selected dress to fit the buyer. If the seller does not provide a chart, buyers can use the size chart below to select their wedding dress size. Measurements are in cm. Sizes are estimated and may vary by brand and manufacturer.
| | | | | | | | | |
| --- | --- | --- | --- | --- | --- | --- | --- | --- |
| Size | 6 | 8 | 10 | 12 | 14 | 16 | 18 | 20 |
| Bust | 83 | 84 | 88 | 90 | 93 | 97 | 100 | 104 |
| Waist | 65 | 68 | 70 | 72 | 75 | 79 | 83 | 86 |
| Hips | 91 | 92 | 96 | 98 | 101 | 105 | 109 | 112 |
| Hollow to Hem | 147 | 147 | 150 | 150 | 152 | 152 | 155 | 155 |
| Height | 160 | 160 | 165 | 165 | 170 | 170 | 175 | 175 |
Women often go for wedding dresses with corset backs because the bust and waist of these dresses can be adjusted two sizes up or down. Corsets make selecting a dress size easier because the bride has more leeway in terms of measurements.
Buying a Classic Column Wedding Dress on eBay
Wedding dresses are abundant online, and eBay is a popular store for brides to find their ideal wedding dress. To get started, perform a general search for classic column wedding dresses via the eBay homepage. This will bring up options, which you can later narrow down by style, brand, size, material, colour, etc.
If you already have a specific sleeve type or dress colour in mind, you can start your initial search with those particular preferences. For example, you could search "white, long-sleeve, column wedding dress", and your results would only include dresses that match your preferences. Once you have the dress search results, you can also filter the search with basic options, such as shipping, seller location, and whether the items are on auction or direct sale. If you are unsure about the shipping and size details, always contact the seller and finalise all details before making a payment.
Conclusion
When couples decide to tie the knot, men often worry about buying the right wedding rings while women obsess about buying the perfect wedding dress. It is surprising that a dress that will more than likely be worn only once still manages to be a bride's focal point during the planning process. When a bride walks down the aisle, all eyes are on her, and her dress plays a huge part in determining her radiance and confidence. Therefore, it is imperative that women select wedding dresses that boost their confidence and morale while enhancing their beauty.
A woman needs to consider numerous factors when selecting her classic column wedding dress; otherwise, she may spend weeks or months trying on various dresses without being able to select one. She must first discern her body type and find out which designs would be most flattering and comfortable. The next step is to refine additional dress characteristics based on the venue location, the time of year and day that the wedding will take place. Once she has made a decision on the exact type of classic column wedding dress that she prefers, she needs to determine her dress size and avoid purchasing a dress that is too tight in an attempt to create a slimmer waistline. The wide array of classic column dresses on eBay and the various filter options enables the dress selection process to be less daunting for brides.