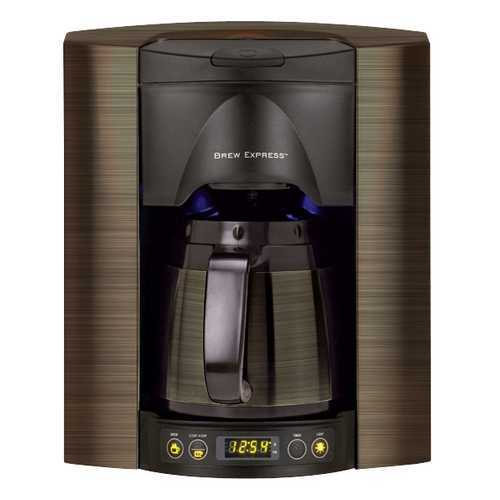 Research conducted in the UK suggests that 27 percent of people who drink instant coffee would prefer to drink fresh coffee from a coffee maker, and that sales of both domestic and commercial coffee makers is continuing to rise. A good cup of coffee is becoming big business throughout the nation, with coffee shops popping up on every corner, but the same great taste can easily be achieved at home or in the office, without the need to pay the exorbitant prices at the branded cafes.
Why Buy a Coffee Maker?
Most people would agree that fresh coffee from a coffee maker such as the Tassimo tastes far better than instant granules, and taste is a big factor in deciding to purchase a coffee maker. Some are put off by the high prices of the state of the art coffee makers, but it's important to remember than coffee makers can be purchased for relatively little cost, especially online, and that buying a coffee maker isn't a purchase, it's an investment. At roughly £3 per coffee shop beverage, individual drinks may seem inexpensive, but get one a day on the way to work, and it soon adds up. A home or office coffee maker can really be a money saving option. In an office environment, coffee makers are a form of utter convenience. Coffee makers that are able to produce decent quantities of the beverage at a time, and fill multiple cups simultaneously, are perfect for an environment in which many people are desperate for a cup o' Joe at the same time. Coffee makers are also considered the ultimate status symbol both in the home and in the office, showing a dedication to fine taste and client and customer satisfaction.
Choosing a Coffee Maker
Choosing a coffee maker can seem daunting initially as there are so many on the market, but it's actually very simple to select just a few final contenders based upon specific criteria. For example, if wanting a coffee maker for the office, domestic machines can be ruled out immediately, and if looking for something for a small home kitchen, the large bean-to-cup makers may not be the most suitable for the environment.
Type of Coffee Maker
The type of coffee maker is the first thing to consider, with the specific type being based upon the intended purpose. What sort of coffee is required? Basic, run-of-the-mill drip coffee, or something more exotic and varied? Is it to be a leisurely coffee maker for lazy mornings, or a fast brewing, speedy appliance?
| | |
| --- | --- |
| Domestic | Domestic makers are suitable only for the home environment. These makers are usually a little more basic and have less capacity than commercial makers, but they're also typically less costly. |
| Commercial | Commercial makers are ideal for offices, although they may be more costly than domestic makers. They often have high output, more features, and a quicker production time than domestic makers. |
| Pod | Pod machines are a costly yet sophisticated option commonly seen in offices. Individual pods mean different people can enjoy their favourite blend effortlessly, without needing to conform to what others prefer. |
| Bean-to-Cup | Bean-to-cup machines are good for large offices and include an integrated grinder to produce cups of coffee made straight from the pre-roasted coffee beans. It's believed to give a fuller and more rounded flavour. |
| Espresso / Cappuccino | These machines are as common in the domestic market as in commercial market and include milk steamers or frothers to produce the perfect creamy or foam topped coffee. |
| Percolator | Percolators are one of the more basic makers and are perhaps the simplest way of making the switch from instant coffee to fresh. Coffee is filtered and dripped into a pot for pouring. |
| Cafetiere / French Press | Cafetieres, or French presses, are another basic maker where hot water is poured onto coffee grounds and then pressed to release the flavour and remove the grounds from the liquid. They can also be used with cold water for iced coffee. |
Coffee Maker Features
The next aspect to consider is a coffee maker's features. This doesn't mean the appearance of the machine, rather the additional gadgets the coffee maker boasts that enable it to perform tasks and duties that other more basic coffee makers cannot. Features are important if looking for a coffee maker that will produce a specific type of coffee.
| | |
| --- | --- |
| Milk Steamer | An integrated milk steamer adds hot milk to any sort of coffee without the need to heat independently. However, it will require regular cleaning to reduce build up, preferably by hand. |
| Cappuccino Creamer | Going one step further, this creams the warm milk to make it into a sort of froth to add a foamy layer to cappuccinos. This is usually hard to achieve otherwise. |
| Bean Grinder | An integrated grinder allows roasted beans to be used without the need for a separate hand or electric grinder. Using beans is believed to produce a purer, more flavoursome coffee. |
| Timer | Common in domestic machines, a timer function allows for the preparation of the coffee to be done the night before, and then automatically made up in time for the alarm going off. |
| Self-Cleaning | A very useful feature in both domestic and commercial machines. It is ideal for those with limited time, or simply a dislike of cleaning, although milk steamers may still require hand cleaning. |
| Storage | Some machines, particularly pod machines, may come with integrated storage for pods, sugar, mugs, and cutlery. It's a mix of convenience and ease in the kitchen. |
| Drip Facility | A drip facility is useful for those who want just the most basic of coffees. It is often a good option during periods of limited time, or for those who don't have any coffee pretences. |
| Multiple Cup Fill | Common in domestic machines, this feature allows for two or more cups to be filled at once, perfect when large quantities of coffee are required such as during business meetings or having guests over. |
Coffee Maker Output
The output of a coffee maker is an important consideration for both the home and the office. High output machines are usually more costly, and could prove to be not the greatest value for money in a home environment. On the other hand, a coffee maker for the office would need to adequately cover daily beverage needs to reduce the risk of damage and voided warranties.
| | |
| --- | --- |
| 5 or less | Perfect for the home environment where a few cups are required before work. Particularly suitable for couples or single residents. |
| 5-10 | Many 5-10 cup machines are also often domestic. These are suitable perhaps for those who are home during the day, or for large families. |
| 10-15 | Some commercial machines are available in this low capacity, designed for small offices of around 10 who require just one or two cups per day. |
| 15 or more | Larger offices really shouldn't be looking at anything less than a 15 cup per day capacity. Overuse of a machine could lead to premature damage. |
Choosing Coffee Maker Accessories
New owners of coffee makers will want to ensure the correct accessories are there so to begin producing fine tasting beverages immediately. Coffee grounds will be required for percolators, cafetieres, French presses, and basic coffee makers, while coffee beans will be required for bean-to-cup machines. If wishing to use beans but have not purchased a bean-to-cup machine, a grinder, either a hand grinder or an electric grinder, will be needed. A jug for heating milk would be beneficial if wishing to produce cappuccinos without a dedicated cappuccino maker. Coffee filters will be needed for percolators and machines with a drip facility. Of course, don't forget the mugs, sugar, milk, and, a biscuit for that perfect coffee break.
Find a Coffee Maker on eBay
eBay is one of the first places to look when searching for a coffee maker for the home or office, as the appliances can be purchased either in new or used condition, which can mean sellers offer massive discounts that usually aren't available in regular stores. Using eBay's search facility to look for 'coffee makers' will produce a generic page of all coffee maker listings, although for those who know what they want, the category pages may be a quicker and simpler option. To get to specific coffee maker listings, choose the Home & Garden category, followed by Cooking, Dining, & Bar. Then select Small Appliances, followed by Coffee Machines / Makers. From here, all manner of specifics can be selected, such as condition, features, type, brand, and even budget. Try looking for a well known trusted brand like Miele when you begin your search.
Conclusion
Coffee makers have become the must have kitchen accessory in both the home and the office, and they not only produce great tasting beverages, but also demonstrate an interest in the finer things in life. Coffee makers can be used for leisurely Sunday mornings with a newspaper, or for rapid cups produced in large quantities for business guests. Whether it's a simple French press or a more sophisticated bean-to-cup or all-in-one machine, a coffee maker is a worthwhile investment for all coffee drinkers.