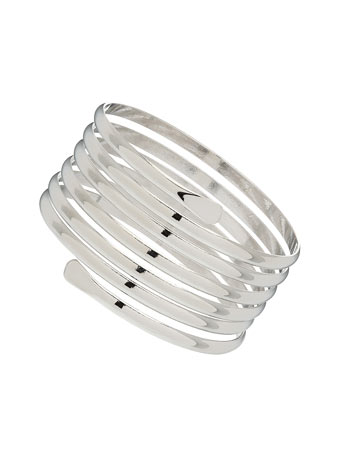 Bangles are stiff, circular bracelets that fit loosely around the wrist. A coiled bangle coils around the wrist, usually more than once. Coiled bangles may have as few as one coil that just overlaps, or multiple circles that form a long cuff along the lower arm. A coiled bangle is slightly different from other bangle bracelets in that it does not move quite as much as typical bangles do. The way they coil around the wrist tends to keep it in place more, which makes them an excellent choice for those who like the look of multiple bangles but find loose bangles too distracting or inconvenient. The coiled bangle's stiff, circular structure creates a striking contrast to the wrist, and draws attention with its unique design and materials.
When shopping for a coiled bangle, consumers should take a few steps. First, they should be aware of the size of their wrist and hand to make sure that the bracelet will fit. Next, they should familiarise themselves with the different styles and materials available, and consider which ones work with their own sensibility and budget. With a little savvy, shoppers can find a beautiful coiled bangle that is sure to be a standout.
Determine Fit for a Coiled Bangle
Bangles are meant to fit loosely on the wrist, allowing them to slide up and down with the movement of the arm. Coiled bangles that wrap multiple times around the wrist are likely to fit more snugly than narrow, single bangles. Some wearers prefer this more snug fit, while others may still want their coiled bangle to be very loose. Deciding in advance how the bangle should fit helps buyers find the proper size according to their wrist or hand size.
Measure for the Right Size Coiled Bangle
Before buying a coiled bangle, it is important to know how to find the right size. Because many coiled bangles are designed to slip on over the hand, the wearer's hand size should be measured. It is also useful to have the wrist size as well, to make sure the bangle will be neither too snug nor too loose.
Measuring Wrist Size
To take the wrist measurement, wrap a cloth tape measure around the wrist. The number where the tape overlaps indicates the wrist size. This can also be done using a piece of string and a ruler if a cloth tape measure is unavailable.
Measuring Hand Size
For coiled bangles that slide on over the hand, it is a good idea to measure the hand. To do so, place the thumb against the palm as though putting on a bangle. Then, measure the widest part of the hand, usually across the knuckles or thumb joint. This is the hand measurement.
Additional Sizing Considerations
Some coiled bangles have different designs that affect the way they slide on and off. For most, the spiral structure allows some flexibility when fitting the bracelet over the hand. Others may have a stiffer composition, in which case buyers should pay close attention to the bangle size and compare it with their hand measurement.
Coiled bangles may come in different sizes, or one size only. Always check the proportions indicated for the bracelet if unable to try it on in person.
Coiled Bangle Styles and Materials
Coiled bangles come in many different styles, from simple and understated to bold and extravagant. The materials used are an integral part of the bangle's overall look, whether they be precious metals, stones, or synthetic materials.
Coiled Bangle Styles
Consumers have a wide array of choices when it comes to coiled bangle styles. The following are some of the most common bangle styles and designs.
Beaded Coiled Bangles
Beaded coiled bangles feature beads that are usually strung along a stiff metal wire. The beads may be linearly arranged, placed in clusters, or scattered in a playful, fresh design. Many different kinds of materials are used for the beads, including metal, pearls (real or faux), resin, clay, glass, crystal, or semi-precious stones.
Snake Coiled Bangles
The term snake may refer to the type of chain, or indicate that the bracelet actually features a snake design, which is a relatively popular motif for coiled bangles. Snake chains are formed by tightly-arranged square or round metal links connected side-by-side. The result is a textured, bendable chain which lends itself to the coiled style.
Precious Stones, Semi-Precious Stones, and Crystals
Many coiled bangles feature stones set into the spiral itself or highlighted at the ends or center. These can be costume jewellery pieces or high-end fine jewellery.
Novelty Coiled Bangles
Some designs play up the coiled bangle as a statement piece with the addition of elements like skulls or snakes. Others may have charms on them as dainty reminders of favourite memories, places, or things.
Coiled Bangle Materials
The material used for a bangle is an essential element in its design and overall appearance. It also affects the durability of the bracelet, which is something buyers may want to keep in mind. Some materials are more prone to tarnishing, rust, and corrosion, while others are highly durable but more costly. The following chart gives some general characteristics of the most commonly used materials.
| Material | Description |
| --- | --- |
| | Precious metal that resists corrosion and tarnishing, though may become scratched; alloyed with copper, silver, and other metals for increased strength; 18 carat gold optimal level for jewelry; lower purity levels such as 14 ct or 9 ct are more affordable; available in yellow, white, and rose colours |
| | Heavy, highly durable precious metal with attractive silvery lustre; often used in 90- to 95-percent pure form mixed with iridium |
| | More affordable precious metal; malleable, can be sculpted into intricate designs; sterling silver alloyed with 7.5 percent copper for strength; tarnishes easily, so requires regular polishing; variety of finishes, including highly polished, matte, oxidised (with blackish tint), and brushed |
| | Extremely durable metal alloy with silvery appearance; however, does not have the same lustre and shine as precious metals; can be nickel-free for hypoallergenic jewellery able metal; does not tarnish; slightly less luster and shine than other metals; may be made without nickel for a hypoallergenic bangle |
| | Often used to plate gold or silver; extremely hard metal retains its polish; hypoallergenic |
| Tungsten Carbide (Jewellery-Grade Ceramic) | Alloy of tungsten and carbon; has a charcoal colour; very hard and heavy |
| | Natural material made from animal hide; may be stiff or soft and supple; durable |
| | Natural material; may be a variety of species of wood, each with its own grain and colour; can be stained, finished, or painted |
| | Precious stone prized for its clarity and brilliance; rated according to cut, colour, clarity, and carat weight |
| | Gemstones that develop inside a mollusk or oyster as a response to an irritant; cultured pearls are most common on the market, and are formed by inserting a foreign substance into the mollusk or oyster |
| | Quartz crystal comes in many different colours for clear, sparkling jewels that are more affordable than diamonds and other gems; Swarovski is the most crystal famous producer |
Buyers should beware of metal alloys containing nickel, as nickel can be toxic and some are allergic to it. When in doubt, inquire with the manufacturer or retailer.
Looking for quality materials helps ensure that the coiled bangle lasts for years. Buyers may also want to opt for colours and textures that complement other pieces on their jewellery collection. Finding the right material is a balance between style preference and budget.
Choosing a Coiled Bangle Style
With a seemingly unlimited array of styles from which to choose, buyers should keep the wearer's fashion sense in mind. Another issue is proportionality: large, chunky bangles better complement wider wrists and larger frames, while more delicate designs are more suited to smaller wrists and petite frames.
Classic Style
Traditional bangles have a timeless quality that works well for a range of occasions, from professional wear to a dressy evening out. Classic coiled bangles come in precious metals, with or without precious stones, and may feature engraving or other designs like butterflies, flowers, or starbursts. These are versatile pieces that are sure to look fashionable for generations.
Bohemian Look
Stacks of bangle bracelets is one of the trademark accessories of bohemian fashion. In the 1920s, poet Nancy Cunard was photographed wearing bangles from wrist to elbow in a bold, iconic look. Coiled bangles retain an element of this spirit as they wind around the arm. Look for sterling silver, gold, brass, coral, metal, crystal beads, and semi-precious stones like turquoise.
Natural Beauty
Coiled bangles in natural materials like leather, wood, and clay beads add an earthy accent to casual dress. They tend to be less delicate and more striking, in rich tones including reds, browns, and black.
Modern Bangles
Those with a more modern style can look for coiled bangles with clean lines, an emphasis on form, and a minimum of ornamentation. Any metal works well, as does plastic and glass.
Maximum Glamour
Coiled bangles are a good choice for people who want a statement piece on their wrist. Large metal cuffs in a highly polished finish bespeak glamour and extravagance, and designs such as snakes are sure to draw attention.
Where to Buy a Coiled Bangle
Coiled bangles can be found in many different places. Shops that carry costume jewellery are likely to feature a few different models, and fine jewellers regularly include coiled bangles in their merchandise. For those interested in shopping online, Internet merchants and auction websites like eBay have a wide range of options for different budgets and styles.
How to Buy a Coiled Bangle on eBay
If you've decided to buy a coiled bangle on eBay, you'll have many items from which to choose. Start your search on eBay's home page, and enter keywords, such as "gold coiled bangle", into the search bar. You can then narrow the search results by price, seller location, and other factors. eBay Shops is another easy way to shop online.
Once you've found a coiled bangle that interests you, be sure to read the product description carefully and research the seller a bit. The description should have details about materials, size, and the seller's return policy. Take note of the postage conditions and fees, and be aware that they are additional. If you need more information about an item, eBay makes it easy to contact the seller.
Finally, get an idea of how reliable the seller is by checking their feedback rating and perusing comments left by past customers. Once you've completed your transaction and received your item, you can assist the seller by leaving your own constructive feedback.
Conclusion
Coiled bangles are unique way to top off any outfit, whether casual or dressy. Their unique spiral design draws attention both to the wrist and the bracelet itself. When shopping for a coiled bangle, buyers should follow a few basic steps to find a piece that works best with their individual size, style, and budget.
First, they should be aware of their wrist and hand measurements. This helps ensure that the coiled bangle can slide on easily, without being so large that it falls off the hand. The bracelet design partly determines how much give it has. Next, buyers should consider what style and materials they are most interested in. It may be that they are looking for a casual bracelet to wear every day, or something more formal for special occasions. Individual styles also differ; there are coiled bangles to match nearly every fashion sense, from boho to ultra-modern.
Coiled bangles are available from a wide variety of sources, including accessory shops, fine jewellers, Internet merchants, and auction sites like eBay. By following a few simple steps, consumers can find a coiled bangle that is just right for them.