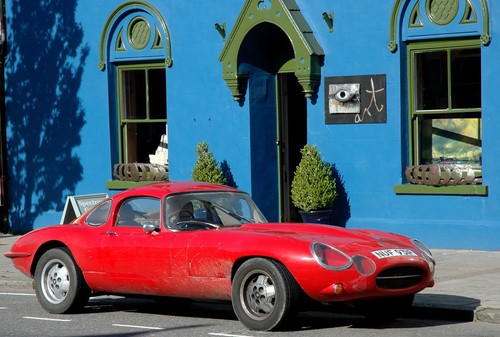 Jaguar lovers have British visionary Sir William Lyon to thank for his dedication to building the dynamic car that they all revere; a car prestigious enough to have royal warrants from Her Majesty the Queen and Prince Charles. The Jaguar is fast, sleek, and sensational; so good looking that The Daily Telegraph once ranked the Jaguar E series as one of the 100 most beautiful cars of all time. For many people, owning a vintage Jaguar is the culmination of a lifelong dream, so it is important that they shop for one with the best possible advice they can get.
Buying a collector's Jaguar on eBay is easier and faster than at live auctions, car dealers, or following up classified advertisements in newspapers. It is safer too, if buyers incorporate vehicle inspections into the shopping process. This guide offers a plan that helps buyers to find an exciting collector's Jaguar worth every penny spent.
To Have and To Hold: A Collector's Jaguar
Nothing beats the sheer pleasure of driving a complex high-performance machine with a fine pedigree; one that epitomises the "grace, space, and pace" slogan of British car manufacturer Jaguar. Others yearn for the nostalgic air of a vintage car and either want to drive it down memory lane, or tinker, polish, and restore it to its former glory. A collector's Jaguar has massive crowd appeal; its sheer animal magnetism drawing in looks and comments from passers-by and other drivers. Every trip takes longer, but is a lot more fun. Then, there are those that consider buying a collector's Jaguar as a worthy investment that appreciates with time. They prefer not to drive it, do not want anyone touching it either, and are content to sit back and admire the elegance and beauty of a car, maybe with a few friends.
Set a Budget for a Collector's Jaguar
Setting a budget should be every shopper's first consideration when buying a Jaguar. The budget defines the price that buyers can afford comfortably, and prevents an impulse buy that leads to excessive spending. The features of the Jaguar are often what raise the price, so buyers should be prepared to add a little bit more to the budget for features that make owning the car more worthwhile.
Additional Costs
Buyers should also include additional costs in the budget like car registration and tax. Depending on the condition of the Jaguar purchased, there may need to be money set aside for repairs to the interior or exterior. While classic Jaguars could break the bank, there are some collector's models that are quite affordable to many because they are not as rare.
Determining Fair Market Value
No matter how much you want a particular collector's Jaguar, you still need to determine the fair market value to get the most out of the deal. To do this, look at numerous publications and websites that give a price range for similar cars according to a range of criteria. Factors that usually affect the estimated value include mileage, originality, rarity, demand, condition, and provenance, or chain of ownership. It is vital that you ask to have a third party perform an independent buyer's inspection of the car to get a second opinion on the value, as well as to validate the seller's claims. Certified appraisers can evaluate the car's authenticity and identify whether it has been involved in an accident, which affects its market value.
Consider an Original vs. Restored Collector's Jaguar
Original Jaguars are those that still have their distinctive mechanical components; just as they did when they left the factory. They are highly valued with a high a price tag because they have no modifications. They are the safest bet for first time buyers of a collector's Jaguar or those that value the car's intrinsic quality.
Restored Jaguars are those with some original parts missing or not working, which restorers replace with newer components to return the car to its proper driving condition. Although several of these cars look like original models, there are many differences under the bonnet, and it takes a keen and experienced eye to spot these differences. They are a good choice for collectors that do not mind a few unoriginal parts.
Choose a Jaguar Model
Wise buyers are well acquainted with their car of interest, which means that they are able to get good value for money. Researching the collector's Jaguar begins with reading about the manufacturer, its history, and the car's model, year, and specification. Buyers should look through the Jaguar Heritage Vehicle Collection, which contains the manufacturers most iconic models spanning the entire product range. Visit online Jaguar owners' forums, and eBay collector's clubs dedicated to the classic cars. Hunt through magazines for knowledge and answers. By the time you have finished your research, you should know your Jaguar so well that you can identify it in your dreams.
Types of a Collector's Jaguar
Jaguar's car models are a flawless blend of performance, comfort, beauty, and elegance. The striking XK 120 is a very early 1949 model. It set the trend for what the world could expect from the manufacturer. The wide range includes their smallest model, the compact executive X-Type, the 1963 S-Type sports saloon, the full size XJ luxury saloon with more than its fair share of high-profile sightings, and the Jaguar Coupe. The low-slung sporty E-Type is Sir William Lyon's enduring legacy; as attractive and exciting decades later as it was during its launch in the radical 1960s.
Select a Type of Transmission for a Collector's Jaguar
The two types of transmission found in Jaguars are automatic and manual. Jaguars with automatic transmission are easy to drive and provide a smoother ride, although they are not as responsive as those with a manual transmission because they do not have a clutch. Jaguars with manual transmission adapt to a driver's mood more readily than automatics, with hardcore enthusiasts saying the feeling of the gear lever and clutch pedal working together is hard to beat, especially when hugging the curves or braking on steep descents. On the sports collector's car scene, manual transmission beats automatic when it comes to value because, for performance cars, function is always a priority over form. Here is a table to show the difference between the two main types of transmission.
Type of Transmission

Advantages

Disadvantages

Smoother ride

Easy to drive

Not as responsive as manual

Complex construction

Costly maintenance

Manual

Highly responsive

Simple construction

Better fuel economy

Easy to maintain

Needs skill when compared to an automatic

Uses a clutch
Each type of transmission is ideal for particular activities. For example, manual transmission is better for sporty drives and automatic transmission for errands in the city.
Understand the Item Condition of a Collector's Jaguar
Many collector's Jaguars are in a used condition. It is rare to find a new one in mint condition. Buyers should check the degree of wear and tear on the Jaguar to see whether it is acceptable. While there are plenty of companies offering restoration services and repairs, the costs can be considerable. Some types of wear are difficult to fix, such as rust, faulty engines, or widespread damage on the bodywork. Other problems require parts that are difficult to source, costly, or even unavailable. A vehicle history report is vital to get a clear picture about the type of maintenance the Jaguar has had and whether it has been in any accidents.
The eBay Buying Process
While eBay strives to make shopping on the site easy and straightforward, it is crucial that you, as the buyer, learn all that you can about the purchasing process in order to make an informed decision. Many sellers provide as much information as is required for their listings, although it all for naught if you do not understand what it all means.
Searching for a Collector's Jaguar on eBay
They say a collector's Jaguar chooses its owner and not the other way round. With eBay's vast collection of Jaguars, finding the one that tugs at your heartstrings is no trouble. Search with the keyword "Jaguar" using the search bar on the home page or any other page on the site. From the results, you can see that many sellers have listings with extensive descriptions and a number of photos, so it is up to you to observe due diligence and read everything about the cars that take your fancy.
Seller Feedback
Read up on sellers by reviewing the feedback that others have left for them. An excellent track record with positive feedback from their sales history should make you confident and secure about buying from them. Sellers have specific payment instructions and sales policy, so understand what you are agreeing to before you buy a collector's Jaguar. Always complete your transactions on eBay rather than paying in person, and consider the recommended payment method PayPal for speed and security.
Conclusion
A collector's Jaguar means different things to different people. Some see an investment or a nostalgic item worthy of restoration, some see a stylish example of outstanding engineering, and others want to make a personal statement by driving a well known classic car. eBay's range of Jaguars is extensive enough to give everyone what they need.
For the most pleasant buying experience, consider factors such as the budget, whether the car is an original or a restored model, the Jaguar model and year, type of transmission, and condition. It is essential to read up on the Jaguar of choice to determine a fair market value. An appraisal or full vehicle inspection by a third party can determine its authenticity. This process boosts the buyer's confidence in their decision to purchase the car. Once the buyer's Jaguar arrives on their doorstep, they should expect to meet scores of admirers wherever they drive.