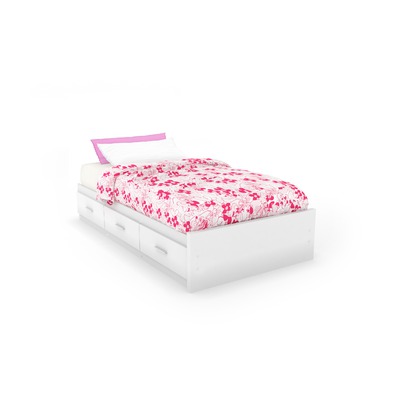 A good night's sleep is vital for the body and mind to function correctly during the day. A sound slumber between the sheets is dependent upon many different factors such as the stress level of the individual, noise levels, and temperature, but before even considering those factors, it's necessary to get the most basic tenet of the whole operation correct, and that is the bed. People spend about one third of their lives in bed, so it's important that the bed chosen is fit for purpose. In order to obtain sufficient rest and recuperation, the ideal bed should supply the user with both comfort and support.
About Single Beds
A single bed is basically made up of a frame and a mattress, although it may also contain a headboard and/or foot board, depending upon the model selected. A single bed for an adult has a standard size mattress of 36 x 75 inches (90 x 190 centimetres), although they are also available in a smaller 30 x 75 inches (75 x 190 centimetres). Single beds for children can be found with a mattress size of 27.5 x 55 inches (70 x 140 centimetres), often known as a starter bed.
Choosing a Single Bed
There are some important elements that need to be considered in the decision-making process if the correct choice is to be made. These include the type of mattress, the type of bed frame, the available space in the bedroom, the ease of access to the bedroom when locating the bed, and requirements for accessories such as a headboard, a footer board, storage drawers or castors etc., and price.
Mattresses
There are basically six different mattress types to choose from, although in practice, many manufacturers now tend to mix materials. Essentially, a mattress should be comfortable, yet provide support for the body in all the right places. The head, shoulders, buttocks and heels should all be aligned, while the spine should follow a natural, comfortable curvature. Most people believe that a hard mattress is the only good mattress, but that is not the case. As long as the mattress possesses a good supporting structure, the amount or type of padding on top of that is very much an individual choice and of little relevance. If the mattress is too hard, it places undue pressure on the head, shoulders, buttocks, and heels, and pushes them out of alignment, while one that is too soft fails to give adequate support, and in both cases, the user is likely to feel aches when he or she wakes up.
| | |
| --- | --- |
| Pocket Sprung | The springs are sewn into individual pockets and topped with various padding materials for added comfort. Not only does this give better support because of the enhanced ability of each individual coil to absorb the body's mass, but it's also good for those who prefer sleeping on their side, a position that places different pressure on the back and spinal column. |
| Continuous Coil | These mattresses are made up of one single unit of looped wire under layers of padding. They are among the cheaper types of mattress and do not last as long as those manufactured with pocket springs. |
| Open Coil | These are composed of a number of single springs joined together by wire, again with padding to add comfort. They are also at the cheaper end of the market and tend to have a shorter life than those that utilise pocket springs. |
| Memory Foam | These are also known as memory mattresses. While most of them actually comprise a sprung mattress topped with memory foam (temperature-sensitive viscoelastic), some are 100 per cent memory foam. They respond to weight and temperature, so whereas they may feel cold when getting in, particularly in winter, they soon "tune in" to the body's temperature and weight, and mould themselves to its shape. This makes them very warm, but because of the reduced flow of air around the body, they can become too warm, particularly in the summer. Because they mould to the body, it can be difficult to turn or even get out of the bed, but they are very good for those with painful joints, as they reduce the pressure a great deal. They can be turned round like sprung mattresses, but they cannot be turned over. |
| Pure foam or Latex | These consist of what it says on the packet, and are particularly good for anyone who is allergic to house dust mites. They provide even, firm support throughout the area of the mattress and give good support, as the latex or foam rubber pushes back against the body. |
| Air | Air mattresses look similar to those that use springs, only they are composed of individual pockets of air that can be adjusted to suit the user. They are topped with a layer of foam rubber to add to the comfort. Being adjustable, they can be very useful if the user is experiencing an ache or pain in a particular part of the anatomy, as he or she can have different pressures wherever required to obtain maximum effect and relief. |
Other Considerations
Further things to consider with regard to the mattress are the smell, the turning ability, and the washability. Most new mattresses exhibit a fairly strong chemical smell when first opened, so it is advisable to leave any new one to air for at least a week before sleeping on it to disperse the fumes, which will not only prevent a good night's sleep, but could make the user ill. Mattresses should be turned round several times a year to avoid the upholstery fillings bunching, particularly when the mattress is new, so the presence of handles can be very useful, particularly for those who are not too strong and agile. All mattresses are prey to staining, so the fabric should be checked for its stain resistance and the ease with which stains can be removed. The fewer the stains etc., the longer the mattress life and the better the sleep.
Bed Frames
Bed frames come in many different colours, designs and materials. Most are manufactured out of metal, wood, leather or upholstery. Metal frames are the most common and often come with casters to make movement easy when vacuuming etc. Wooden frames are similar, but heavier and therefore more difficult to move. Frames made with leather or upholstery tend to be more expensive initially and require more maintenance to keep them clean and in good condition. If a traditional-style bedstead doesn't appeal, then the divan-style or platform frame may be the answer. A big advantage of divan or platform frames is that they usually come with pull-out drawers, which provide valuable extra storage, free from dust. Finally, there are adjustable frames, like those used in hospitals. Their position can be raised or lowered by remote control and they are very useful for those who are bedridden, or those who like to prop themselves up to read or watch TV at night. Whilst the visual aesthetics of the single bed are certainly not to be ignored, the most important factor when choosing a bed frame is that it should be well-constructed and strong enough to support not only the mattress, but also the weight of the person on it as they toss and turn during the night. Consequently, any frame should be examined rigorously to check that the joints etc. are strong and not liable to fall apart.
Buying a Single Bed
Having decided on the mattress and frame that are required, it's time to check out the prices. Some online research through such trusted sites as eBay will swiftly indicate what is within the budget. However, whether the final purchase is going to be made online or in a traditional high street store, it's vital that the bed is subjected to a "test drive" before parting with any cash. It may be that, while it can be done in the store, the same model can be found for less online at eBay, for example. The following list details what to look for and do when trying out a single bed:
Go for a trusted or well known brand.
Wear comfortable clothing and remove coat, shoes etc. before lying down.
Take along a pillow to replicate sleeping conditions.
Lie for at least ten minutes, changing position as if sleeping.
Don't go when tired as all beds will seem good.
Sit on the edge of the bed to test that the mattress is firm with no sagging.
If the mattress is made of memory foam, try a couple of different positions to test the ease of movement.
Don't feel obliged to buy the mattress and frame that are displayed together. It's true that they will fit each other, but only purchase if both meet the listed requirements.
Examine the frames carefully and ask to have the mattresses removed for that purpose. Don't be afraid to give them a little shake to see if they remain firm and steady.
In practice, most people end up having to make a trade-off between what they would ideally like and how much money they have to spend. Single beds can range enormously in price, and more expensive doesn't necessarily mean better. A methodical inspection of both mattress and frame, using the information contained above, will, however, enable the customer to obtain the best value for their money.
How to Find Comfortable Single Beds on eBay
Go to the eBay homepage and hover on the Home & Garden tab in the left-hand menu, and click on the Home & Garden link that appears in the sub-menu. Next, hover on the Furniture & Living link in the left-hand column and click on the Beds & Mattresses link that appears in the sub-menu. That brings up the first page of listings. To refine it to single beds, click on the single bed link in Related searches just below the search box. The search can be honed further by checking appropriate boxes in the left-hand sub-menu. For example, if the bed is to be unused, check the box New under Condition. Alternatively, type "Single Bed" or the name of the model wished to be viewed into the search box at the top of the page.
Conclusion
Buying a comfortable single bed involves choosing both a mattress and a bed frame to suit the person concerned. There is a choice of six different types of mattress and countless frame designs, although the latter are usually available in metal, wood, leather or upholstery. While bedroom aesthetics are important, consideration must also be given to the size of the room and the positioning of the bed, as well as the physical characteristics of the person who will be using it. A good night's sleep makes all the difference to the way a person feels and behaves during the day, so the selection process should not be hurried, and care should be taken to try out any single bed before making a purchase.