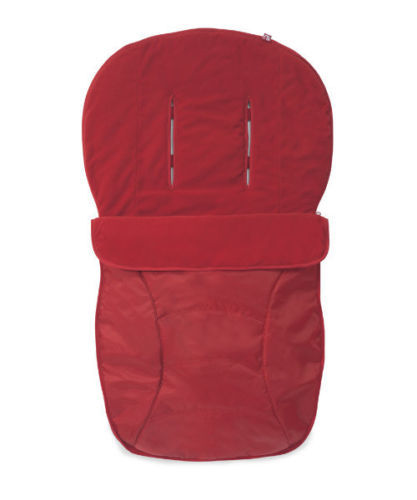 A footmuff is a cover for a baby or toddler's legs that attaches to a pushchair via a harness. It looks like a small soft sleeping bag, and is an easy to use, practical alternative to a blanket when you need to keep your child warm on cold days. Most little ones have a habit of kicking off blankets, or the blankets can drag along the ground and get caught in the wheels of the pushchair, so using a footmuff keeps things clean and safe. Also, wrapping the child in layer upon layer of clothing is not fun for the child or the parent, so using a footmuff eliminates the need to do this, making it easier to regulate the child's body temperature. The footmuff also keeps shoes and socks where they should be.
As an added bonus, a footmuff is easy to remove and wash. It protects the pushchair against spills and other mishaps, leaving it looking as good as new. Some pushchairs come with footmuffs included, but this is not always the case. Finding a footmuff that is compatible with your pushchair may seem tricky, but knowing what to look for makes the process simpler. Learn which materials are available and how to match the footmuff's pattern to that of your pushchair for an integrated look. Footmuffs are available from baby supply and department stores, as well as online from eBay.
Finding a Footmuff that is Compatible with Your Pushchair
The key to finding a compatible footmuff for your pushchair lies in the type of harness that your pushchair has and the corresponding holes on the footmuff. Certain brands are difficult to match and you may need to buy a footmuff that is designed for a specific pushchair brand and model.
Universal Footmuffs for Your Pushchair
Universal footmuffs are designed to fit any pushchair, usually with a five point harness. This is the most common type of harness and is featured in most pushchairs. A five point harness has a crotch strap between the legs, straps that go over both shoulders, and a waist belt. Simply choose a universal footmuff that can be fitted to your pushchair's harness. For added peace of mind, confirm with the seller or retailer whether the footmuff will fit your pushchair before you buy.
Universal footmuffs are also available for three point and four point harnesses, but may be a little bit less common. If you are unsure of your harness type, contact the pushchair manufacturer with your pushchair's model number to confirm the type.
Brand-Specific Footmuffs for Your Pushchair
Some brands and pushchair models have harnesses that cannot accommodate universal footmuffs. If your pushchair falls into this category, then make a note of its make and model number and search for a footmuff that is designed to be compatible with that particular pushchair. Unfortunately this may be a more expensive solution, but once you have a footmuff it can always be used for another child or given to a friend. Alternatively, opt for a gently used footmuff to save money.
Footmuff Size
Check the dimensions of the footmuff before buying. If you buy one that is too snug, then your child may outgrow it within weeks or a few months or it could be too tight and restricting to be comfortable. If in doubt, opt for a slightly larger footmuff to accommodate growth. Most toddlers are happy to use these until they are up to two years old, so take longer legs into account when buying.
Materials for Footmuffs
Natural materials, like wool or cotton, allow your child's skin to breathe while he or she is inside the footmuff. Wool is very warm, while brushed cotton is soft and pleasant to touch. Natural materials decrease the chances that the child will get warm and sweaty inside the footmuff. Microfibre is a popular choice for footmuffs and although it is a manufactured material, it breathes well. It is stain resistant, soft, and easy to care for. Choose a non-allergenic material if your child has sensitive skin or is prone to skin irritation and ensure that the footmuff has a soft lining so that your little one stays comfortable. The material chosen should be machine washable to make maintenance easy. Remember to check the care instructions for drying details before putting the footmuff in the tumble dryer.
Features of Footmuffs
Velcro or zip opening and closing systems are easy to use and allow you to open the footmuff to regulate heat and provide extra ventilation for your child when needed. Choose a footmuff that is simple to attach to avoid frustration and time-consuming struggles. In addition, some footmuffs have detachable top layers that can be removed when it is hot. The remaining part can be used as a pushchair liner. A number of footmuffs have extras, such as a front pocket. Although these may be nice to have, it is best not to base your decision on the extras. Instead, focus on finding a footmuff that is warm, comfortable, and convenient to use.
When choosing the footmuff, take your child's safety, the accessibility of the cover, and its general shape into account. The footmuff should be attached to the pushchair at at least three points and should have a reliable safety belt system. Those with zips down the side are easier to use as they can be opened all the way, giving you complete access to your child.
Footmuff Colours and Patterns
While the colour and pattern of the footmuff are probably the least important features to consider, it is important to find a footmuff that you like. If you buy a universal footmuff, consider choosing one in a colour that matches or complements your pushchair. Alternatively, choose a neutral block colour or match the footmuff to your child's favourite colours.
If you choose a patterned footmuff, opt for one that has a similar pattern to the pushchair. A cheerful pattern could be exactly what you and your child need on chilly winter walks, but try to keep spots with spots and stripes with stripes. If your pushchair is in a block colour, liven things up by choosing a patterned footmuff.
Buying a Footmuff on eBay
Finding the perfect footmuff for your pushchair on eBay is simple. Search by typing a phrase, for example, "red Bugaboo footmuff", into the search field, which is located conveniently on every page, to see the footmuffs offered by eBay sellers. Refine your search by choosing the most appropriate item features. If you would like to narrow or expand your search results, use the advanced search function.
Evaluate the Item
Before buying on eBay, learn about the item by visiting the item listing page. This is where you can find all of the information that you need about the item, buying options, the seller's accepted payment methods, postage and packaging costs, the seller's returns policy, and the seller's feedback. To contact the seller with questions about a listing, click on the "Ask a question" link.
Evaluate the Seller
Once you have found a footmuff that you like, take a moment to get to know the seller. eBay's seller feedback feature makes this easy. Detailed seller ratings provide additional information about aspects such as the seller's communication, the accuracy of the item description in the listing, the reasonableness of postage and packaging costs, and how long the seller took to dispatch the item. Many sellers specialise in a particular type of product. If you find a seller that you like, visit his or her eBay Shop to see similar listings.
Conclusion
A footmuff is an excellent alternative to bundling your child up in layers of clothing or using a blanket to keep him or her warm. A footmuff not only keeps the child warm, but also protects the interior of the pushchair, leaving it looking like new. Footmuffs can be divided into two broad categories: universal or brand-specific. Universal footmuffs are designed to fit a range of makes and models of pushchair, while brand-specific footmuffs often fit only a particular make and model.
The footmuff's compatibility depends on the type of harness featured in the pushchair. A universal footmuff usually fits any pushchair with a five point harness. Although they are rarer, universal footmuffs for three or four point harnesses are also available. If a universal footmuff is not compatible with your pushchair, then you may need to buy a product that is matched to your particular type of pushchair. In this case, buying a used footmuff is an excellent way to save money. Always check its compatibility with the retailer or seller before buying.
In addition to compatibility, ensure that the footmuff is large enough to be useful for the entire cold season. Also consider the material used to make it. Choose natural fibres or microfibre, which breathes well, to keep your child comfortable. Although not as important as safety, accessibility, and convenience, the colour chosen should match or complement the pushchair. A range of footmuffs are available from eBay sellers.