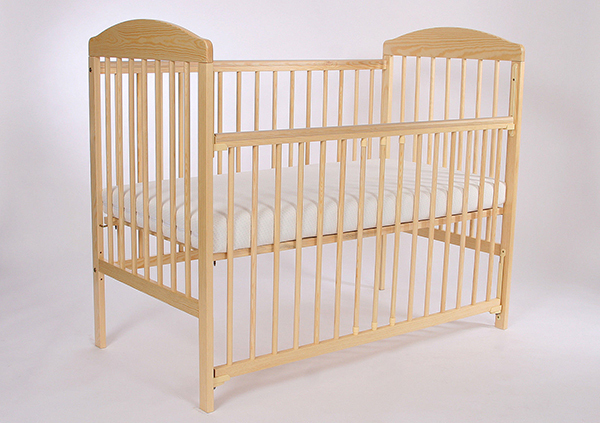 Parents in the market for a cotbed have many options before them. With the rising popularity of these convertible cots, manufacturers are offering an array of styles and design options when it comes to cotbeds. Cotbeds are also starting to feature accessories that can enhance their quality and appeal. One accessory feature that is useful for many parents is the teething rail. This protective shield covers the rails on a cotbed and benefits both the baby and the parents.
Before shopping for a cotbed with a teething rail, parents and other caregivers may want to learn something about this feature and its benefits, as well as helpful information about cotbeds themselves. Consumers may also want to find out a few of the retail options that are available to them for finding a cotbed with teething rails, such as the online retail site eBay.
What is a Teething Rail?
A teething rail is a protective covering that fits onto the rail or side of a cotbed. Even before they begin teething, many infants gnaw on the rails of cotbeds. These protective coverings serve as a safe buffer between the child and the wood of the rail. They prevent the rail from fraying, denting, and releasing any small particles that could harm a baby. Teething rails also help preserve the condition of a cotbed, an appealing characteristic for parents who plan on having more children or who wish to save a cotbed for the next generation or other family members.
Cots vs. Cotbeds
First-time parents may be unaware of the distinctions between cots for infants and cotbeds. A cot is a fixed, slightly smaller infant bed that may or may not feature a drop-side rail. A cot typically has one height setting for the cot mattress. The drop rail allows parents to pick up and put down a small infant more easily.
A cotbed, on the other hand, is a transitional piece of furniture that transforms to accommodate a child's different stages of growth. The mattress has several height settings, and it is usually lowered as a child grows to allow taller and stronger babies to stand up safely in the cotbed and hold the side rails. When a child reaches the toddler stage, the front rail or the side rails of the cotbed can be removed to allow the child to begin using the cotbed as a real bed and get in and out of bed by himself or herself.
Cotbeds With Teething Rails
Many cotbeds are sold today with teething rails pre-installed, and this offers consumers an all-in-one solution. These cotbeds typically have plastic coverings along the two long rails of the cotbed. Finding a cotbed with a teething rail pre-installed is ideal, as the teething rail is guaranteed to fit perfectly and completely cover the rails. A pre-installed cotbed teething rail does not have any loose edges on the plastic rail itself that could aggravate a child's gums or mouth.
Buying Teething Rails Separately
Another option is to find and purchase teething covers for a cotbed's rails separately. Consumers can find several different types of teething rails on the market, all of which can be used on most cotbeds.
Plastic Teething Rail Covers
Plastic teething rails can be purchased in sections that are then slipped onto a cotbed rail to complete a relatively seamless rail cover. These easy-to-use covers are available in non-toxic, phthalate-free versions to ensure that a child is not exposed to any dangerous chemical leaching from bad plastic. These covers are often sold in 30 cm sections and feature an easy slip-on design that requires minimal installation effort.
Consumers who are interested in purchasing this type of teething rail cover should first carefully measure the rail length of a cotbed. They can then purchase the appropriate number of covers to adequately cover that length without leaving gaps in the rail covers. Consumers should also monitor plastic rail covers to ensure that they stay in place. A good quality rail cover should fit well with a rail and stay in place. It is not recommended for a consumer to use an adhesive to seal a cover to a rail. This can damage the cotbed and, more importantly, expose a small child to toxic elements.
Cloth Teething Rail Covers
Cloth teething rail covers offer another option to consumers. These rail covers are made of padded cotton and are tied to the rail via a series of ties, much like some cot bumpers. The advantage of cloth teething rails is that they can bring some added colour to a nursery. Cloth teething rail covers are made in a variety of patterns and colours and are generally much more attractive than the plastic options.
These covers, however, do need to be monitored for wear and fraying if a child uses them often. Parents should also ensure that a cloth rail cover is securely tied to a rail so that a child cannot pull it off and play with it.
Teething Covers for Cotbed Sides
There are also cover options on the market that can protect the side components of a cotbed. For these to work, a cotbed needs to have a slatted side so that these shorter covers can tie through the slats. Since some cotbeds have solid side panels, this may not be a feasible option for some consumers. If a cotbed side is narrow and straight, plastic rail covers may work as an option, but parents should first confirm a secure fit before purchasing and installing a plastic rail cover on a side component of a cotbed.
Mattress Height and Cotbed Rails
It is important for consumers to note that the height of a mattress used in a cotbed is an essential consideration, especially when a child is encouraged to stand and use a teething rail. In general, cotbed mattresses should be around 10 cm tall. A mattress should not be so tall that it allows a standing child to have too much body exposed over the top of a teething rail. As children grow, consumers should take advantage of the multiple height settings on a cotbed so that taller children can stand safely while holding a teething rail.
Additional Accessory Cotbed Features
In addition to teething rails, there are several other accessory features that consumers may want to incorporate into their search for a cotbed in order to add value to a purchase. These include cot-top changers, which are platforms that attach to the main rails of the cotbed to provide a changing surface for a small infant, and rollaway drawers that are installed in the base of a cotbed for extra storage. Finding a cotbed that features these details along with teething rails can give consumers a comprehensive sleeping solution for a child's nursery.
Shopping for a Cotbed With Teething Rails
Traditional brick and mortar baby vendors may offer a selection of cotbeds with teething rails. These types of local vendors are often limited in the range of their selection, however, especially with large items like cotbeds that are not sold in huge numbers. For a wider range of choices, consumers can also consider looking for a cotbed with teething rails on eBay or on other large online retail sites.
Buying a Cotbed With Teething Rails on eBay
The online aggregator eBay brings together multiple vendors to compile an extensive selection of cotbed choices. To begin looking through these listings, you can use the search interface that is located on every page of the site. Enter a keyword term that adequately describes the item you are interested in purchasing into the search field and click on search. This brings up every listing on the site that is related to your search term. Filters and categories can then be chosen to narrow the results.
Evaluating the Sellers on eBay
As you look through the listings related to your search, you should also take some time to evaluate the sellers that are associated with particularly appealing listings. You can accomplish this by clicking on the seller's name and visiting the seller's page. There, you can review the feedback that other customers have submitted about the seller, as well as the seller's past listings. This tool can help you assess whether a seller can provide you with your ideal cotbed.
Conclusion
A cotbed is perhaps the most central item on the list of items that parents must purchase before the arrival of a baby. A safe and secure cotbed is necessary for the comfort, health, and well-being of an infant. Cotbeds often feature more and more enhanced features, including teething rails, which are helpful enhancements that allow babies to chew on the rails of a cotbed when teething without harming the baby or permanently damaging the cotbed.
By familiarising themselves with cotbeds and their designs, as well as the additional features that cotbeds may include, consumers can better position themselves to begin shopping for a cotbed with teething rails. As an alternative, consumers can also consider purchasing removable teething covers for rails if the cotbed they want to purchase does not have pre-installed teething rails. Whichever type of cotbed a consumer decides to purchase, the range of retail options out there for consumers to consider is impressive at large online retailers like eBay, and traditional brick and mortar vendors often offer a respectable selection, as well.