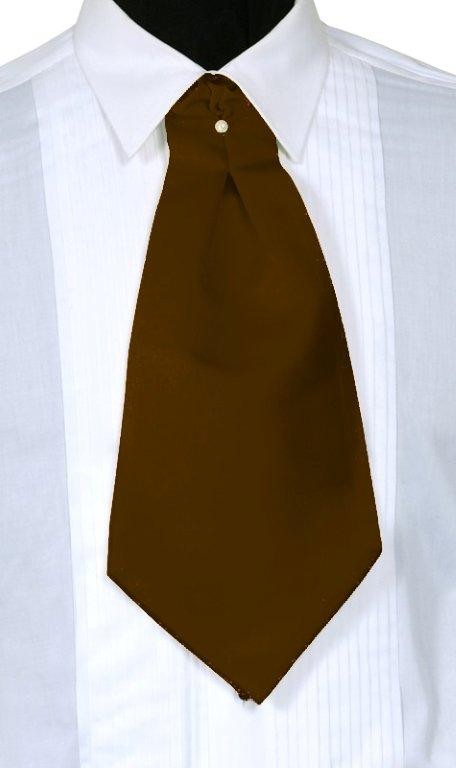 A cravat is a neckband with material meant to hang down the centre of the chest and tuck into a vest. It is a fashionable piece to wear at formal occasions such as a wedding, though cravats are also popular in the Steampunk movement, which incorporates Victorian fashions into modern dress. The cravat's heyday is in the distant past, but it has an important spot in neckwear lineage that ends with the modern necktie.
The cravat originated in the 17th century in the territory that is now Croatia and it spread to the rest of Europe as Croatian soldiers served in various parts of the continent. Croatian soldiers had worn a neck sash that preceded the cravat while serving in Germany during The Thirty Years War (1618-1648). In 1667, the French gave a Croatian regiment the name "Royal Cravates" and the term cravat entered international lexicon carrying the meaning of a necktie. Louis XIV adopted the cravat as part of his dress and the piece quickly became fashionable amongst European elite. The cravat spread to England, where 19th-century Victorians began to produce coloured cravats in addition to the standard whites and they began to experiment with new ways of tying the cravat. Additionally, many people still appreciate the bold look that a cravat lends to formal dress.
eBay grants access to a large selection of cravats, and this guide informs potential customer of how to buy a cravat on the site. It explains a few important things that buyers should understand about cravats and details the different cravat styles available on eBay. This information will help buyers make successful purchases of cravats on the site.
Understanding the Cravat
The information in this section is meant to help readers understand the cravat before they go to eBay to purchase one. This section covers the history of the cravat, its dimensions, and the process of tying a cravat. Understanding these aspects of the cravat will help readers with their buying decisions on eBay.
Dimensions
The dimensions of a cravat can vary, but most self-tying cravats are 43-44 inches long before tying. This takes into account 14 inches for each wide band, plus another 15-16 inches for the narrow band that goes around the circumference of the neck. The wide bands are usually 5-6 inches wide and the neck band may be 2-3 inches wide.
These are standard dimensions for self-tying cravats, but they can vary depending on whether consumers prefer longer or wider cravats. Pre-tied cravats are generally 14 inches long from the tying point to the bottom and the sash is 5-6 inches wide. The neckband is usually adjustable to fit multiple neck circumferences.
Tying a Cravat
Those that are interested in buying self-tying cravats on eBay will want to first be sure that they know how to tie a cravat. First, place the cravat around the neck so that the wide bands drape equally far down the front of the torso. Next, cross one wide band over the other near where the bands narrow. It is okay to cross either band over the other, but for the sake of this example, the right band crosses over the left.
Point the tip of the right band towards the body, pull it up through the loop created by folding it over the left band, and lay it back over the front so that the right band is in front the left band and slightly shorter than it. Next, push the right (or front) band slightly off to the right, pull the tip back underneath the left (or bottom band) towards the left shoulder with the underside of the right (or front) band facing outwards, and then pull the tip up through the loop that this arrangement has created. This will create a knot with the right band still on the right and the left band still on the left. Centre both bands, with the right one on top of the left, and use a cravat pin to hold them together. And now you can finish the look because the cravat is now tied.
How to Decide on Cravat Styles
Once a buyer understands the history, dimensions, and tying process of a cravat, he or she can proceed to eBay to decide on a suitable cravat style. This section describes the various cravat styles that a buyer can find on eBay, including the cravat's material, colour, and attachment method.
Material
The table below details the various materials from which cravats are designed. It describes each material and provides a point or two of advice for how to match each material to suits or jackets.
| Material | Description | Matching Advice |
| --- | --- | --- |
| Satin | A weave with a glossy surface. Satin can be made from silk, nylon, or polyester. | Not to be worn with a suit of rough wool or cotton. |
| Polyester | Synthetic fabric that can offer good durability and colour retention. It may or may not have a satin weave. | Versatile, but polyester is not considered a luxury fabric. |
| Silk | Natural fibre that produces a sheen when woven into a fabric. It is usually smooth and soft. | More suited to formal wear, though it depends on patterns. |
| Cotton | Natural fibre with a more subdued look than silk. Cotton is also soft. | More casual, but also very versatile. |
| Wool | Natural fibre that is warm and often heavier than cotton. Coarse compared to silk. | Goes well with a tweed jacket, but not with linen. |
The level of formality is perhaps the top consideration for a buyer trying to select a cravat material on eBay. Silk and satin are good materials for more formal occasions, while polyester, cotton, and wool tend to be better suited for more casual wear.
Colour
Colour is another important consideration when shopping for a cravat on eBay. After choosing a material, a buyer will next want to think about which colour he or she wants. Colour is largely personal preference, but some cravat colours tend to match certain suit and jacket colours better than others. Grey and black suits and jackets match every cravat colour except for brown. Blue suits and jackets are also quite versatile, with black and brown cravats being the most likely to create a faux-pas. It is also relatively easy to pair cravat colours with white suits and jackets. Most colours, except for black, white, and yellow, will work. It can be a bit more tricky to match a cravat colour with a brown suit or jacket. Yellows, browns, and greens tend to work best here.
Attachment
The final step to a buyer selecting a cravat on eBay is choosing the kind of attachment he or she wants. Self-tie cravats are the classic design, but a buyer should make sure he or she understands how to tie a cravat before purchasing one of these. Those that prefer to buy pre-tied cravats have a few attachment options on eBay. There are tied cravats that feature an adjustable neckband, cravats with elastic neckbands that stretch to fit a variety of neck circumferences, and clip-on cravats that attach directly to a shirt and have no neckband at all. Choosing a cravat attachment on eBay really just depends on the buyer's comfort level with tying their own cravat or how close he or she wants a pre-tied cravat to resemble a self-tying one.
Find Cravats on eBay
It is easy to find a cravat that suits you on eBay. To see the full selection of cravats, go to the home page, enter the term "cravat" into the search bar, and click Search. The results will be many and it may take awhile to browse the listings. You can narrow your search is by adding a descriptive word or two to your search term. If you want a red cravat, for example, use "red cravat" as your search term. If you want a red silk cravat, use "purple silk cravat". Using descriptive search terms will help you find the cravat you are looking for.
Once you have a reasonably sized selection of cravats to browse, you can filter your results to sellers located within a certain distance from you. This may be a useful if you want to reduce expected shipping times and costs, and it is even possible to arrange in-person pick-up with some sellers.
Conclusion
Although the cravat's period of significance in the world of fashion is well in the past, it remains a relevant today. Often bolder than a necktie, a cravat is a good way to make a statement through dress. eBay offers a massive collection of cravats, which is great for those who appreciate choice, but may be overwhelming for those who are not sure where to begin when it comes to selecting a cravat. This guide has provided information on how to buy a cravat on eBay in order enhance cravat-buyers' shopping experiences on the site. In addition to explaining the different style features of cravats that shoppers can find on eBay, this guide has also explained the cravat's history, standard dimensions, and tying process. This information will educate buyers so that they will know what they are looking for when they go to eBay to find their cravats.