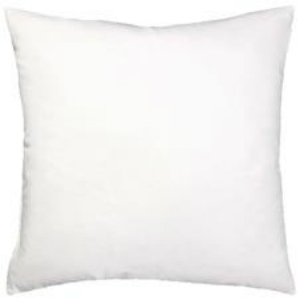 A cushion pad consists of a plain fabric case stuffed with a soft filling. The pad is designed to be used in conjunction with a cushion cover, which can come in a variety of fabrics to match the home decor. The cushion cover is designed to unfasten so that the pad can be placed inside or removed easily. Cushion pads can come in a variety of shapes, depending on the size and shape of the cushion cover that they are required to fill, but the most common shapes are square or rectangular.
Choosing a Cushion Pad
An option would be to purchase a cushion pad to replace an old one that is worn, gone flat or lost its shape. In cases like this, it is important to measure the dimensions of the cushion cover and to buy a pad that matches exactly in order to ensure the best fit. If choosing new cushions and pads, there are many things to be taken into consideration before making a decision on the most appropriate type of pad.
Different Uses for Cushion Pads
The type of cushion pad purchased will depend on factors such as the decor and theme of the room in which it is to be used. It is also important to think about the purpose that the cushion will be used for.
Seat Pad
This type of cushion is placed on a hard chair, such as a chair in a dining room or conservatory, to provide a softer surface to sit on. This type of pad may be square, or have rounded edges to match the contours of the seat. Seat pads are commonly filled with foam to provide support, although other materials may be used. It is important that this type of pad keeps its shape during use and does not flatten out easily over time.
Scatter Cushion Pad
Scatter cushions may be used in the lounge or in the bedroom. They vary in size and could include large rectangular cushions, similar to pillows, or smaller accent cushions used to accessorise a room. Scatter cushions need to be soft and plump so that they mould to the body when used as a support for the neck or back. Scatter cushions can also come in more unusual shapes, such as a heart or circle and would require an insert to match the shape of the cover.
Bolster Cushion Pad
A bolster cushion pad is a cylindrical shaped insert that is commonly used in a bedroom, although they can also be used on sofas and chairs. A bolster pad needs to be supportive and comfortable.
V Pillow
A V pillow is useful as a supportive cushion for the elderly and infirm, though it may also be used by a breastfeeding mother to offer support to a baby during feeding. The most common use of a V pillow is to support the body when someone is sitting up in bed or on a chair.
Fillings for Cushion Pads
Another important factor to consider when buying a cushion pad is the type of filling inside. Certain types of cushion fillings may offer distinct advantages over others, and again, it is vital to think about what the cushion will be used for when considering which type of filling would be best suited for purpose.
Feather
Feather fillings are made from either duck or goose feathers. Duck feathers are very light and trap air easily, meaning that cushion pads filled with duck feathers are light and fluffy. They keep their shape easily and last a long time without going flat. Duck feathers have a natural curl to them, which means that they spring back to their original shape quite easily. Goose feathers are very similar, but are even lighter and fluffier than duck feathers. As a result, cushions filled with goose feather are softer than but not as supportive as duck feather cushion pads. The type of feathers used is also important. Down feathers are the softest types of feathers, as they do not have the hard quill that exterior feathers have. Down is a common filling for pillows.
Polyester
Polyester is a common filling for cushion pads, and is usually cheaper than other materials. Polyester may be a good choice if allergic to feathers. A big advantage of polyester over natural fillings is the fact that it is easier to wash and can be washed at high temperatures without losing its shape. This is a big bonus for those with dust mite allergies or asthma. Polyester fillings are a good choice for families with young children.
Hollowfibre
This is usually the cheapest type of cushion pad filling. This man-made filling is good for allergy sufferers, but has the disadvantage of losing its shape and going flat quickly. It may only have a 6 month to 2 year lifespan. Hollowfibre is a good choice for those who like to change the cushions regularly.
Foam
Foam is much more supportive than other fillings and the best choice for seat pads. Foam filling is useful, because it can be cut to size as required and comes in a variety of densities from soft through to very firm.
Memory Foam
Memory foam cushion pads offer additional support as they mould themselves around the body. Memory Foam is also becoming increasingly popular for use in cushion pads for pet bedding. This high-density foam returns to its original shape once pressure is removed. A disadvantage of memory foam is that certain types may not be fire-resistant.
Cushion Pad Fabric
Although the fabric used for cushion pads is plain, the fabric type should still be a consideration when purchasing a cushion pad. Certain fabrics may be more easy to wash, or have better fire resistance than others.
Cotton
Cotton is inexpensive and breathable. Cotton is natural and, therefore, a renewable resource that is environmentally friendly. Cotton is durable, which means that a cotton cushion pad will last for many years. The disadvantage of cotton is that it burns easily.
Polyester
Polyester is cheap, strong, and lightweight. It is resistant to shrinkage. The disadvantage of polyester is that it is difficult to remove stains from the fabric. Polyester is not breathable.
Polyester/Cotton mix
This fabric combines the advantages of cotton and polyester. Polyester/cotton mix is strong and shrink-resistant, but has the lightness and breathability of cotton.
Buying Cushion Pads on eBay
From the main menu, select the Home, Furniture & DIY section and scroll down to Home Decor. In the submenu, select Cushions. Down the left hand side of the screen there will be a number of selection menus. From the Type menu, select Cushion Pads. Alternatively, type "cushion pads" into the eBay search bar. Choices can further be narrowed down by specifying the type of filling or shape of pad in the search, for example: "hollowfibre cushion pads&" or "shaped cushion pads &". Moreover, a selection of filters, such as Condition and Type, is available on the left hand side of each search page to further narrow a search down.
Conclusion
When purchasing a cushion pad, think about what the cushion will be used for, and where it is to be placed in the home. By thinking about the best size, shape, fabric, and filling, be confident in choosing an item that is fit for the purpose. It is vital to think about factors such as firmness, durability, and cost. Those with allergies may decide to choose cushion pads made from hypoallergenic fabrics and fillings. Another consideration is how easily the cushion pad can be washed. A pad that can be washed at high temperatures will enable the effective removal of dust mites. A well-chosen cushion pad, used with an appropriate cushion cover, can be a decorative and practical addition to the home. Cushions serve not only to accent and accessorise furniture, but also to provide comfort and support.