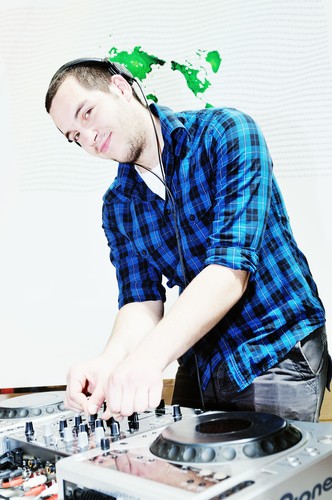 A good DJ knows how to pump up the jams and keep the party rocking until dawn. DJs are in charge of mixing beats, and they entertain an assortment of crowds. DJs spin in clubs and bars, for parties and special occasions, and the lucky ones work large venues. But no matter if a DJ's speciality is vinyl, MP3s, or a combination of the two, they are going to need a space to keep their stuff safe and easily accessible.
Because DJs work standing up, they need a deck stand approximately waist high to set up their mixers, turntables, laptops, and more. A deck stand should be purchased to accommodate both their equipment and the space they work in. Whether spinning vinyl or digital or both, DJs can find a deck stand to accommodate their equipment and a variety of spaces at specialty music stores and online at websites like eBay.
Choosing a DJ Deck Stand
When deciding on the right DJ deck stand, shoppers have multiple variables to consider before making a purchase. The deck stand must have enough room to fit all of the DJs equipment. Equally as important and because their gear can be heavy, the deck must be able to support everything without it bending and breaking. Deck stands can be made from a variety of materials. Wood, metal, and plastic are the most popular. Some DJ deck stands have a solid surface, while others, such as Ekho, are built more like racks.
Additionally, DJs should have an idea of the space they plan to spin tracks in and buy a deck stand that can fit into the space. Some stands are designed to fit in compact spaces, while others have ample space for additional equipment. Nearly all deck stands have space to store the turntables coffins and other extra equipment discussed below. DJs concerned with keeping items away from crowds should opt for a deck stand with a partition for protection. The sections below can help DJs choose the perfect deck stand.
Accommodate Equipment
The only type of deck stand a DJ should buy is one that can hold all of his or her equipment. Novice DJs buying equipment for the first time should decide between vinyl or MP3s. Advanced or professional DJs can inventory and measure the length and width of their equipment to have an estimate for the correct sized table. DJs intending on expanding gear require additional deck stand space and might want to buy one that is a bit larger. Established professionals want one that fits only what they need, and the amount of space needed depends on the type of equipment and the size of each component.
Vinyl DJs
DJs who use old school vinyl need a deck stand to fit at least two turntables to spin records and a mixer. Because DJs rely heavily on perfect timing, equipment is typically arranged horizontally so they have easy access to everything. Buyers should measure the length and width of all their equipment to get the total area of all of their stuff. Not only is DJ equipment a costly investment, but most are heavy and fragile. When searching for a deck stand, shoppers should always check the weight limits before buying. Ibiza has many models available that can hold up to 60 kilogrammes. Some DJs have equipment they either use infrequently, or they are designed to enhance sound. If DJs have additional gear, such as a CD player or amplifier, then it might be a good idea to purchase a deck stand with a lower rack or shelf, especially if space is limited.
Digital DJ
One advantage to using MP3s over records is the variety of equipment a DJ can use. Some prefer to have a setup that mimics the vinyl with turntables and a mixer. Others can operate almost entirely off a laptop. If the DJ's set-up is like one that spins records, then they should buy a deck stand large enough and durable enough to hold their equipment. They too should measure and weigh what they plan to place on the deck stand.
Laptop DJs generally have compact setups, and many deck stand manufacturers like Citronic are making laptop stands. There are several models of these stands, but almost all of them are adjustable and raise and angle the laptop. One type of laptop stand has a single pole that mounts or clamps to a flat surface. This style is typically used for more permanent setups. Many have adjustable arms, so DJs can modify the laptop's angle and height. Another option, ideal for portable DJs, has two thin legs that balance and raise the laptop. Although these models can only change the height, and not the angle of the laptop, these types of deck stands allow DJs to stack equipment.
Fit a Space
In addition to purchasing a deck stand that can hold all the DJ's equipment, it must also be able to accommodate the space he or she performs at. DJs with large deck stands and a lot of equipment may not be able to work small bars or in confined spaces. If the DJ does not have an idea as to what size space he or she can use to spin, it is wise to buy a stand that fits the minimum amount of equipment, and one with a lower rack for less used equipment, such as other media players.
Portable or Permanent Deck Stand
DJs with a consistent gig or the option to set up a permanent deck stand can opt for one that takes some time to set up and break down. Fixed stands are typically more stable, yet bulky and a pain to disassemble. Mobile DJs, on the other hand, should purchase a portable deck stand that is easy to break down at the end of the night. Some companies claim to be lightweight and durable yet do not hold up to the test. They are often made of cheap parts that break and crack under pressure. Ekho, Rhino, and Ibiza all have trusted reputations for building top-notch DJ deck stands that are also easy to break down. To make transporting equipment even easier, look for deck stands manufactured with wheels on the bottom.
Deck Stands with Lights
Deck stands with lights add a visual appeal for the DJ's audience and really can enhance the performance. When it comes to choosing this type of deck stand, there are two popular models to choose from. First, overhead lighting stations are built into the deck stands. They consist of durable metal tubing designed to suspend and support strobe lights and others made to light up the dance floor. The other type of deck stand has coloured lights built into the perimeter of the table. This model is popular with DJs in clubs and other venues. There are also kits available with neon tube lighting to modify DJ deck stands without any lights.
How to Buy a DJ Deck Stand on eBay
DJs do not have to look long and hard on eBay to find a deck stand to drop their beats on. Simply type "DJ deck stand" to take a look at everything eBay has to offer. If you do not see exactly what you want in the auctions, take a peek in the individual seller shops. Include keywords in your search to help narrow the scope of your results. For example, "Ekho DJ stand" and "DJ laptop stand" are two searches that yield different results. Check out eBay's Search Tips page for even more helpful hints.
eBay allow shoppers to custom sort DJ deck stands by their priorities. Bargain hunters can find eBay's best deals by sorting from lowest to highest price; eBay can factor in shipping to assure customers they are getting the absolute lowest price. Customers can also arrange deck stands by highest to lowest price, time left in auction, and distance from seller.
Once you have found a DJ deck stand that is conducive to both your budget and your demands on eBay, there are a few more pieces of information to collect. Remember to read the entire listing before making a bid or purchase. If you need any clarification, Ask a Question to the seller. Next, take a moment to look into the seller's eBay history to determine how past business has been handled. Pay special attention to the seller's approval rating and feedback; only buy from those with positive ratings and positive comments.
Conclusion
Finding the right sized deck stand for a DJ is simple if the buyer is familiar with their equipment and how much space is allotted to them and their equipment. Those who spin vinyl need to enough surface area to hold at least two turntables and a mixer. Digital DJs operating off of a laptop with no turntables and just a mixer can work within tight, compact spaces if they purchase a laptop stand. This allows the DJ to stack the laptop over the mixer and free up space on the stand. If DJs are using MP3s with turntables, then they likely need a large deck stand. Some deck stands come equipped with built-in lights, which look great in dark settings and allow them to stand out in the crowd. DJs can find an assortment of deck stands at shops that sell music instruments or vinyl and online auctions like eBay.