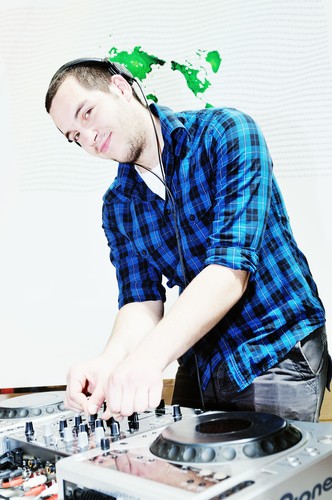 An aspiring DJ requires specific equipment to entertain their listening audience. The configuration of the equipment and the surface upon which the equipment rests can have a significant effect on the DJ's performance. Without a deck stand that meets the needs of a DJ, regardless of their experience level, the the quality of their performance can suffer.
When conducting a search for a DJ deck stand, the buyer should begin by evaluating their DJ equipment, as well as the locations where they are performing. A DJ deck stand has to be stable, to protect the turntable deck, with sufficient surface area to fit all of the necessary equipment. The DJ that also travels extensively to various gigs needs to consider manoeuvrability and how easy it is to transport the DJ deck stand.
A retail outlet that specialises in DJ and audio equipment also sell deck stands. The variety of deck stands at one retail outlet may be limited. Shopping online is also another option when searching for DJ deck stands. An open marketplace such as eBay offers a variety of listings for DJ equipment, including DJ deck stand..
What Is a DJ Deck Stand?
A DJ deck stand is a configuration of any one or all of various tables, platforms or attached stands designed specifically for accommodating turntable decks, CDJs, or both. DJ equipment typically includes turntables, controllers, CD players, digital vinyl systems, laptops, hard drives, and mixers. Without a DJ deck stand, a DJ is not able to access all of their equipment easily. A deck stand serves as a base for all of the equipment. Should a deck stand have insufficient space, the DJ equipment cannot be used to its full potential, and a DJ's performance can suffer for this.
Factors to Consider When Choosing a DJ Deck Stand
The more familiar the DJ is with their equipment, the easier it is for them to choose a deck stand to meet their needs. The DJ should start by assessing how their equipment needs to configured. The item that is often located front and centre, the turntable or CDJ, needs plenty of room. Before choosing a type of stand, it is important to evaluate the space necessary for any and all DJ equipment. The style of deejaying also dictates how the stand is set up. A DJ who prefers completely digital formats, require less space, since digital music mixing can be completed with just a mixer and a laptop. If the DJ needs to travel from gig to gig, they need a stand that is lightweight and easy to transport.
The Deejaying Equipment
Although the deck stand is the base from which to build upon, all the deejaying equipment should be considered when determining the right DJ deck stand to buy. The following table lists the essential deejaying equipment and what the DJ needs to consider with respect to their deejaying equipment.
| Equipment | Consideration |
| --- | --- |
| Vinyl Turntable | Need adequate storage space; can be very heavy; requires proper structural support |
| CDs | Require adequate storage space |
| Headphones | Special stand or hook for headphones to prevent damage and allow for ease of access |
| Amps | Need holes cut for wires; amsp get hot and need adequate room for airflow |
| Laptop | Stand required to mount and display laptop; allow for ample deck space for table top stands |
When shopping for a deck stand, it is vital that the DJ factor in all their equipment when looking at various features. Purchasing a deck stand that is too small, results in work areas crowded with equipment. When equipment is not evenly space, it starts to get in the way of the DJ. Insufficient space can negatively impact the quality of the performance.
Ease of Use
A DJ needs a table that offers stability, but is not so rigid that the table is difficult to manoeuvre when setting up or striking the set at the end of the gig. It is not always necessary to choose between stability or manoeuvrability. A more stable deck, such as one constructed from solid wood, is not easy to transport. However, this type of stand can be made transportable with the use of casters.
Ideally, it is important to search for a deck stand that affords as much surface space as possible, with as much rigidity as possible. Although collapsible stands are helpful when travelling to various gigs, they may not provide the necessary storage space or rigidity as the more sold, booth-style DJ deck stands. While there are options that fall in between, it is important to consider whether the deck stand needs to very portable, very solid, or a combination of two.
Surface or Sunken?
Turntables can either be designed to sit on top of the stand surface or sunken into a specially designed deck, that is flush with the surface of the table. A sunken deck stand has holes cut into the surface of the stand so that the deck can be placed into the hole. When a turntable is placed down into the stand, it is afforded better protection than if it stood on the tabletop. Some deck stands are also constructed with compartments for sunken mixers, although this is less common because mixers do not come in standard sizes like turntables.
The Choice of Materials
Deck stands can be manufactured of various types of metals or wood. While there are no standard materials, it is important to consider rigidity and durability. Although lighter in weight, a wood composite is less durable than solid wood. The metal DJ deck stands, although easier to dismantle and transport, do not offer the same stability as the wooden stands.
Types of DJ Deck Stands
A DJ is able to create functional space with a series of stands. The stands can be a simple as a tabletop stand that provides additional surface area for equipment or the stand itself can be the main component with various additions to the main stand.
Matrix Stand
A matrix stand is a very minimal deck stand option that is often attached to a booth, table or larger stand. It is similar in shape to a podium. This deck is tilted toward the DJ and is raised above the surface upon which it sits. The bottom of the stand can attach to any surface, without the need for screws or brackets. There are some versions that come with permanent attachments. A typical matrix stand is composed of metal and often includes a bottom compartment for the mixer.
Wing Stand
Designed to elevate equipment and create more space, the wing stand is designed to sit upon any surface with a tray for each piece of equipment. The design typically features four compartments, or trays, one on the left, one on the right, one on the bottom centre and one in the top centre. The left and right extensions have the appearance of wings, hence the name. This type of stand is typically assembled to be all one piece and can be easily transported to various locations.
Booths and Consoles
A DJ booth or console is a structure that is designed specifically for all of the DJ's equipment. The booth comes in various shapes, sizes, and heights, and is designed for sitting or standing, although most DJs prefer to stand during their performances. Consoles resemble a large piece of furniture with a top surface for a deck and other shelves and compartments for storage and additional equipment.
DJ booths are commonly seen in nightclubs. The booth is typically a rectangle shape, with at least one flat surface upon which to place decks and equipment. Booths are often fitted with a panelled screen that surrounds the outside of the booth. The screens often have LED lights, create lighting effects that can be timed to the music.
Truss-Style Stands and Folding Tables
This type of stand is a very simple folding table with adjustable legs for varying the height. The truss stand is portable and can be used in temporary locations. Because this is a temporary stand, the deck is simply placed on the surface of the table. Although a folding table is practical for travel, it is not very sturdy. This can affect the preciseness of meters on the turntables. Folding tables or trusses should only be used when no other options are available.
How to Find DJ Deck Stands on eBay
To locate DJ deck stands on eBay, you begin by conducting a general search from the eBay homepage. Entering the keywords 'DJ deck stand&' results in all of the current listings for deck stands to appear on a page. The more keywords or details that are entered, the more targeted the search is. Entering keywords such as 'dj deck table&' or 'dj booth' narrows the listings based on the type of stand.
Be sure to review all product details. The seller should provide all details regarding size, portability, and assembly requirements. The details regarding the fit of specific equipment should be provided by the seller. Should you discover that there are certain details missing from the item description, you should contact the seller directly to inquire about these specifics. To do this, simply click on the seller's username, go into the seller's profile and click on the contact link. If these postage fees are not included in the listing, the seller should be able to provide an estimate.
To minimise or to effectively eliminate postage fees, you should try to organise a local pick-up. DJ deck stands can be bulky and expensive to ship across the country. To search for listings in your local area, simply enter your postcode on the results page under the heading, 'Distance'. You then specify a search radius by inputting the distance from your postcode in miles.
Conclusion
A deck stand is the base upon which all of the other DJ equipment is built. It is important to find a deck stand that has ample surface area for all of the necessary equipment, in addition to stability, portability and manoeuvrability. Deck stands are designed to be very simple stands that can sit upon any surface. They can also be more sophisticated, semi-permanent structures. The amount of space required depends on the amount of deejaying equipment. Be sure to measure each piece of equipment, include the height and depth, to ensure that the deck stand offers plenty of workspace.
When shopping for deck stands, a DJ can begin perusing the inventory of audio equipment specialists. Each DJ has his or her own requirements, so it may take some to find exactly the DJ deck stand that meets their needs. Shopping in an online marketplace such as eBay allows for easy comparison shopping. The user-friendly search interface makes looking for the right DJ deck very straightforward.