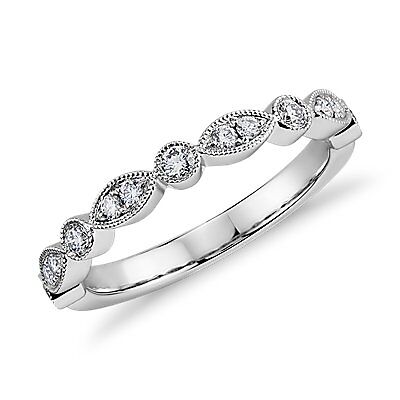 The wedding ring has been the symbol of love and commitment for centuries. When a woman was promised to a man in Ancient Egypt approximately 3,000 years ago, a ring made from hemp or reeds was given to her. These rings were circular to symbolise endless love. They were worn on the ring finger of the left hand because it was thought to contain a vein that went directly to the heart. As it evolved, the Romans adopted a metal ring and it was turned into a symbol of possession, rather than a symbol of love. The wedding and engagement ring have both evolved drastically.
The puzzle ring and the gimmel ring were both symbols of love, and the first sign of interlocking engagement and wedding rings. Sometimes the ring is worn on the right hand instead of the left. The engagement ring normally has a diamond and the wedding ring is just a band. Wedding bands and engagement rings can be purchased from eBay. When purchasing a diamond wedding ring, a consumer has to decide from which metal it should be made, the clarity, colour, and cut of the diamond, and type of ring it should be.
Common Metals for Diamond Wedding Rings
There are several common metals for diamond wedding rings. Each of these metals has different properties and appearances. When searching on eBay for a diamond wedding ring, it is important to consider that the person is going to wear it for the rest of their life. Both the engagement and the wedding ring should be chosen with the person wearing it in mind.
White Gold and Yellow Gold
White and yellow gold are the most common types of metal for wedding rings in general, as well as diamond wedding rings. White and yellow gold wedding rings are some of the most abundant for purchase on the eBay website. They are not as expensive as some of the alternatives, and if the intention is to set diamonds into a wedding band, expense needs to be considered. They can be found simply by typing the search terms "yellow gold wedding band" into the eBay search box.
Rose Gold
Slightly more expensive than its white or yellow counterparts, rose gold is gold with a pinkish tinge to it. It is not a heavy pink, it just looks a little more vibrant and rose-coloured than gold. The rose gold wedding band can be mixed into a braid with both white and yellow gold. There are many different styles combining the types and colours of gold.
Palladium
Palladium is a shining white or silver metal. It is used to make white gold but can be made into a ring all on its own. It is very shiny and does not tarnish like other forms of metals. It keeps its shine for most of its life. Palladium is a softer metal so it may need to be bonded to an alloy.
Titanium
A titanium wedding band can either be grey or black depending on the polish. These are the most durable rings, so if a person for whom it is being purchased has a job or hobbies that require a durable ring, titanium is a good way to go. Titanium is one of the newer unique metals from which jewellers have started making wedding bands.
Platinum
Platinum is one of the most expensive metals. It appears to be similar to silver or white gold but is richer in colour, and when placed beside silver or white gold, there is no mistaking it. A platinum wedding band, even when set with diamonds, is durable.
Mixed Metal
Mixed metal wedding rings are a combination of different metals that are formed into a complex pattern. Almost all of the metals mentioned above can be included in a mixed metal ring. The mixed metal ring can be the most unique of wedding rings.
This is not an exhaustive list of metals and nonmetals that may be used for a diamond wedding ring. There are many other forms, including: ceramic, damascus, steel, and tungsten.
Diamonds
There are many different types of diamonds and many different ways to judge diamonds. Many of the diamonds have special names, and it seems that every year there are new ones. The important things to remember about purchasing a diamond set in a ring are clarity, cut, quality, and carat.
Cut
Since the cut of a diamond is up to individual taste, it is a personal choice. The cuts vary from a simple round or square cut to complex shapes. Most of the cuts that a raw diamond goes through depends on the type of diamond and how much rough diamond a crafter has with which to work.
Colour
The colours of the different diamonds affect both the price and availability of the diamond. Some colours come in a broad range, while others are only one specific shade. The colour of a diamond that is purchased for a wedding ring depends on the individual for whom it is being purchased and the expense of the diamond.
Diamond Colour

Range and Availability

Pink

Extremely rare

Very expensive

May come in many cuts but round is favoured

White

Most popular

Most common

Clear sometimes with a bit of colour

Can be very expensive because they are available in larger sizes due to the fact that they are common

Blue

Fairly rare

Range in colour from light to dark

Very expensive

Referred to as hope diamonds

Green

Very rare

Very expensive

Range in colour from light to dark

Due to expense, they are not seen often

Champagne

Common

Natural colour is brown to light brown or champagne

Comes in all cuts and styles

Yellow

Common

Range from light to dark

All cuts and styles available
One cannot discuss the colour of a diamond without discussing the clarity of the colour. Many times clarity and carat are the two things that determine the value of any coloured diamond. A white diamond, although common, is sometimes the most costly because of its purity and weight.
Colour Ratings and Clarity
This is the natural diamond clarity and colour rating system. Coloured diamonds, artificial diamonds, and others are rated differently. The description section of the individual listing on eBay usually has the colour and clarity of the diamond listed. If not, a person can always ask the seller if they know the type. It may be that the ring was passed down, so the seller may not have this information, but can generally find out what it is.
Type 'a' is a diamond that contains nitrogen. Usually about 3 per cent of the diamond is made up of nitrogen. The type 1a diamond is the most common and frequently seen.
Type '1b' is a diamond that also contains nitrogen, but less than the Type 1a diamond. These are rare and come in green, brown, orange, and yellow.
Type '2a' is one of the most pure of the natural diamonds. These diamonds contain very few, if any, impurities or flaws. They are most commonly seen in white or clear diamonds.
Type '2b' is the rarest type of diamond and makes up only 0.1 per cent of all diamonds mined. It contains the smallest amount of impurities and is usually known as a blue diamond.
The types of diamonds vary as dramatically as any other material. Since diamonds are the hardest substance, they rarely chip, break, and are also used for industrial applications in their lesser forms.
Types of Diamond Wedding Rings
The most common type of diamond wedding or engagement ring is the solitaire diamond ring. This consists of a single, larger diamond set by itself in a metal setting. It can be inset as part of a band or it can be set above the band. Many people choose these for their classic style and shape. The diamond in this type of ring can be any colour and any shape.
Another type of diamond wedding ring that is common is the channel diamond ring. This consists of several diamonds, usually the same colour, set all the way around a simple band. They sit in a channel or space inset into a band. These are often used as wedding rings and the diamonds are often smaller than those that are in other settings.
Some of the other types consist of only solitaire diamonds and can be set into prong settings, tension settings, or bezel settings. The setting that is chosen is most often due to the style of jewellery the wearer prefers. Many of these diamonds are purchased as engagement rings instead of wedding bands.
Buying a Diamond Wedding Ring on eBay
After carefully considering which type of diamond and setting is the most appropriate, it becomes time to actually purchase one. Many diamond wedding rings can be found at the popular auction website, eBay. These rings come in both new and used as well as almost all cuts, weights, sizes, and settings.
All that a user has to do is type the kind of diamond wedding ring they want into the search box, and click search. This brings up a list of the different types of diamond rings available. After browsing through this list, the buyer then selects one that interests him or her and clicks on the listing.
The listing contains a description, photo, the statistics about the ring, and the seller's shipping and return policies. It also contains feedback for the seller. It is important to read the feedback to know whether or not the seller is trustworthy. Most sellers on eBay also welcome questions about their products and policies.
Conclusion
The world of diamonds and diamond wedding rings does not have to be confusing. Once a person knows about the metals involved and how to judge or choose a diamond the rest falls into place. The largest investment and the important part of purchasing a wedding ring is the diamond, and not knowing which style is desired can cost a person in the long run. There are many different types, styles, and makes of wedding ring. Careful consideration must be taken when choosing one. Make sure to keep the person whom you are buying for in mind as if all goes well, they may wear the ring for the rest of their life. Diamond wedding bands can be purchased in places that range from name brand jewellers to antiques sales to online auctions, such as eBay. Do not be hasty in the decision to purchase a diamond wedding band, learn the facts about them before purchasing.