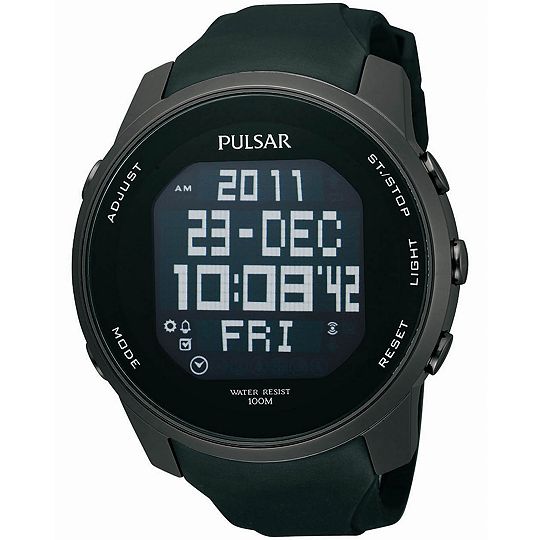 Watches are both practical and stylish and they are often worn on a daily basis. Watches are available in many designs, some of them simple and some very elaborate and sophisticated. Watches also differ in the way that they are worn: most are wristwatches, by some watches can be worn around the neck as a part of necklace or carried in a pocket secured by a chain. Watch mechanisms keep them going so that they can provide accurate time. Different mechanisms determine the kind of display that is used for the watch. Watch displays are divided into analogue and digital. While analogue is the more traditional choice, many people choose digital watches that display the time in figures, sometimes including seconds as well as hours and minutes. When buying a digital watch, it helps to understand the styles and features that are available. Digital watches can be bought from high street jewellery shops and department stores, as well as online at eBay.
Components of Digital Watches
Digital watches consist of a dial and a strap. Most digital watches are worn around the wrist as everyday accessories.
Dial of Digital Watches
The display of a digital watch consists of a dial that shows the numbers in figures. Digital watch displays use either liquid crystal display (LCD) or light emitting diode (LED) technology. Digital watches may also feature a back light so that the time is illuminated in the dark when a particular button is pressed. The dial is covered with a lens that can be made of several materials. Plastic is an inexpensive option, while high-end digital watches can have sapphire glass or mineral crystal lenses that are scratch resistant and offer durability.
Strap for Digital Watches
Straps for digital watches can be fastened around the wrist. Leather, plastic, and silicone straps are fastened with a buckle, while bracelet style watches have clasps. The length of bracelet watches can be adjusted by removing some of the metal links. Choosing the right watch strap material primarily depends on the environment where the watch is worn and the sensitivity of the wearer's skin because some materials may induce allergic reactions.
Leather is used on many types of watch, although it is not suitable for being immersed in water, for example, when swimming. Therefore, leather may be found less frequently in sports watches, which often have plastic or silicone straps. Fashion watches usually have plastic or fabric straps. Various metals, such as stainless steel, titanium, rhodium, and palladium often constitute the plating for digital watch straps and are tarnish resistant. Those with allergies should avoid nickel. The most elaborate watches have either solid gold or silver straps. Gold is more tarnish resistant than silver and does not need regular cleaning. However, gold is softer and so, easily marked. Gold and silver watches are not only timepieces, they are also worn as jewellery.
Types of Digital Watch
Watches are made in different styles and a suitable one can be found for each outfit and occasion. Watches can be very simple, conservative, and almost unnoticeable or elaborate and bold. People with an active lifestyle may choose to wear a sports watch that comes equipped with multiple features.
Digital Dress Watches
Digital dress watches are the most elegant and sophisticated type. Their design is usually simple, but the strap, which is often some kind of metal like gold or silver, makes them suitable for evening outfits. Their simple design means that they are preferred for office work wear where they can be worn daily. Many dress watches are analogue, but digital versions are also available.
Digital Fashion Watches
Digital fashion watches are created by designers and they follow current trends both in style and colour. They often have fancy embellishments and can come in a wide range of colours. They are suitable for people who wish to make a fashion statement. Fashion watches should be chosen carefully so that they are suitable for many different outfits. In fact, buyers may choose to have more than one digital fashion watch for different ensembles and occasions.
Digital Sports Watches
Digital sports watches are valued for their multiple features as they do more than just display the time. They can also measure speed and heart rate, and are used by sports people and fitness enthusiasts during their workouts. As these watches need to endure, they are shock and water resistant.
Features of Digital Watches
Many digital watches are multifunctional and able to do much more besides showing the time. Extra features are especially useful for sports watches. However, water resistance is a universally beneficial feature that the buyer should look for in any digital watch to protect the mechanism.
Calendar for Digital Watches
The calendar function for digital watches can be very simple and display only the day number, but more elaborate calendars are also found. These perpetual calendars also show the full date and consider the varying numbers of days in a leap year.
World Time for Digital Watches
A digital watch that provides world time is capable of showing the times in more than one place. The wearer can select which time zones to display, which is a useful feature while travelling, or when friends or relatives are in another country.
Water Resistance for Digital Watches
It is best to keep digital watches away from water because fluids can damage them over time by causing erosion and loosening the screws. However, some watches are designed to be water resistant. Many sports people, such as keen swimmers, and others who regularly come into contact with water should consider water resistant watches. Water resistance is measured in metres and indicates how deep into water the watch can go.
| Depth Rating (m) | Recommended Activities |
| --- | --- |
| 50 | Occasional swimming |
| 100 | Swimming and snorkeling |
| 150 | General water use, but not scuba diving |
| 200 | Recreational scuba diving |
It is worth mentioning that these values are hypothetical because digital watches are tested in laboratories and the watches may perform slightly differently in real world situations. Therefore, the less water that the digital watch encounters, the better. Non-water resistant digital watches only have minimal moisture protection. They should not be immersed in water, although they can usually survive the occasional rain shower.
Heart Rate Monitor for Digital Watches
Heart rate monitors are usually found in sports watches and they measure the pulse during exercise. More advanced digital watches also provide information about steps taken or calories burnt, as well as the distance covered if a GPS system is integrated into the watch.
Buying a Digital Watch on eBay
Before you start looking for a digital watch on eBay, you should consider what type and design you prefer because this helps to make the search more straightforward. To search, you can enter basic keywords, like "digital watch", into the box that appears on every eBay page. You can include more specific information in the search box if you have a particular digital watch in mind, such as "silicon day and date digital watch". Once you have been presented with the initial search results, you can further narrow them down by selecting the item condition or a price range, if there is a given budget. You can sort the results by price or condition to find items that fit your requirements.
When you have selected a digital watch, read the detailed item listing to get the full information about the digital watch's features, as well as accepted payment methods, postage and packaging costs, delivery times, seller's location, and refunds and exchanges. If you have any questions concerning a digital watch listed on eBay, feel free to contact the seller directly by using the "Ask a question" feature.
Read the seller's feedback to find out the experiences of their past customers. This gives an excellent indication of the quality of products and services of the seller, which helps you to make an informed buying decision.
Smart Watch
Alternatively you can go for an
Apple Watch
or Samsung Gear which allows you to use your smart watch in the same manor as your compatible smartphone.
These are much more expensive than most digital watches but offer great features including, texts, calls and even Siri.
Conclusion
Digital watches are usually worn around the wrist and they differ from traditional, analogue watches, by their display. The time on a digital watch is displayed in figures and can be very accurate. Digital watches, like all other wristwatches, consist of a dial and a strap. The strap can be made of many different materials, which contribute to its style and suitability for sensitive skin. Common strap materials include leather, plastic, silicone and rubber, fabric, gold, stainless steel, silver, and titanium. The use of the digital watch determines the best material, with rubber being particularly appropriate for digital sports watches.
Digital watches can be designed in several styles, including colourful modern, multifunctional sports, and elegant dress watches. Fashion watches in precious metals, like gold, can also be worn as jewellery. Water resistance is one of the most important features of digital watches and this applies to all styles. Advanced features, such as a heart rate monitor, calendar, and world time are found on multifunctional digital watches. eBay offers many styles of digital watch, which means that everyone can find their ideal model.