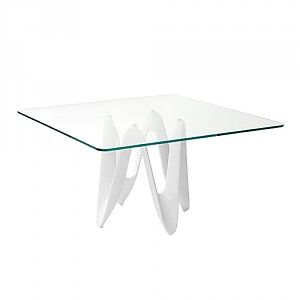 Dining room tables can be cosy little pieces that sit in a kitchen nook, or they can be as elaborate as a formal cherry dining room table that seats a dozen guests. There are so many different styles of tables available that can be used on a daily basis or reserved for use on formal occasions only. There are styles that are easy to care for as well as ones that are made from beautiful components, such as marble and glass.
Dining room tables can be purchased at retail furniture stores, home improvement stores, and on eBay. This online store has such a tremendous variety of dining room tables available to the consumer that it is a wonder why a person would shop anywhere else. Because there is a large number of vendors available who sell these items, almost anyone is able to find the right dining room table at the lowest possible price.
Shopping on eBay is simple when buyers understand how to use the resource tools available. Being able to learn how to search for dining room tables, communicate with the various vendors and buyers who utilise this online marketplace, as well as locating the desired dining table is a very simple task, and it also makes each subsequent visit to eBay even more enjoyable.
Types of Dining Room Tables
A great table is a stunning centrepiece to any dining room. Dining room tables are available in models that seat one person up to a dozen or more guests, depending on the needs of the buyer. There are not only a large variety of options for dining room tables but also for dining room chairs that can be purchased with them. The versatility in arrangements choices gives the buyer the freedom to find the right dining set to match any décor that is already in place.
Glass Dining Room Tables
Glass dining tables are ones that offer a lot of versatility because depending on the style chosen, there are no colours or patterns that need to be matched to surrounding décor themes. Glass dining room tables also offer additional versatility because as long as the dining room chair heights match, any chair can be paired with this style of table and still look great. Glass tables do have the downside of showing fingerprints and other types of smudges easier than other models; however, they are also very easy to clean by simply spraying a no-streak window cleaner on them and wiping them down. Although the tables listed below are by no means the only ones available on eBay, they are often popular choices for many homes.
Round Dining Room Tables
Round dining room tables are yet another versatile option because they are available in various styles as well. Round dining tables do not have to be boring. There are many stunning styles available for purchase that can make a captivating centrepiece in any dining room. Retro round dining room tables are perfect for individuals who want to show off their sense of style and flair. For individuals who prefer dining furniture with a nostalgic look and feel, round vintage dining room tables are also available.
Formal Dining Room Tables
Formal dining room tables are perfect choices for people who like to entertain. There are many elegant choices to choose from in this category as well. Formal dining room tables are often crafted from beautiful hardwoods and are also available in longer lengths that traditional dining room tables. One of the things about these types of dining room tables that makes them appealing is that they often include one or more leaves that can be taken out at any time to create a smaller more intimate setting.
Pull Out Dining Room Tables
Pull out dining room tables are another style that is very popular because they are designed to be space savers. This type of table can fit comfortably up against a wall to allow a small group of guests to use and still leave plenty of space in the rest of the dining room. The winning feature of this table of course is the ability to make it larger by lifting up and pulling out the sides when more space is needed. This type of table comes in a variety of styles that fit can match other furnishings with ease.
Other Dining Room Table Options
Besides dining room chairs, there are many other options for accessories to purchase to set off the look of a dining room table. Searching for cheap dining room tables is easy when the advanced search option tool is used because a price range can be set for the amount a buyer wants to pay for their dining room table. Many people do not wish to spend a lot of money on nice dining room furniture if they own large indoor pets that like to chew on furnishings or if they have small children who can scratch or otherwise damage expensive items.
One of the options that is available to these types of individuals is the ability to purchase used dining room tables. Although the dining table is used, that does not necessarily mean the quality of choice available to the buyer has to be sacrificed. There are a large variety of inexpensive dining room tables that are still beautiful pieces to own.
For those people who purchase a used dining room table and want to spice up the look of their used table, or even an existing one, there are plenty of dining room table accessories that work nicely. Dining room table runners are always a great choice to add some colour to a dining set, and the look can further be enhanced with accessories, such as dining table centrepieces and dining room chair covers and cushions.
How to Buy Dining Room Tables on eBay
There are various ways to utilise eBay to find the perfect dining room table. The simplest way to begin a search is to type the item desired into the search query box that is located on the eBay homepage or at the top of any other eBay page. Simply type in the search term "dining room tables" and hit return. Any dining room table that is available under this search term query is returned to the user, and since the search query term is very general, a multitude of items are going to be available for the user to peruse.
However, if a user requires less search results, all they have to do is to follow the same steps listed above and make the search query term entered more specific. For example, if a formal dining room table made from oak is what is sought after, instead of entering the term "dining room tables", try entering "oak dining room table". Try using a mixture of different keyword arrangements to optimise the search results even further.
Buying a dining room table can be an important decision for many people. Once the choices have been researched and narrowed down or a final selection for a dining room table has even been made, it is important to make sure that time is invested in researching the sellers who are offering the furnishings as well. This is an easy process that can be completed by clicking the mouse on the desired item and reading the information that is contained in the full listing for the item. This section of the listing is where the seller describes the condition of the item in question and where other valuable information is found regarding the seller's preferred payment method and how long it takes for the item to be shipped out.
Compare and Evaluate Sellers
When shopping for items such as dining room tables, the chances are going to be high that there is going to be more than one seller who is offering an item in a comparable condition and a similar price. Knowing which seller to purchase an item from can be as easy as clicking the name of the seller on the item listed and reviewing the feedback ratings given by previous customers on their experience with that seller. Comparing seller feedback reviews helps to evaluate various sellers and find the right one for the sale.
Positive feedback reviews in no way is meant to guarantee that everyone always has the same experience with a seller, but sellers with high ratings generally like to keep themselves in good standing with their buyers. Each time an item is purchased from a seller, feedback information on experience is requested from the customer. Consistent high ratings is probably enough for most people to trust that they can also enjoy the same positive experience with that seller.
Buying Dining Room Tables from eBay Shops
Many sellers on eBay have an eBay shop. Taking the time to patronise a seller with whom a good experience has been gained is a great way to show that a buyer appreciates the service afforded to them by the seller and that they want to continue receiving that same great service in the future as loyal customers. Another advantage that is often available to buyers who visit a seller's eBay store is that the seller often has additional listings for items relating to the item previously purchased, so shopping time can be shortened if a customer finds what they want all in one place. In addition to this convenient aspect of shopping from eBay stores, many sellers also offer shipping discounts if multiple items are purchased at the same time in order to show their buyer additional customer appreciation.
Conclusion
Dining room tables not only are a great furnishing to have the option to eat from, but they are also a place where people can gather and share thoughts and create memories. Dining room tables come in a variety of options that make them easy to clean and pair with other furnishings, such as the glass dining room table. Round dining room tables are not only versatile but also can be captivating centrepieces for a dining room. If it is elegance someone craves, there are many formal dining room table options available as well as tables that are not only beautiful dining room furnishing choices but space savers as well. There is no limit to the types of dining room tables that can be located on eBay, and new options are continuously being added each day. By taking the time to research the options available for dining room tables and purchasing the perfect item on eBay, people can have a wonderful conversation piece that can last for years.