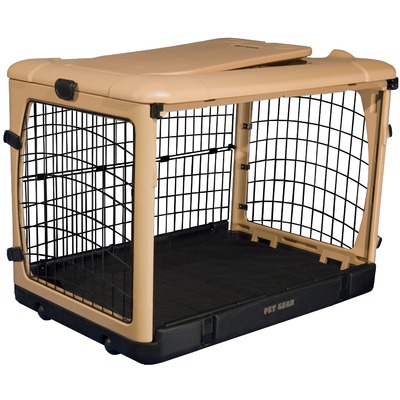 Background
The kind of dog crate you purchase will depend on how you intend to use it. You need to bear thisin mind before you start comparing makes, models and prices on eBay. Here are a number of possible uses:-
Keeping your dog safe in a home environment
Taking your dog on holiday
Carrying your dog when you're out walking
Taking your dog by car
Taking your dog by air
Keeping Your Dog Safe in a Home Environment
For a dog that's new to the household, the purpose of the carrier is to provide a controlled living area, particularly when you're establishing a training routine.
When the dog is fully house trained, the carrier will potentially be useful in
protecting certain areas of the house (e.g. food preparation)
restraining the dog from over-zealous contact with visitors
For this kind of use you need to considereither:
those with solid plastic sides and a wire mesh door
The benefit ofwire framed carriers is that they enable you to see the animal inside. There are some products that fold flat for transportation which gives them added versatility. Plastic carriers are easier to clean but they can be damaged as a result of chewing. They are compact, well built and more convenient to carry but offer restricted vision to the pet inside, which admittedly, can be an advantage.
Taking Your Dog on Holiday
There are more options here depending on the kind of holiday you're taking. Hotels and guest houses are likely to have their own rules, but if dogs are accepted, you'll probably need a wire-framed or solid plastic dog crate as above. If you're self-catering or camping, it's worth considering a carrier which takes up less space in your luggage (on the assumption that you're going by car). Products you should look at include a folding soft- fabric carrier or a 'pop-up' fabric kennel, both of which can be packed flat for the journey.
Carrying your Dog When You Are Out Walking
For smaller dogs, let's say those up to 20 pounds in weight, there are three products to consider:
tote bag,
back-pack
front-pack
Tote bags drape over one shoulder and, although convenient,offer little protection for the pet inside. The best back-packs will feature useful comfort and safety features including:
An internal frame
Air vents
Safety harness attaching to the pet's collar
Tension adjusting chest and shoulder straps
Front-packs (like kangaroo pouches) usually offer the same features as back-packs but enable you to keep your pet in full view at all times, a useful feature for young dogs and puppies.
Travelling
Taking Your Dog by Car
For transportation by car, the crates you should consider are either wire framed or plastic carriers.For this use they are a better option than soft fabric carriers, mainly because they offer greater protection in the event of an accident. In a car, the more enclosed environment of a solid plastic carrier may be a better choice for a nervous pet. Whichever type you decide on, make sure they are strapped securely to the car interior.
Taking Your Dog by Air
There are quite a few rules and regulations here although IATA provides comprehensive information. It's important that you have discussions with the airline involved well in advance to check out the availability of baggage space and specification requirements for dog crates.
Flights in the United Kingdom
For flights departing from UK airports, dogs must be carried as accompanied baggage in the hold of the aircraft, where suitable atmospheric conditions can be maintained. There are guidelines which govern the construction and specification of suitabledog carriersorcrates. They need to be sturdyenough to withstand the rigours of baggage handling and need to be built to offer both comfort and protection to the pet inside.
Bear in mind that dogs will spend quite a lot of time in the hold of the aircraft and, in an unfamiliar environment, the possibility that they might damage their surroundings will always be there. The carrier must be escape-proof to avoid any potential injury to any other animals in transit.
Approved construction materials include:
Metal
Fibreglass
Weld metal mesh
Solid wood and plywood
Rigid Plastics
If plywood is part of the construction, this must be at least 12mm thick. The entrance door, which can be hinged or sliding, should form the whole of one end of the container and have secure fasteners. The sides of the crate should be strong and well ventilated – ventilation holes can cover all surfaces as long as they don't compromise the structure.
The minimum required ventilation is 16% of total surface area.
The floor of the carrier should be padded for comfort
The handles should be strong and well placed to make carrying as easy as possible for baggage handlers.
There should be no protrusions on the inside of the crate which might be bitten or attacked.
There must be a water container inside the crate which can be accessed from outside if it needs filling up.
Food supplies should be securely attached to the exterior of the container in case of flight delays. Acceptance of any design will be determined by individual carrier. Some may be of the opinion that that rigid, plastic carriers are less suitable for large or aggressive dogs because of the risk of gnawing or attack fromwithin. They may feel that this would compromise the strength and safety of the unit.Carriers madeentirely of welded mesh or wire mesh, are not allowed, although this type of construction is perfectly adequate for car transport or use in the home.
Flights in the USA
For internal flights, most US airlines allow smaller dogs to travel with their owners in the cabin. If you see 'Airline Approved' as part of an eBay product description, bear in mind thatthis is this is more likely to refer to dog carriers suitable for air transportation in the USA. Over there, there is no universally recognised carrier size so the best advice is to check with the airline before you travel.
Generally speaking, dogs heavier than 15lbs will be too large to travel in the cabin. The size of dog crate you buy will be determined by the dog's physique. The height of the crate should be, as a minimum, the distance from the floor to the top of he dog's shoulders.
There is no point in providing any extra height since the dog will spend most of the trip lying down. An important stipulation is that the animal should be able to turn freely in the crate.
It should be manufactured from water repellent material with plenty of vents on both sides and good quality zips.
Padding will improve comfort and help to protect the pet as the carrier flexes to fit its environment on the floor of the aircraft cabin.
On take-off, remember that your dog will need to fit under the seat.
In flight, the crate can be situated under your knees.
A covered or padded strap will make it easier to transport your dog on and off the plane.
For the benefit of other passengers and cabin crew, it's also advisable to minimise the visual impact of the dog carrier by avoiding any garish colours.
What Size of Crate or Carrier Do You Need?
The carrier you chooseshould be neither too big nor too small. If too big, the dog may try andcreate a separate toilet area. If too small, there won't be enough room to make a complete turn with ease. As a rule of thumb, the carrier height and depth should be 12" more than the corresponding measurements for the dog. The ideal width should be calculated at three quarters of the depth. If you're buying for a puppy, you can modify the carrier with a divider which you will be able to adjust as the pet grows.
How to Buy a Dog Carrier or Crate on eBay
Now that you know which dog carrier/crate you want you can find them quickly and easily on eBay. To start shopping, go to the Pet Supplies category the Dogs portal. Click on the Carriers & Crates sub-category portal.
While you shop, don't forget Harnesses, Coats, Leads, Treats and Collars.
Categories
The Categories list on the left side of each page will help you narrow down your listings by item type. You'll find links for material: Metal, Fabric, Plastic, Rope and Wooden
Product Finder
Use the Dog Carrier/Crate Finder to quickly narrow down item listings by brand, model and condition (new or used).
Keyword Search
Search eBay listing titles for specific words. For example, if you want to find New Dog Carriers/Crates, type the keywords "Dog Carriers/Crates New" (without quotation marks) into the Search box. Click, "Search title and description" to expand your results. Visit eBay's Search Tips page for more tips on searching with keywords.
If you can't find exactly what you want, try browsing eBay Stores or tell the eBay Community what you're looking for by creating a post on Want It Now, or save a search on My eBay and eBay will email you when a matching item becomes available.
Buy Dog Carriers and Crates with Confidence
Make sure that you know exactly what you're buying and understand how eBay and PayPal protect you.
Know Your Item
Read the details in the item listing carefully.
Remember to add delivery costs to your final price. If you're buying a high value item, check that the seller will insure it until it is delivered to you.
If you want more information, click the "Ask seller a question" button on the seller's profile or the "Ask a question" link at the bottom of the item listing page.
Always complete your transaction on eBay (with a bid, Buy it Now or Best Offer) otherwise you will not be covered by eBay Buyer Protection.
Never pay for your
eBay
item using an instant cash wire transfer service like Western Union or MoneyGram. These are not safe ways of paying someone you do not know.
Know Your Seller
Research your seller so that you feel safe and positive about every transaction.
What is the seller's Feedback rating?
How many transactions have they completed?
How many positive responses do they have?
What do buyers say in their Feedback?
Are they positive about the seller?

Most top eBay sellers operate like retail shops and have a returns policy.

Do they offer a money-back guarantee?
What are their terms and conditions?
Buyer Protection
In the very unlikely event that you do not receive your item or it is not as described, eBay Buyer Protection coversyour purchase price plus original delivery cost.