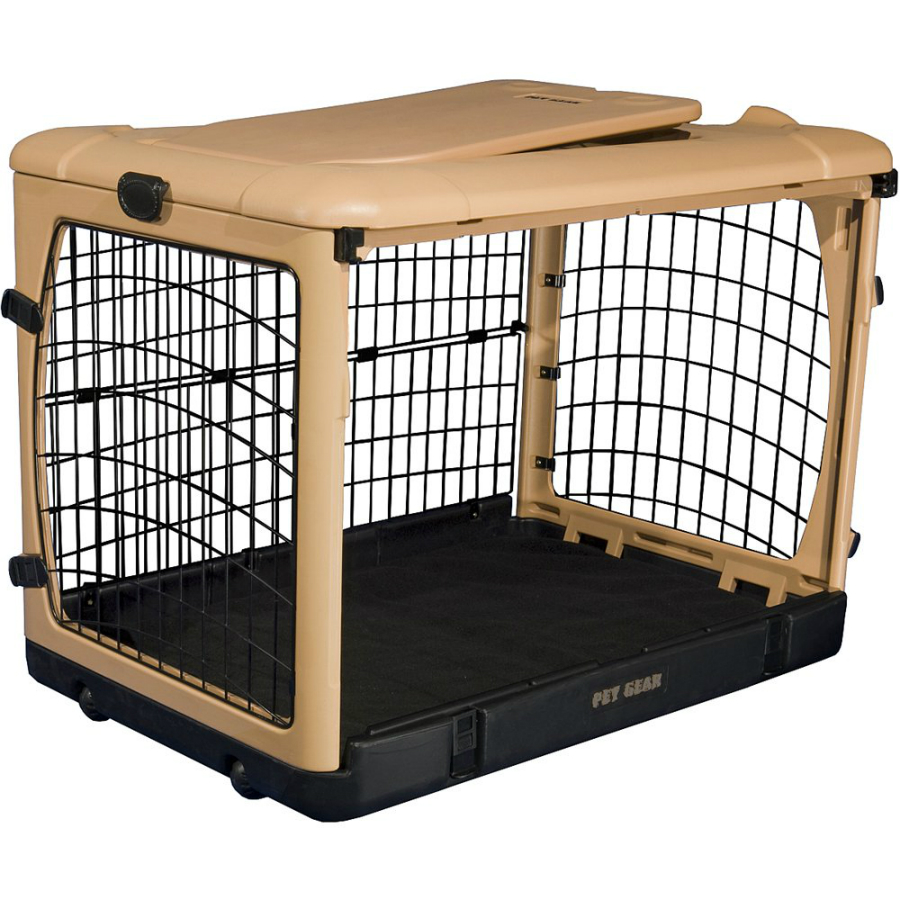 Dog owners choose to buy crates for a variety of reasons. Some want to give the dog her own space in the home that she feels safe in. Often, the added benefit is that the dog can be contained in the crate when necessary – for example, when houseguests visit, or when training the dog.
Choosing a crate for a large dog is more challenging than choosing a small dog crate, mainly because the crate will be heavier and more awkward to carry, and the dog's own needs may be different.
If you're planning on using the crate exclusively indoors, some of these factors may not be an issue, but anyone who plans to travel with his or her dog will appreciate a lightweight crate that can be packed away.
Large dogs are also potentially stronger, and your dog's personality may also have some bearing on the type of crate you choose.
You can start by investigating different types of dog crates within the eBay Carriers/ Crates category..
Choosing a Crate for a Large Dog
Before shopping on eBay, one suggestion is writing down the size of crate needed. A dog crate that is too small will distress the pet and cause her to reject the crate, which can make training difficult. It is important to ensure that the crate meets these minimum measurements. A dog crate that is slightly bigger, will be even more comfortable for the pet.
On eBay, sellers list crate sizes as small, medium, large and so on, but these measurements do vary between manufacturers. To ensure pet comfort, check the exact dimensions – the height, width and length – before purchasing the crate:
| | |
| --- | --- |
| Length | Measure the dog from the tip of her nose to the base of the tail, when she is lying straight or standing. Add four inches to that measurement to get the minimum crate length. |
| Height | The dog also needs to be able to stand up with four inches above the head. If the crate is too short, she will have to stoop when entering or exiting the crate. Remember: a couple of inches may be lost with the placement of dog bed in the bottom of the crate. |
| Width | The dog should be able to turn 180 degrees in comfort. If the option is available, it may be best to test the crate in person— in the case of owning a dog with unusually broad-shouldered. |
· If the dog is between sizes on eBay, always buy the next size up. This will give her more comfort.
· When buying for a puppy, one tip is to invest in a large crate and a crate divider. That way, the puppy will get used to using the same crate as she grows. Space can be made larger gradually over time by extending or removing the crate divider.
Types of Dog Crates on eBay
There are two main types of dog crate. As mentioned in the introduction, the type that is chosen will depend on the buyer's intent for the crate (i.e. indoor use or travel use) and the dog's temperament.
Fabric Dog Crates
Fabric dog crates are soft-sided, have a lightweight plastic frame and a canvas cover, and come in a variety of designs and colours.
The top and sides of the crate can normally be unzipped or removed for easy access, providing the flexibility of multiple entry and exit points for the dog. The sides are normally made from a mesh material that the dog can see through, and also allows air to circulate through all sides of the crate.
Fabric dog crates are easy to carry and store, so postage costs are sometimes lower for this type of crate.
Some dog owners prefer the appearance of a fabric dog crate to a metal dog crate.
Fabric dog crates are easy to move and store, but they may not be suitable for dogs that are boisterous or have a tendency to chew.
Certain accessories, such as hanging bowls or fans, cannot be mounted inside fabric dog crates.
Metal Dog Crates
Metal dog crates are a traditional style of dog crate often seen at dog shows. These dog crates are rigid, very secure and therefore heavier than fabric dog crates. A metal crate allows air to circulate and the doors can sometimes be locked if necessary.
Basic models are made from steel or zinc with rust-resistant coating. Modern metal dog crates are made from aluminium on an MDF frame. Most will have two doors.
Metal crates also sometimes have a steel tray in the base that will catch mud and spilled food.
Choose a metal dog crate for the best security for a large dog.
Large metal dog crates can be awkward to carry when folded. A good carry handle is essential if the owner plans to move the crate often.
If the owner plans to use a metal crate in the back of his or her car, search eBay for a 'sloping' crate; these are more likely to fit in hatchback and estate cars.
Buying a Folding Dog Crate
When traveling with the pet, if the primary aim is to crate them safely on the move, a folding crate is ideal. The crate will be able to be packed away when it is not in use, saving valuable storage space in the owner's home.
Review listings in the eBay Carriers/ Crates category..
Both metal and fabric crates come in folding shapes, and both tend to have handles on the edge so that they can be carried easily while folded. Ask the eBay seller to provide the dimensions of the crate when folded. That way the 'folded' size can be assessed and the amount of space that the crate will take up in this state can also be estimated.
Dog Crate Accessories
The dog will spend a lot of time in her crate, so it is important to ensure she has everything she needs to be comfortable, whether she is crated in the home, at a dog show or in the car.
Within the eBay Carriers/ Crates category,, use the Item Type filter checkboxes to find the needed accessories.
Water and/or food bowl

Pets must have easy access to fresh water at all times. If the owner is planning to crate his or her dog, a water bowl should be provided inside the cage, and possibly a food bowl as well.

On eBay, sellers list bowls specially made for using inside metal dog crates. These bowls are normally made from stainless steel and are designed to hook on to the metal bars of the crate. Some can also be bolted on permanently using the bracket provided, which may be preferable for large dogs that can easily tip over bowls on hooks.

Think about buying a set of bowls for better value and lower postage costs. This way, a clean bowl is always ensured for the pet's use.

Rug or bed

The dog will need something soft to sleep on in her crate. Some crates come with built-in beds or rugs, but one can also be purchased separately on eBay to replace a pre-existing dog bed.

Be sure to take the size of the door into account – the dog needs to be able to get in and out of the crate without the bed getting in her way. In particular, ensure the pet does not have to stoop.

Mat

For short journeys and crating the dog outdoors, a mat may be more preferable than a rug. Rubber mats help to catch mess from the dog's paws. They also give the crate a non-slip surface.

Trolley

If a large dog needs to be moved in its crate – for example, when being transported at a dog show – a wheeled crate will be needed. Search eBay for a crate trolley or cage trolley. Trolleys feature pneumatic tyres on a strong metal base.

Check the handle length and the size of the platform, or bed, to make sure it is big enough to accommodate the crate and also big enough to make pulling the crate more comfortable. Likewise, check the weight limit on the trolley to ensure the weight of the dog, and her cage, will be suitable.

Fan and ice packs

Some eBay sellers list specially designed thermostatic dog crate fans that attach to the side of a metal crate. These automatically switch on when the temperature reaches a pre-set value.

More advanced models can be fitted with ice packs that help to cool circulated air. Optionally, a power adapter for a car cigarette lighter can be attached, but some fans run just as well on batteries.

When using a fan, keep in mind that that the dog will still need a constant supply of fresh air and should not be left in a hot vehicle.
How to Buy a Dog Crate on eBay
When you're ready to buy a dog crate for your large dog, you'll find eBay offers a huge range of affordable crates, both used and new, in the Carriers/ Crates category.. Larger dog crates represent a significant investment; consider different buying options to get the right crate at the right price.Buying used is often an affordable way to acquire a large dog crate. Many used dog crates show minimal wear and tear; they may only have been used for shows, holidays or training. Clean the crate thoroughly with a mild detergent before use.Large dog crates can be heavy, particularly metal dog crates. Look for a seller that offers free postage, or use eBay's search filters to find a local seller that will allow you to pick up the crate in person.If you have any doubts about the sizing of the crate, remember that many eBay sellers – particularly trade sellers – will allow you to return or exchange a crate that is not the right size.