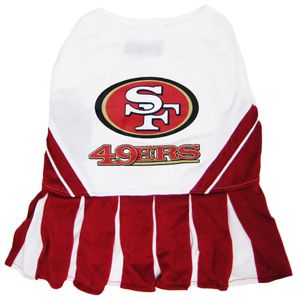 The age we live in, like many before it, is fairly obsessed with the fine arts of showing off and flaunting. Some of us see no issue with extending this exhibitionism and love of novelty to our pets.
The transatlantic popularity of private pet parties and pet shows testify to our love of pet clothes for ourselves and our dogs, and they are the ideal places to exhibit the jewellery, accessories and clothes that we love to lavish on them.
On eBay you will find a great range of state-of-the-art and premium quality pet clothes that will bring out the very best in your pet. As with human children, these items are also expressions of the deep love and care we feel towards our pets, an extroverted sign of just how important they are in our lives. But pet clothes can also have important practical uses:
| | |
| --- | --- |
| | Waterproof linings for a blustery day. |
| | Keeps the dog dry in the rain. |
| | Protects paws against snow, ice and cracked pavements. |
| | Reduces licking, scratching and chewing by making the skin less accessible. |
| | Woolly comfort for a sick or older dog. |
Vast Range of Dog Clothes in Stock
On the eBay site there is enormous range and variety in the types of clothes that can be bought for a favourite pet, with every conceivable size on offer, so buying from eBay will fairly guarantee a tailored fit. These outfits are mainly used for covering the animal's body and consist of things such as sweatshirts, sweaters, dresses, robes, vests, coats and wraps.
But dog dresses on eBay are far from being limited to such regular items as these, and in fact there are almost as many different items of clothing available for a dog as there are for fashion-conscious humans. The choice is limited only by the owner's imagination.
Bonnets, hats and shoes from eBay can create a distinctive look for a favourite dog, making it turn heads in the street when out for its daily walk, and in addition will provide protection from inclement weather. Many breeds of dog are prone to catching various forms of illness when taking their constitutional, especially if they are a short haired breed. A fur-lined jacket is a practical step owners can take to reduce the chances of their dog picking up a nasty chill on a cold day, which can be just as serious for animals as it can be for humans.
What to Look For in Dog Dresses
The important thing about buying clothes for any dog on eBay is that the item must fit properly. Badly fitting clothing can cause irritation, which can ultimately lead to uncomfortable rashes that may become infected. On eBay, there are numerous high quality clothing items for dogs available at competitive prices. Hunting vests, coats and other practical dog costumes from eBay will make the animal stand out from the crowd and can be chosen to complement their ID tags and collars.
For smaller dogs such as Tea Cup Poodles, Yorkshire Terriers and Chihuahuas, there are beautifully tailored small clothing items available on eBay that will look really cool on a small breed. A good tip is also to buy clothes that have the same or another attractive design on the other side so that they effectively constitute two separate items, making the suit more cost effective.
Dog clothes from eBay also have to be sturdy and tough enough to weather all sorts of conditions. As well as looking attractive they must be able to stand up to possible regular scratching and biting. Items to effectively protect a dog from bad weather include the likes of fleece and flannel scarves, spring jackets and snow coats, which will also look really attractive on them.
Some basic tips for dog clothing measurements
A few handy tips follow which will simplify the often-difficult matter of selecting and fitting suitable dog clothes. Remember also that dogs were not designed to wear clothes all the time and so they should be removed occasionally to reduce the chances of irritation occurring.
When measuring a dog up for fitted clothing, take the first measurement from the base of the collar to the area where the body connects with the tail.
Of course you should also ensure when making the measurements that the dog is not slouching or sitting but standing square and proud.
The dog also needs to be measured around its largest portion, which will be directly behind the front legs, to get the girth measurement and ensure that the fitting is neither too loose nor too tight.
The dog really has to be properly measured up, because making a rough guess at the size will simply not do. The dog clothing items for sale on eBay usually specify all the relevant measurements.
Dog clothes, as well as looking good on and benefiting the owner's own dog, will also make an ideal gift for another dog lover. A few basic rules should however be observed.
If the dog is an enthusiastic, serial chewer, clothes that incorporate any tempting items should be rejected. These include such additions as fringes, shiny buttons and feathers. As well as ruining the clothes themselves, chewing them off can constitute a serious choking hazard.
Again, clothes need to fit perfectly, and if the suit or dress is going to be a surprise gift you can easily factor this in by taking the dog for a solo walk and quickly measuring it up in the park.
Clothes from the eBay store have to be appropriate for both the dog and its owner. A polo shirt, for example, may look irresistibly cute but it probably will not work in the case of a large breed like a Labrador or German Shepherd. A sturdy backpack, equally, would not be suitable for a Toy Poodle and would probably end up injuring the animal. It may also be a good idea to check with the owner whether they really don't mind dressing their dog up.
Cold Weather Dog Clothes
Dressing a dog in eBay clothing for the cold winter weather makes sense, but a few points should be kept in mind.
A dog is naturally fitted out to cope with colder weather in any case, so it is probably not going to freeze to death if its owner doesn't get it a jacket and scarf. This is especially true for longhaired breeds such as huskies that have a built-in tolerance for cold weather and actually love it out in the snow.
But some varieties obviously need some help with colder weather. Puppies, smaller dogs, old dogs and short-haired dogs will benefit from winter clothing. With these types, if it is too cold for the owner then the chances are that it is also a bit too nippy for the dog as well and it will need to be dressed adequately.
Some fashion conscious dog owners will think nothing of buying matching fur-lined parkas from eBay for themselves and their pet, but it is not necessary to take things quite so far. There are plenty of dog clothes designers who have created attractive outfits for dogs without going over the top. These items will adequately protect the animal from all sorts of inclement winter weather and can be regarded as a necessity rather than a vain luxury.
On eBay concerned and responsible dog owners are able to choose from a comprehensive range of simple but very effective warm jackets for their dog which will keep the animal comfortable and happy in the coldest winter weather.
Communication
A dog of course is unable to communicate verbally with its owner to say whether it is feeling chilly or not. There are however various signs which will effectively express whether this is the case, such as shivering, and these behaviours need to be checked on when out and about. A dog may be freezing to death but will characteristically soldier on with the ball, so it is up to its owner to alleviate the discomfort and do something about it.
Dogs, just like humans, can also develop severe frostbite which can if untreated quickly lead to gangrene and irreversible necrosis, or flesh death. This can result in amputations.
More commonly, chemical burns caused by salt on the ground and splashes from de-icers can lead to serious complications. One of the immediate giveaways for these types of mishaps is a lopsided gait or limp.
After a visit to the vet, a pair of snug boots and a neat jacket will help protect against substance abuse, even in inner cities in the summer.
How to Buy Dress for Your Dog on eBay
The simplest and easiest way of locating dog dresses and other items of dog clothing on eBay is to visit the site and browse in the appropriate part of the eBay store. Go first to the drop-down menu of categories towards the top of the main page and click on Pet Supplies. On the next page select Dog Supplies and then Clothes & Shoes and you will be presented with a list of all the clothes and shoes available on eBay for dogs.
Alternatively, if you know exactly what you are looking for, type it straight into the search box at the top of any page to be taken directly to it. Look through the eBay Search Tips page for more about searching the site.
Conclusion
Dog dresses and accessories are not necessarily frivolous items to purchase on eBay. They can serve a valuable function in helping to keep the dog protected from cold weather in winter as well as from hazardous materials especially prevalent in urban settings throughout the year.
Just make sure that the size is exactly right and that, if it is going to be a gift, the recipient owner's tastes have been taken into account as well.