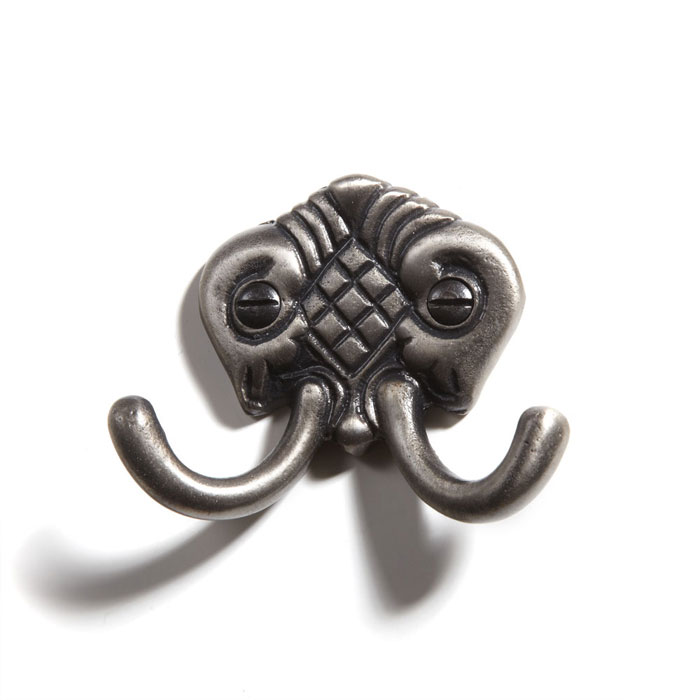 A coat hook is an essential storage solution in the home or in the workplace. Keeping garments neat and easily accessible maintains a tidy environment, prevents clothes from crumpling, and reduces health and safety risks. The style, size, and type of coat hooks available ensure that every individual or company will find a suitable hook that is functional and useful. Compare various styles and investigate individual items to find a durable coat hook that will provide many years of quality use.
About Coat Hooks
A coat hook is a simple implement designed for storing coats or other items of outerwear. At least one hook, peg, or node protrudes outwards, sometime from a board or stand, or sometimes affixed directly to a wall or door. Coat hooks are traditionally placed near an entrance or exit to a building or room, but can be equally useful in other locations. Coat hooks in the Victorian and Edwardian eras were often highly decorative, existing as ornamental items in their own right. Modern coat hooks can be just as beautiful, or merely functional, depending on the intended use. A floor standing coat hook might also feature appendages for storage of other items, for example, umbrellas or walking sticks, whereas a wall mounted hook may be a single part, fixed in place by screws, for the sole purpose of providing a means of hanging a coat. Coat hooks are available in a variety of materials, including a range of metals, wood, and plastic. The durability of the coat hook will depend, in part, on the material used, as well as on other traits, such as the age of the item and its previous use.
Choosing a Durable Coat Hook
The right coat hook for the job can largely be a matter of personal taste, although there are several factors that may affect durability of a coat hook, and these aspects can help to narrow the search. These include design, size, material, and price, as well as fixtures or devices for attaching or suspending the coat hook.
Coat Hook Material
While metal coat hooks are arguably the more durable choice, alternative materials are available. The preferred style of coat hook and its intended location may also influence decisions regarding material.
| | |
| --- | --- |
| Cast Iron | Durable, weather proof, and long lasting, cast iron is a hardy option for coat hook material. Hooks made of cast iron are available in a range of designs, including simple individual hooks as well as decorative and ornamental pieces. |
| Other Metals | Metal alloys and metals with a range of finishes are used to manufacture coat hooks. Some may be weather proof, while others may only be suitable for indoor use. Finishes, including paint, may show wear through continued use. Softer metals may break or become mis-shapen if forced to bear a heavy load. |
| Wood | Wooden coat hooks require paint or varnish to maintain aesthetic quality and to prolong use. The appearance of a wooden coat hook can, therefore, be easily altered to match a particular colour scheme. This material is often lighter weight than metal alternatives. Metal hooks are sometimes fixed to a wooden board or plaque, which in turn is fixed to the wall. |
| Plastic | Plastic coat hooks can often be a cheaper alternative. This lightweight material may bend or break if its load is too heavy but is often weather resistant. |
Coat Hook Fixings and Fixtures
Some coat hooks that require fixing to a wall or door are supplied with requisite fixtures and fixings,, whereas others are not. The type of surface to which the coat hook is to be fixed may influence fixture decisions.
| | |
| --- | --- |
| Screws | The most common fixture device is a screw, or set of screws. Harder surfaces need to be drilled, and extra materials, such as raw plugs, may be required to hold the coat hook firmly in place. This is a long lasting solution, though difficult to correct if the screw is incorrectly placed or in the wrong location. |
| Nails | Nails can be used on most types of walls and doors, though are less rigid and are likely to hold less weight than a screw fixture. |
| Adhesive | Adhesives including strong glue and adhesive pads may be used to affix some types of coat hook. This fixing is difficult to reposition and cannot be used with all coat hook and surface materials. Stronger adhesives will provide greater durability. |
| Hook | Coat hooks can themselves be fixed in place with a hook, for example, a hook over the top of a door. These fixtures are usually easy to reposition and, depending on design, can be long lasting and hold great weight. |
Coat Hook Styles
Different types of coat hook perform different functions; some are designed to just hold one garment, some are designed to hold several, and yet more designs feature extra storage solutions for other accessories. The intended use of the coat hook will determine which style is most suitable for the occasion.
| | |
| --- | --- |
| Single hook | A single hook is just one protrusion, suitable for holding just one coat at any time. Versatile and functional, single hooks can also be decorative. Single hooks are ideal for smaller spaces, or locations where storage of several coats at once is unlikely. |
| Multi-hook | A series of hooks in an assortment of arrangements can hang several coats, for example, belonging to each member of a family. A wide variety of designs ensures suitability for a range of locations, including home, workplace, and leisure destinations. |
| Wall mounted | Many durable coat hooks can be mounted on interior or exterior walls, making practical use of the space. Ensure hooks are correctly mounted and fixed to a sufficiently strong surface to hold the requisite number of coats. |
| Door mounted | Door mounted hooks, or door hangers,, hang over the top of doors to add an extra function to existing furniture. |
| Free standing | Free standing or floor standing coat hooks are tall pieces of furniture that require no means of fixing to walls or other surfaces. A range of designs is available, including antique, vintage, retro, and modern varieties. |
Coat Hook Uses
The most common use of a coat hook is to store coats or other outerwear, including raincoats, jackets, and anoraks, when the wearer is inside the building. Therefore, coat hooks are often placed near an entrance. However, the usefulness of coat hooks is not restricted to this single use. Place coat hooks in an office to hang jackets or cardigans, or in a workshop to suspend overalls or aprons. Use coat hooks in the home for neat storage of hoodies or dressing gowns. A child's bedroom is easier to keep tidy if clothes are placed on a hook rather than in piles on the floor. Another handy tip is to hang evening wear or fresh laundry on a coat hanger, and then place the hanger on a coat hook to keep clothes free of creases. Hang other items on coat hooks too, including hats, scarves, towels, handbags, and jewellery.
Maintaining a Coat Hook
A durable coat cook will serve several functions for many years if properly fixed or adhered and correctly maintained. Always use the correct fixtures for the corresponding coat hook; if no fixings are provided with the hook, ask the seller which fixings might be most appropriate. Also, consider the material of the surface to which the hook will be fixed; extra accessories such as raw plugs might be required for safe implementation of the coat hook. When the hook is in place, basic maintenance will prolong its use and appearance. Wooden hooks will require a protective coating, such as paint or varnish. Exterior hooks may need regular checks to ensure no damage is being caused by rust or other decay. Do not place hooks that are only suitable for internal use outdoors. Never exceed the weight limit of the coat hook; this could lead to damage or breakage of the hook and of the surface to which it is attached.
Conclusion
A coat hook is a practical solution for neat storage of coats and other garments. A variety of coat hooks is available in a range of styles, sizes, and materials, ensuring a suitable hook for every occasion and location. Properly maintain coat hooks to extend duration of use. Browse eBay listings and compare items to find durable coat hooks at competitive prices.