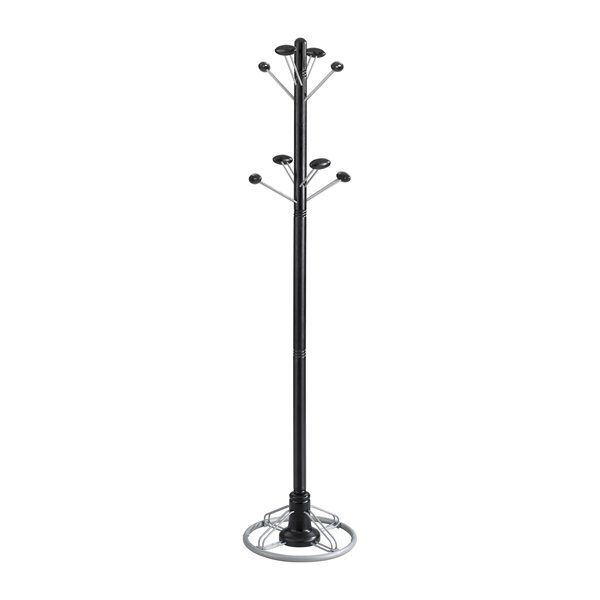 A coat rack is essential for the winter season. It gives wet coats a place to dry, and it gives guests a place to hang jackets. Since coat racks often hold up heavy amounts of coats, it is important to find a coat rack that can last through many years of wear.
Materials
A coat rack's material can make a large difference in how sturdy the coat rack will be. While some may wish to choose materials based on design or aesthetics, it is also a good idea to think about what sort of use the coat rack will receive and how the material will hold up.
Wood Coat Racks
Wooden coat racks are very common. Wood is a very traditional material, and it can be painted and colour or finished with a natural look. Make sure that a wooden coat rack is finished with a clear varnish or other sealant. Because wood is naturally porous, unsealed wood can absorb the moisture from wet clothes and coats, which may lead to discolouration, mould, or even rotting. Check varnished coat racks every year to make sure that the finish is not cracked or flaking. If it is, a simple touch up will help the coat rack last another season. Wood coat racks should also be checked periodically for cracks and splinters that can snag on coats and tear fabric.
Metal Coat Racks
Metal coat racks are a great alternative to other materials. The metal will last for years without requiring any upkeep, and metal coat racks are exceptionally strong and sturdy, so they can hold a large amount of coats and other items. However, metal does have some drawbacks. Metal coat racks, like wood coat racks, should be varnished or finished in a clear coat. Some metals, when exposed to dampness from wet coats, can rust or get discoloured. This can even rub off onto coats, creating stains that are difficult to remove. Rusted metal coat racks can also leave rust marks on the floor where they were placed, causing damage to an apartment or home. A durable alternative to plain metal coat racks is metal coat racks that have been coated in rubber or plastic. These racks will not have the same classic, chic look that a brass or steel coat rack has, but the coating will prevent moisture from coming into contact with the metal. A rubber coating will also help keep coats from slipping off the coat rack hooks. Often, coated metal coat racks are available in basic colours like black and white although more options can be found.
Plastic Coat Racks
Coat racks made from plastic will vary widely in durability. Plastic coat racks will often be the most affordable type of coat rack, and they are also usually lighter in weight than wood or metal coat racks. This makes them better for homes with children. Plastic coat racks are available in bright colours as well as neutrals, so they are a great option for those who want a wider range of style options. Plastic coat racks will not be damaged by water or moisture, so consider this material for rainy weather. While some plastic colours may fade with time, this usually takes years and will not happen without exposure to direct sunlight. However, plastic can become brittle over time, which may lead to broken hooks and other parts that are under a lot of stress.
Design
Choosing the correct design for a coat rack will also ensure that it lasts through heavy use. There are two basic types of coat rack, and they are extremely different in terms of style and function.
Wall-Mounted Coat Racks
A wall-mounted coat rack is generally a base piece with hooks attached to it. This piece is hung onto a portion of the wall near the front door. This type of coat rack saves floor space, but they often cannot hold as many coats. If a person is considering this type of coat rack, they should first inspect the wall: Holes must be drilled, so brick and stone walls may not be able to hold a wall-mounted coat rack. A person should also check to see if there are wood or metal studs behind the wall. These are necessary to provide support to the wall-mounted coat rack. Without the proper support, a coat rack can fall off the wall if too many coats are hung on it. Assume that a wall-mounted coat rack will be filled to its capacity, and assume that wet clothing and coats will weigh more. However, most wall-mounted coat racks, in addition to saving a lot of space, are also very sturdy and durable. As long as a wall-mounted coat rack has been properly hung, it will not be knocked over or disturbed like a standing coat rack. Look for a wall-mounted rack with a wood or metal base and metal hooks for the most durable type of coat rack. Some wall-mounted coat racks have hooks that fold in when they are not being used. This is a great option for people who are interested in saving space, but the moving hooks are not as durable as fixed ones.
Free Standing Coat Racks
A freestanding coat rack is a great option for those who have the floor space for them. These coat racks have a traditional look, and they can come in designs that suit any decor. Freestanding coat racks, unlike wall-mounted coat racks, also often have hooks at different heights so that adults as well as children can easily hang and retrieve coats. A standing coat rack is usually accessible from all sides, so it can hold more coats in a smaller area. Freestanding coat racks can be less durable than some wall-mounted racks because they can fall and break if they are bumped or pushed over.
Features
Coat racks can also offer special features that can make organizing a person's coats and other outerwear items much easier.
Top Shelf
Some wall-mounted coat racks are available with a shelf that sits across the top of the coat rack. These shelves are perfect for holding hats, gloves, and other cold-weather accessories.
Umbrella Space
Many standing coat racks include a space for umbrellas. This is perfect when wet or damp umbrellas need to be stood up to dry out or for when an umbrella needs to be grabbed on the way out the door.
Mirror
Some larger coat racks include a mirror that is positioned at eye level. This is a great addition for professionals or anyone who needs to make sure that they look put-together and presentable before heading out the door.
Finding a Durable Coat Rack on eBay
From eBay's home page, select the link for Home & Garden. Select the link for all categories, and a popup menu will appear. Scroll down, and select the category for Storage Solutions. To see eBay's selection of wall-mounted coat racks, select the category link for Wall Hooks & Door Hangers. Freestanding coat racks can be found by following the link for the Clothes Rails & Coat Stands. From this page, results can be sorted by material, condition, colour, and price. To only see wood coat racks, simply click on the link under the materials category, and eBay will only show items that have been described as being made of wood.
Conclusion
Every home should have a coat rack to keep bulky or wet coats off the floor and out of the way. Durable coat racks can withstand heavy coats and moisture without damaging items or breaking. Purchasing a durable coat rack ensures that a person will not have to worry about purchasing another coat rack for years.