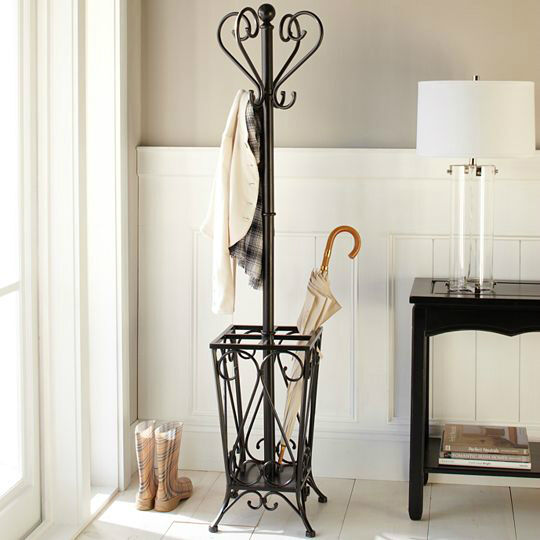 A durable coat stand can be an important addition to any home or work space. It is primarily functional, in that it provides a convenient storage option for coats, hats, scarves, bags, and even umbrellas. Coat stands can also be decorative, however, and their aesthetic beauty should not be underestimated. The different styles that are available to buy, in terms of size, material of construction, and colour, means that purchases can be made according to the particular style and decor of a home or office. When the right choice is made a durable coat stand will be functional as well as aesthetically pleasing, and will enhance any living or working area.
About Coat Stands
Coat stands are known to have been used, particularly amongst the landed gentry in Britain, as far back as the eighteenth century. They became incredibly popular during the Victorian age, and were found in many homes. Examples that still exist to this day, and which are now regarded as valuable antiques, are typically expertly crafted and beautifully ornate. Then have always been known for exhibiting a sense of sophistication and class. Coat stands have never gone out of fashion, but in recent years they have undergone a resurgence in popularity. Many modern examples are styled after classical designs, while others have been updated for the contemporary market. They continue to be functional yet attractive pieces of furniture.
Choosing a Durable Coat Stand
Although all coat stands essentially perform the same function, there are several variables to consider when choosing which one to buy. Careful consideration of all available options is the only way to ensure that the decision which is made is the correct one.
Size
The size of a coat stand is an extremely important consideration. They are typically positioned at the entrance to a property in order to facilitate the easy removal of coats and other garments. There must, therefore, be enough space to accommodate the coat stand without causing an obstruction. The height of the stand is also a factor, both in terms of available space and who will be making use of the stand. Many coat stands have hooks positioned at high and low levels to allow both adults and children to hang up their clothing with ease. There are even specially designed children's coat stands available to buy. Finally, the number of hooks available on a stand is important, as a large family will obviously have more coats to store than a person living alone.
Durable Coat Stand Material
Coat stands are constructed from a variety of materials, most notably plastic, wood, and metal. The material used in its construction will impact upon a coat stand's aesthetic qualities, price, and durability.
Plastic
Some modern coat stands are made from hard moulded plastic. These are typically the cheapest coat stands that are available to buy, but they are not particularly robust. Outer clothing, particularly when wet, adds a lot of weight to a coat stand. For this reason plastic coat stands, being lighter than other examples made from different materials, cannot usually hold any more than a few coats at a time. Visually, they do not have the elegance of classical alternatives, but being more modern in design, they are available in a range of bright and attractive colours.
Wood
Throughout their history, coat stands have typically been made from wood, with mahogany, pine, and oak being the most commonly used base materials. These wooden stands were very beautifully carved, and even modern variants are perhaps the most attractive of all styles of coat stands. They are stylish pieces of furniture in their own right, but they also serve their purpose very well. They are typically relatively heavy, allowing many pieces of clothing to be placed on them at the same time. These heavy wood stands are also very durable, with some antique examples having lasted for over one hundred years. They are as popular today as they have ever been due to their timeless appeal.
Metal
Coat stands can be made from different types of metal. Wrought iron versions are very common, due to their aesthetic quality as well as their strength and durability. Care has to be taken with some metal coat stands that wet clothing placed on them does not cause them to rust, but a good protective coating will easily prevent this. Metal coat stands can also be painted to complement the surrounding decor of a home or office.
Functionality Versus Style
Durable coat stands are found in both living and working environments. In general, larger, more functional stands are found in offices, with stylish, attractive designs being more common in houses. This is not universally the case, however, as a stand must simply meet the needs of its owner. As a general rule, an office coat stand must be large and durable enough to accommodate the coats of every member of the workforce. They will also have space for hats and umbrellas. Coat stands for homes will usually not need to accommodate as many pieces of clothing, and will have a greater emphasis on design. That being said, there are stands available for home use that are often called coat stand trees due to the large number of hooks to be found on them.
Alternative Designs
The basic design of coat stands has changed very little in over two hundred years, however modern examples can look very different to those seen in the past. Victorian coat stands, often made from dark wood, were designed to be visually pleasing and were hand carved with precise detail. The Art Deco period of the early twentieth century saw modified and more artistic designs, and was the continuation of the emphasis on the style of the furniture. The mid to late twentieth century saw a greater reliance on functionality with the arrival of large metal coat stands for office use. Examples from this period are now fashionable again as retro furniture. In fact, the current popularity of coat stands has meant that examples from every period are now being bought by the consumers of today.
Adapting a Durable Coat Stand
Any durable coat stand that is bought for a home or work space must be the correct height and width, and must have enough hooks and space to accommodate all of the coats, hats, scarves, bags, and umbrellas required of it. In terms of the style and look of the stand, however, owners can adapt them as they see fit. For example, stands can be stained or painted to a favourite colour, or to match surrounding furniture. It is also possible to alter the height of some modern extendable metal or plastic stands as required.
Space Saving Durable Coat Stands
Coat stands not only enhance an area visually, but they also serve an important function in saving valuable storage space within a home. Many people do not have adequate furniture or space to store large, heavy coats, along with other items such as umbrellas. A coat stand positioned at the front door allows many items to be neatly stored in a relatively small area. The positioning and ease of use of a coat stand also ensures that a home is kept tidy, and prevents wet and dirty clothing from being carried between rooms.
Conclusion
An attractive, durable coat stand will enhance the decor of any home or office space. They are available in many styles, colours, and sizes, meaning that with some careful shopping it is possible to find one to complement any area perfectly. Shopping in this way will also ensure that the prices paid are the cheapest possible, as even the most elaborate of wooden and metal coat stands can be bought online at discounted rates. A durable coat stand is an efficient and convenient way of storing clothing in a neat and tidy manner, both for home owners and any guests. In fact, a coat stand positioned at a front door can make a home seem more welcoming, as well as simply being an attractive piece of furniture. Its strength and durability will ensure that it remains so for many years.