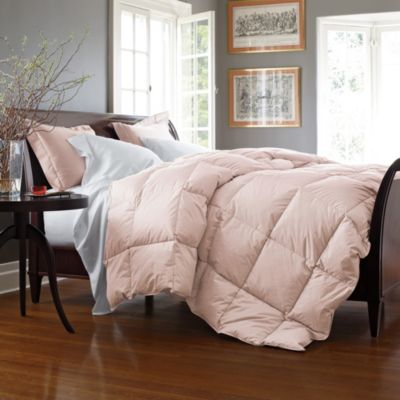 Instead of piling quilts and blankets onto a bed as the weather grows colder, users may consider purchasing a duvet. Duvets are somewhat fluffy and are usually filled with eiderdown or a synthetic insulating substance. The duvet holds in its user's body heat, providing more than enough warmth for the average person, including those who live in very cold regions. The duvet's origins can be traced back to Northern Europe. It differs from a comforter in a couple of key aspects, one of which is its two-part design. While a comforter is one-piece bedding item, a duvet is designed to be used with a duvet cover. The down in a duvet makes it difficult to clean, so the cover provides a washable layer of protection against dirt, dust, and skin oils. When buying a duvet, one should consider size, construction, filling options, style, and protection options before making a final purchase.
Measuring Bed Dimensions
With many different bed sizes on the market, taking bed measurements is an important step in the process of finding the right duvet size. Use a measuring tape to measure both the length and width. Duvets are sized to fit on top of the bed, without draping over. If some drape is desired, measure how many centimetres the duvet should hang over the bed's edge, double that number, and add it to the width. For example, if a 5 cm drape is desired, add 10 cm to the width of the bed.
Standard Duvet Sizes
Duvets come in several sizes, each specified for a certain bed size. In some cases, a size may be specified for two bed sizes (single/double, for example). Buyers should take care to note the duvet exact dimensions and compare them with those of their bed. In addition, they should keep in mind whether they want the duvet to hang slightly over the edge of the bed, or fit exactly on top of it. For shared beds where individuals prefer more coverage, it may be advisable to try buying a duvet that is one size larger than that specified for the bed's measurements. The following chart outlines duvet sizes for different beds.
| | | | | | | |
| --- | --- | --- | --- | --- | --- | --- |
| Bed Size | Cot bed | Single | Double | King | Superking | Emperor |
| Measurements (cm) | 120 x 140 | 140 x 200 | 200 x 200 | 225 x 220 | 260 x 220 | 290 x 235 |
Size selection and system depend on the manufacturer. For cot beds or emperor beds, shoppers may have less of a selection. As discussed above, it is important to get the bed's exact proportions, as well, rather than rely on designations like double or king.
Duvet Construction
There are a several options when it comes to duvet construction, each with its own advantages. The different variables determine how the filling is held in place across the duvet, and affect the product's warmth, comfort, and cost.
Box Construction
Duvets with box construction are divided by a series of perpendicular seams into separate squares that hold a certain amount of filling. This construction keeps the filling equally distributed for an even level of warmth. For this reason, box construction is the most common construction for duvets.
Channel Construction
Duvets with channel construction feature several seams that run lengthwise, dividing it into channels. The filling can shift along these channels, which for some may be a disadvantage. However, for those who like a concentration of warmth at their feet, for example, channel construction may be ideal.
Sewn-Through Construction
Sewn-through construction means that the duvet features seams that sew both sides of the shell together. It is durable and more affordable than baffle construction, but may allow feathers to pass through needle holes, resulting in cold spots.
Baffle Construction
As opposed to sewn-through construction, baffle construction features strips of fabric within the duvet itself, acting as walls to keep the feathers in place. The result is the elimination of cold spots and maximum warmth. Baffle construction is important for duvets with a higher tog rating.
Duvet Filling Options
Choosing a filling material for a duvet is a large part of the selection process. Warmth, allergen sensitivity, washability, and comfort are all factors affecting one's decision.
Down and Feathers
Down duvets are made from the soft, fluffy feathers of the undercoating of a goose or duck. Down feathers trap air and wick away moisture for a warm, breathable cover. Goose down is more lightweight than duck down, and goose-down duvets are often regarded as a height of luxurious bedding. In general, down duvets have some mix of down and feathers. Higher-quality duvets have a higher percentage of down.
Down comforters vary in washing instructions. Some require professional cleaning, whereas others are machine-washable. Shoppers should note care instructions when comparing products, and also purchase a duvet cover, which can be easily removed and cleaned.
Down and Feather Sourcing
Some companies that produce down and feather products have ethical sourcing policies that protect animal welfare. This may include sourcing their down and feathers from suppliers who follow a code of conduct, and are prohibited from live-plucking the ducks and geese. Shoppers concerned about this issue can research individual companies to find out more about their sourcing policies.
Wool and Silk
Those who are allergic to feathers but want a natural filling may find wool or silk duvets a good alternative.
Synthetic
There are also synthetic fillings for duvets that can be non-allergenic, lightweight, warm, and easy to care for. These include hollowfibre, a lightweight material made from recycled polyester, and microfibre, whose softness is similar to down's.
Popular Brands
Buyers can select their preferred duvet brand from popular manufacturers like IKEA, Hotel Collection, Pottery Barn, Ralph Lauren, Charter Club, Crate & Barrel, DKNY, Martha Stewart, and dozens of others. They should keep in mind that a recognised and time-tested brand is more likely to provide them with a satisfactory product. If buyers are not sure about which brands to consider, they may want to consult some customer reviews regarding the serviceability and durability of each manufacturer's duvets and duvet covers.
Colours and Patterns
Style is an essential component of the duvet. Most duvets are plain white and quilted, but they can be inserted into a duvet cover that coordinates with the style of the buyer's bedroom. Duvets and duvet covers are often sold as sets. Shoppers should figure out what colour they want before starting their search for a new duvet, unless they're basing their colour scheme on the duvet purchased. Whites, blacks, multi-colours, blues, reds, ivories, beiges, and pinks are all commonly found duvet colours. These colours can be found in a variety of patterns like solid, paisley, striped, floral, checked, solid, plaid, animal print, sports, geometric, or some other design.
Protecting the Duvet
Duvet covers are like giant pillow cases for your duvet. The duvet can slip inside and it can be secured with buttons, snaps, or even a tie closure. The duvet cover keeps the duvet protected at all times, and lessens the frequency of washing. The great thing about duvet covers is that they come in lots of different colours and styles, so you can change up the way your bed looks simply by changing the duvet cover. Duvet covers can be washed as much as they need to be and easily slipped back over the duvet. You'll still need to shake the duvet from time to time to keep it fluffy and even, but you won't have to wash it as much if you use a duvet cover.
They also come in different materials, so you can use a jersey duvet cover, velvet or flannel duvet cover, or a super soft, high thread count Egyptian cotton duvet cover. Purchase pillow shams and a dust ruffle to match, and dress your bed up without having to purchase a new duvet.
How to Buy a Duvet on eBay
No matter what size duvet you're looking for, you'll find an extensive collection of new and used items on eBay's online auction website. To begin your search, go to eBay's home page, and type in keywords, such as "king down duvet", into the search bar. You can then refine the search results by entering a price range, selecting whether you're looking for a new or used item, and other limiting factors. eBay has more information on its Search Tips page.
Finding Top Rated Sellers
As buyers shop, they will see some listings with a special seal that says Top Rated seller. This seal indicates that the seller has received excellent feedback from other eBay buyers. These Top Rated sellers are reputable and will likely provide buyers with a good transaction experience and an excellent product.
Conclusion
When the weather turns chilly, many people swap out their light summer blankets or quilts for warmer bedding, such as duvets. Duvets have long been a popular choice for buyers who want comfort and luxury all in one product. Duvets are lighter than most thick quilts are, but they provide just as much warmth since the down in the duvet holds in the user's body heat. Cosy and fluffy, duvets work well for all ages, from small children to adults.
Before buyers begin shopping on eBay for their new duvet set, they should consider a number of important factors. The duvet needs to be of the appropriate size for the bed. Buyers also need to ensure that the colour and the pattern of the duvet will coordinate well with the bedroom's decor. The material of the duvet cover should be durable and easy to care for, and the thread count of the cover should be high enough to ensure softness and comfort for the sleeper. If buyers keep these factors in mind as they shop, they should be able to find the ideal duvet set on eBay.