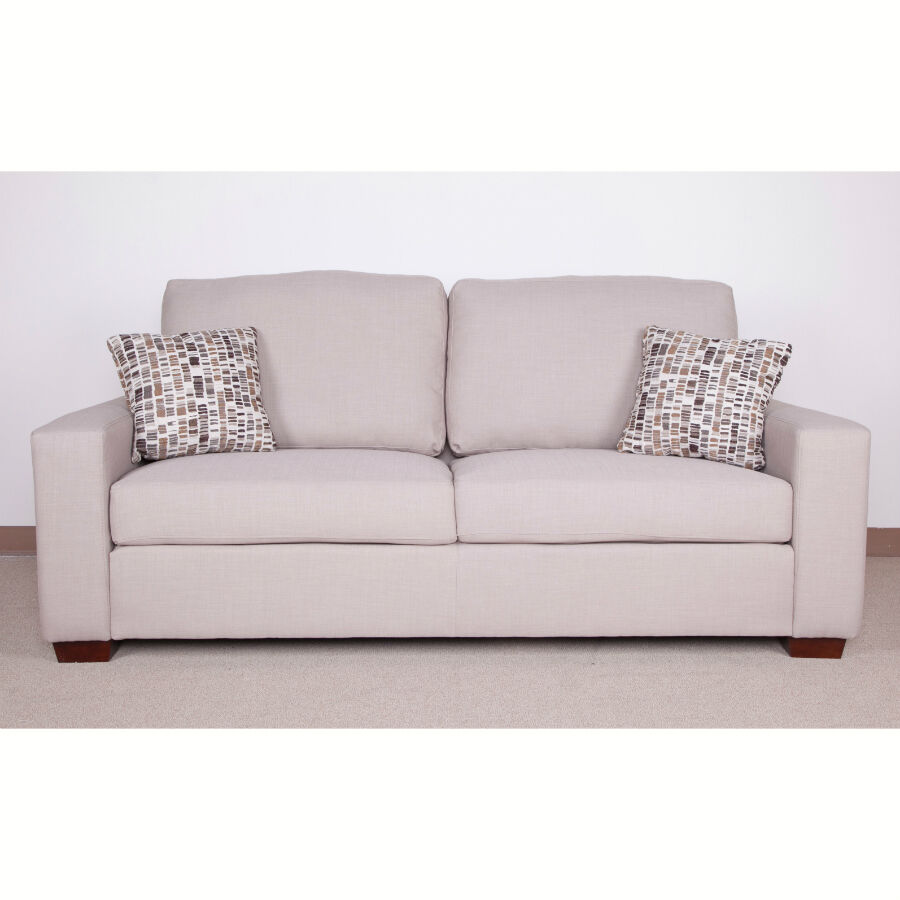 While it may be difficult to imagine a living room without a sofa, this ubiquitous piece of home furnishing only emerged in Europe in the late seventeenth century. The earliest surviving sofa is an English piece, made sometime in the 1690s. Production soared in both England and France, and although there are no remaining examples of French sofas from those first decades, the French dominated sofa manufacturing. At first the "canapé" was popular: a low-backed, lightly padded sofa. In 1688, a French craftsman coined the term "sofa", taken from the Arabic word for cushion. As woodcarving and upholstering techniques advanced, sofas quickly became more elaborate, and more comfortable. Advertisements depicting elegant women in relaxed poses, suggesting that the sofa was a new symbol of leisure and casual elegance.
Today, sofas are still important for entertaining and relaxation. There is a variety of different styles, from traditional to ultra-contemporary, and different materials. Fabric covers come in a range of textures, colours, and patterns, giving the consumer a wide range of possibilities. When choosing a quality fabric sofa, there are several considerations to keep in mind. By informing themselves of their choices, consumers can find a quality fabric sofa that will look and feel terrific.
Take Accurate Measurements
Before setting out to shop for a fabric sofa, it is important to measure the area where it will be. After choosing a position that is not too close to any other furniture or fixtures, spread old newspapers around the space where the sofa will be. It helps to visualise how much room the sofa will actually occupy, and then measure width and depth accordingly. Shoppers should not forget to take the dimensions of door frames, hallways, staircases, and any other narrow spaces through which the sofa will pass during delivery. Write down all the vital measurements and keep them at hand during the shopping process.
Choosing a Fabric Sofa Style
Sofas are prominent furnishings that call a lot of attention to themselves. As decorative focal points, they should harmonise with the rest of room's decor. Whether contemporary, traditional, or vintage, deciding on a sofa style helps streamline the process from the beginning.
Contemporary Sofas
Contemporary sofas are characterised by low backs, geometric shapes, and exposed legs in metal or wood. Some may be less comfortable or supportive than their overstuffed traditional counterparts, but their sleek appearance makes a sophisticated statement.
Traditional Sofas
Traditional sofas are a nod to the styles of the past, often featuring high, buttoned backs, rolling arms, and decorative turned legs. Whether delicate or extravagant, and their comfort factor is generally quite high.
Vintage and Antique Sofas
Vintage sofas and antiques can serve as a decorative accent piece. Simpler tastes may opt for a mid-century modern piece, with an emphasis on form and function. Those who prefer more ornamental styles can look for a French or Victorian sofa with a decorative fabric and carved frame. Quality vintage sofas tend to be well constructed in quality materials, and have a style that stands the test of time. What's more, genuine collectors' pieces by famous designers often appreciate in value over the years.
What to Look for in a Sofa Frame
A quality frame is the foundation of a good sofa. The best frame materials are hardwoods like maple, oak, elm, beech, birch, elm, and walnut. The wood should be kiln-dried; this process eliminates 93 percent of the wood's moisture, greatly reducing warping or shrinking. Less expensive frames are often made from medium-density fibreboard (MDF), an engineered wood that is less durable than hardwood. Pine is also lower cost, but is susceptible to moisture and warping.
How the frame is constructed is also an important factor. Consumers should inspect joinery and ask for written information about the construction. Look for joints that are double- or triple-dowelled, which ensures a square frame, and corner-blocked, meaning that triangular pieces of wood have been inserted at the corners, which prevents the frame from twisting.
Cushion Options for Fabric Sofas
Cushion construction is another important aspect of a sofa that determines comfort and durability. The two major factors are support structure and filling material.
Cushion Support
There are a three major choices when it comes to cushion support. They vary in price, comfort, and durability, as outlined in the following chart.
| Support Type | Characteristics |
| --- | --- |
| Eight-Way Hand-Tied Springs | Optimal choice for comfort and durability; most expensive variety; springs should be close together; springs tied to a jute base are best |
| Serpentine or Sinuous Springs | Prefabricated wire curves in S-form through the cushion; a comfortable and more affordable option than hand-tied springs, but may press on frame or lose shape over time; due to leaner profile, appropriate for sleeker cushions |
| No Springs | Constructed of web or mesh; most affordable version; can be comfortable, but compacts over time |
Deciding on a cushion support system may be largely determined by cost. While eight-way hand-tied springs are the mark of a high-end sofa, many experts say that sinuous coils, while not handmade, are a comfortable, durable alternative.
Cushion Filling Material
Choosing a filling material is another step in sofa shopping. Filling materials affect a cushion's appearance and feel. Fillings may include goosedown, foam, or even the traditional horsehair, which is prized for its durability and firm, full shape. Down and feather are luxuriously soft but require plumping, and some people are allergic to it. Foam provides firm supports, but loses shape over time. Many cushions feature combinations of material; down and polyester fibre, or foam wrapped in fibre, are good options for mid-range sofas.
Sofa Fabrics
There are several choices when it comes to sofa covers. Choosing a cover material involves deciding on texture, durability, appearance, and price.
| Material | Characteristics |
| --- | --- |
| Velvet | Rich, plush fabric; susceptible to wear |
| Crushed Velvet | Mottled velvet appearance, good alternative to velvet since it shows fewer signs of wear |
| Chenille | A tufted fabric of natural or synthetic material; soft, plush; wears well |
| Silk | Natural fibre with a luxurious lustre; fragile, snags easily; requires dry cleaning; expensive |
| Wool | Natural fibre; durable; must be dry cleaned; fades over time in sunlight; often blended with synthetics |
| Cotton | Natural fibre; durable; does not fade easily; generally machine-washable; often blended with a synthetic fabric for wrinkle resistance and easy care |
| Linen | Natural fibre from hemp plant; wrinkles easily and may require dry cleaning |
| Microfibre | Polyester fibre with an extremely close weave; suede-like texture; highly durable, stain resistant, and machine washable |
| Synthetics | Less expensive, often blended with natural materials; acrylic is similar to wool, fade-resistant, but less durable; rayon is similar to silk but wrinkles easily; polyester, nylon, and olefin add durability |
When choosing a fabric, shoppers should consider the sofa's primary function. If it is for decorative and occasional use, luxurious fabrics like velvet or silk could be the perfect option. However, if it is going to get a lot of everyday use, they should opt for a more durable fabric. When selecting wool, cotton, or linen, look for tough, densely-woven fabrics. Also, woven patterns tend to wear less than printed ones.
Flame Resistance
Buyers should always check that a fabric complies with British fire and safety regulations.
Care Considerations
Before deciding on a fabric, buyers should consult the salesperson or seller about care instructions. They should find out whether the fabric needs to be dry cleaned or hand-washed, or whether it can go in the washing machine. Some synthetic fabrics like microfibre are stain-resistant, while natural fibres may be treated against stains.
If the sofa is going to receive a lot of direct sunlight, shoppers should also ask about the fabric's fade resistance.
Those with small children or pets may want to consider a darker coloured fabric, since dirt and stains are much less conspicuous.
Tailoring
The last stage in the upholstery selection is to examine the tailoring. Buyers should look carefully at the seams, corners, welting, and cording, checking for tight stitches. There should not be any loose threads. If the fabric is patterned, it should line up at the seams.
Loose or Fixed Covers
Some sofas have removable covers that slip off for easy care. Loose covers also give the option of changing colours from time to time: shoppers can buy two sets of covers, for example, and alternate between them for different seasons. Sofas with fixed covers are more difficult to clean, but can be covered with a slipcover for protection or a change in decor.
Where to Buy a Fabric Sofa
When sofa shopping, it may be useful to browse models in furniture showrooms, as well as consult experienced salespeople and product reviews online. New sofas are available at furniture shops and department stores, and can also be purchased online, through Internet retailers and auction sites like eBay. Those looking for vintage and used sofas may find them through vintage dealers, auctions, second-hand shops, and online auction sites.
How to Buy a Fabric Sofa on eBay
You'll find an expansive selection of new and used fabric sofas at competitive prices on eBay. Begin your search on eBay's home page: enter keywords like "microfibre sofa" into the search bar. You can then narrow your original search results by factors like price range, seller location, item condition, and more. If you don't find what you want on the auction, try shopping at eBay Shops.
Before Bidding on an Item
Once you've found an item you like, there are a few things to do before placing your bid. First, read the product description carefully, checking for specifics on materials, condition, and the seller's return policy. If you need more information, you can ask the seller a question through eBay. Remember that postage fees are separate from your bid, so verify shipping conditions. For large items, some sellers require local pickup.
You should also get to know more about the seller by looking at their feedback rating and comments from previous buyers, particularly those who have bought furniture. Top-rated sellers have completed a high volume of positive transactions.
Conclusion
Throughout their history in Europe, sofas have been used for entertainment and leisure. As a functional and decorative fixture in most homes, the sofa should be carefully selected for quality and style. Taking measurements is the first step before setting off on the buying process. Next, consumers should consider what kind of sofa fits their decor style: contemporary, traditional, or vintage. Once that has been decided, shoppers are ready to compare models in their price range.
Knowing what to look for in terms of materials and construction gives shoppers a major advantage. Well-built frames in kiln-dried hardwood provide the best durable foundation. Choosing cushion support and filler materials is another step. Finally, shoppers need to decide what fabric suits their needs. This choice should be informed by how often they expect to use the sofa, as well as considerations like texture, appearance, and cost. The more informed consumers are about their options, the easier it is for them to find a quality fabric sofa that will look great for years to come.