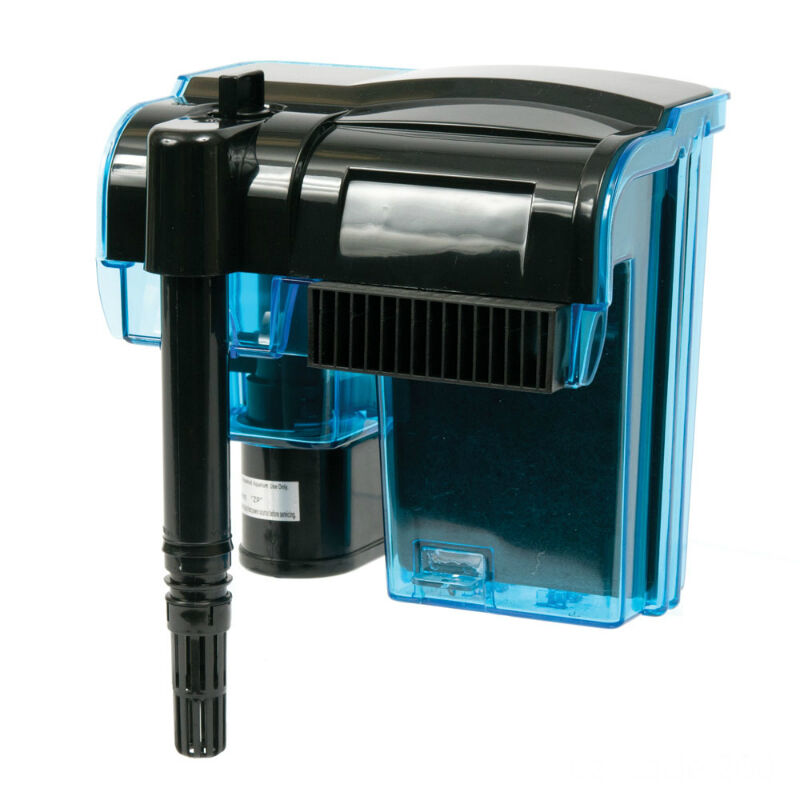 Your Aquarium's Life Support
The life support system of your aquarium; it goes without saying that it is vital that you choose the right type and size of filter for your tank. In order to maintain water quality and keep your fish healthy, you need to be aware of the many different types of filters available.
This eBay guide has been produced to bring you up-to-speed with the many filters available, and to help make the buying process as easy as possible.
Choosing a Filter for Your Aquarium
As mentioned, there are many different types of filter available, with the most popular being internal power filters and external canister filters. If you purchase a tank as part of a kit, it is likely that one of these types of filter will be included. Other types of filter include: air-powered sponge or box filters, under-gravel filters, and sump filter systems.
If you're new to keeping fish, it is advisable to opt for a small to medium sized tank, for which an internal power filter is the most popular choice. If you're an experienced aquarist and you own a large tank, more than one aquatic filter can be used, and they can be combined with external canister filters. Whatever type of filter you opt for, you must ensure that it is suitable for your size of tank.
Aquarium Filters – The Most Common Questions Answered
Here are answers to some of the most common questions in relation to aquarium filters:
Why Does Your Tank Need a Filter?
The answer is quite simple; a filter is an essential piece of kit as it removes the waste produced by fish. If your tank didn't have a filter, the water would soon become cloudy and polluted, which would without doubt cause harm to your fish.
How Does an Aquarium Filter Work?
The vast majority of filters work by trapping waste produced by fish so that it can manually be removed. Biological aquarium filters help to breed friendly bacteria which turns harmful toxins in fish waste into less harmful nitrates that are removed when the water is changed in the tank.
Is it True that You Should Mature a New Filter?
When you purchase a new aquarium, before you place any fish into it, you should let it cycle. By cycling the tank, you allow for a build-up of bacteria which converts harmful ammonia from fish waste into harmless products, which as previously mentioned, are removed when the water in the tank is changed.
Cycling a tank is very straightforward.
First, you need to set up the tank with its gravel, rock, plants, and of course, filter.
Next, you should add a few flakes of food to the water which will encourage bacteria to break it down, producing ammonia.
The ammonia is then broken down into nitrite, which is further broken down to form nitrate, which is harmless.
Over a period of one week, the tank will begin to appear cloudy, which is a sign that bacteria are multiplying, and is absolutely normal.
After three weeks, the water should start to appear clear again, and the tank should be capable of removing waste produced by the fish which can now be homed.
How Do Internal Filters Work?
The vast majority of internal aquarium filters are designed to fit in the rear corner of the tank with the outlet just below the surface of the water; however, some tanks come with fitted internal filters.
Internal filters work by sucking in water at the bottom, and drawing it through a sponge which is designed to trap debris. The debris that becomes trapped contains bacteria, which thrive in the polluted, oxygen-rich water passing through the filter. These bacteria transform ammonia into nitrite, and nitrite into nitrate.
How Often Should You Clean the Sponge in an Internal Filter?
It is a good idea to you clean the sponge inside of an internal filter every couple of weeks. You should clean the sponge by rinsing it in old tank water in order to remove trapped debris; otherwise it can cause the flow-rate to drop. If the flow-rate drops, this might affect oxygen levels in the tank.
Can You Rinse the Sponge Under the Tap?
No, you should not do this. Friendly bacteria in the sponge will be killed by the chlorine in tap water, rendering the filter inoperable for a period of around a month while it matures again. Rather than doing this, you should siphon some water from the tank, and rinse the sponge in this.
What Size Filter Do You Need for Your Aquarium?
The size of filter you require depends on the size of your aquarium. The packaging which the filter comes in will give you an indication as to what size of aquarium it is capable of supporting. If you're planning to keep a tank full of messy fish such as Goldfish or Cichlids, you'll need to consider using a powerful aquarium filter.
What Are Carbon Pads?
They are used in a variety of filters and contain activated carbon, capable of removing various chemicals from the water, and improving its clarity. Activated carbon has a limited lifespan, usually less than six weeks, so these pads must be replaced before their use-by-date. If they're not removed in good time, they can leach harmful chemicals back into the water.
What Are the Advantages of Using an External Aquarium Filter?
An external filter sits outside the aquarium in the cabinet below. Water is sucked out of the aquarium which then enters the filter. Inside the filter the water is cleaned, and is then pumped back up into the aquarium.
With more media inside them than an internal filter, they tend not to need cleaning as often. Very versatile, and with lots of media you can add to them to improve the quality of water in your aquarium. They are a good choice.
Is it Easy Enough to Upgrade a Filter at a Later Date?
The answer is yes, but you must remember not to remove your old filter, simply replacing it with the new one. If you do this, you will remove the beneficial bacteria from the aquarium. The new filter will need to be given time to mature. Alternatively, you can run the two filters simultaneously for a period of time until the new filter matures enough to be used on its own.
Why Choose eBay for Aquarium Filters?
eBay is a popular place for people to buy aquarium filters, mainly due to the huge range available, and low prices not found elsewhere.
How to Search for Fish Tank Filters on eBay
Now that you've found out the different types of fish tank filters, you can now begin your search on eBay. To start your search, go to the All Categories link on the homepage of eBay. Click Pet Supplies, and then select Fish which appears on the left-hand side of the page.
Keyword Search
Search eBay listing titles for specific words. For example, if you want to find an internal aquarium filter, type the keywords "internal aquarium filter" (without quotation marks) into the Search box. Click, "Search title and description" to expand your results. Visit eBay's Search Tips page for more tips on searching with keywords.
If you can't find exactly what you want, try browsing eBay Stores or tell the eBay Community what you're looking for by creating a post on Want It Now, or save a search on My eBay and eBay will email you when a matching item becomes available.
Buy Aquarium Filters on eBay with Confidence
Make sure that you know exactly what you're buying and understand how eBay and PayPal protect you.
Know Your Item
Read the details in the item listing carefully.
Remember to add delivery costs to your final price. If you're buying a high value item, check that the seller will insure it until it is delivered to you.
If you want more information, click the "Ask seller a question" button on the seller's profile or the "Ask a question" link at the bottom of the item listing page.
Always complete your transaction on eBay (with a bid, Buy it Now or Best Offer) otherwise you will not be covered by eBay Buyer Protection.
Never pay for your eBay item using an instant cash wire transfer service like Western Union or MoneyGram. These are not safe ways of paying someone you do not know.
Know Your Seller
Research your seller so that you feel safe and positive about every transaction.
What is the seller's Feedback rating?
How many transactions have they completed?
How many positive responses do they have?
What do buyers say in their Feedback?
Are they positive about the seller?
Most top eBay sellers operate like retail shops and have a returns policy.
Do they offer a money-back guarantee?
What are their terms and conditions?
Buyer Protection
In the very unlikely event that you do not receive your item or it is not as described, eBay Buyer Protection covers your purchase price plus original delivery cost.