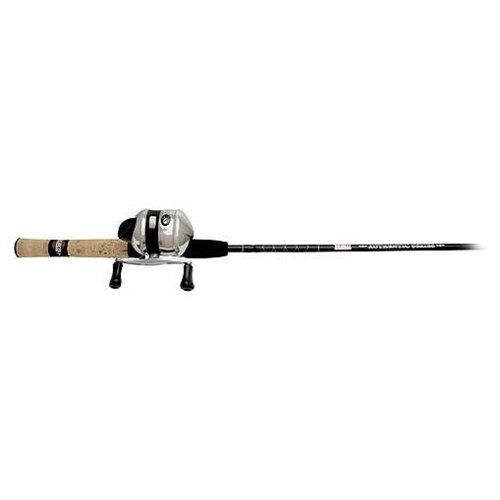 This eBay guide examines what kind of rod and reel combos are currently available to fishermen, which combos are the best for fishing in specific conditions and how buyers can find a great deal on a rod and reel combos that will work for them by searching with eBay.
What Types of Rod and Reel Combo are There?
As rod and reel combos are designed to offer anglers with the optimum equipment set up, there are many different variations, which have all been specifically developed to offer fantastic performance when used for a certain type of fishing. Here is a list of the different types of rod reel combo, including some technical information on their set-ups as well as advice on what they are best used for.
Fly Fishing Combo

As the name suggests, a fly fishing combo is a rod and reel set-up, which is perfectly tailored to most kinds of fly-fishing.
They are designed to perform well in three areas, casting, line control and reeling in once a fish has been hooked.
The rod itself on a set-up like this will be extremely flexible to give the angler more room for error when they are reeling in a particularly large fish, which would likely be able to fight against a more rigid line and in turn could damage some of the equipment being used.
The reel included in a package like this is usually extremely durable and is often a spin cast reel, on which the length of the line is controlled by a catch which is locked in place by default. The angler can then lengthen his or her line by pressing a button to release extra length.
Fly fishing combo rod and reels are naturally great for fly-fishing but are good all round rods for general use as well.

Salt Water Combo

Salt water rod and reel combos are specially designed for use whilst sea fishing.
The equipment will tend to incorporate a number of different features that many anglers will find advantageous to them whilst they are sea fishing. For example, both the rods and the reels on these set-ups tend to be extremely strong and durable, due to the fact that sea fish tend to be larger and put up much more of a fight than a lot of fresh water species.
Many of the rods made for this purpose are constructed from stainless steel or aluminium, this is because sea water is highly abrasive on fishing equipment and if other metals were used to make the rods then they would begin to rust quickly.
Some salt water rod and reel combos will come with a shorter rod, which is better for controlling a fish with, whilst some will choose to use a long rod, which will be much better for those looking to cast longer distances.

Conventional Combo

The main job of these combination rod and reel set-ups is to provide an angler with a great all-round piece of equipment that can be used in any weather on any stretch of water.
The rods themselves are often constructed using either fibreglass, known for it's strength whilst remaining flexible, graphite, which possesses similar qualities, or bamboo, a traditional option that is great for casting with, if not a little rare these days.
The majority of conventional rod and reel combos will come with the reel fixed to the top of the rod; this set-up is generally thought to be preferred by more experienced fisherman and is good for fishing in water with lots of plant life and other obstructions underneath the surface because it can give a skilled angler better control when reeling in a fish.
Conventional rod and reel combos are perfect for an experienced angler who is planning on fishing in fresh water rivers and lakes and who has enough experience to control this equipment when both casting and reeling in.

Ice Fishing Combo

These are both the most rare and probably least used rod and reel combos that are available on the current market. They have been specially developed to provide the perfect set-up for anglers who are planning to fish in frozen waters.
The reels on most of these rigs will be fully enclosed, as this will protect the equipment from unnecessary exposure to the elements. Rods are likely to be stiff; as this will provide a degree of much needed strength should a large fish that is living under the ice taken an angler's bait.
The chances are that many fishermen will have little need for an ice fishing rod and reel combo when fishing in Britain, however, fishermen who are planning on taking angling trips to colder regions such as Canada, Norway or Sweden will most definitely find that an ice fishing rod and reel combo will come in great use.
In some circumstances, anglers should also take note that ice fishing combos certainly have the potential to be useful when fishing in extremely deep water of any kind.
Safety Tips for Using Rod and Reel Combos
Some anglers, especially beginners, are not aware of many of the dangers that present themselves whilst rod fishing. Below is some basic safety advice that may ensure that nothing bad happens whilst a fisherman is trying out his or her new rod and reel combo set-up:
Under no circumstances should anglers fish in an area where overhead power cables are present. Any angler who does fish near power cables runs the risk of catching their line on a live cable when they draw back to cast. This is incredibly dangerous and an accident like this has the potential to cause a fatality almost immediately. Always check the immediate area before even setting up to fish so that it is clear there are no power cables close by.
Always ensure that any rod and reel combo used is in perfect working order and is not damaged in any way. A rod should never have cracks in it and if it comes in more than one section that has to be connected together, pieces should fit snugly so that they cannot come apart should a fish take a bite. Line should not be tangled when it is on the reel as this can damage all of the equipment that it is being used with. If a line becomes excessively tangled, cut off the offending piece and rethread the rod.
If an angler does decide to go ice fishing, it is very important that they bring some form of shelter with them, be that a specialised tent or a home made awning of some kind. People who fish in icy conditions without any protection from the elements are at severe risk of hypothermia and must take proper precautions as a result. It is also a good idea to wear a thermal undershirt and trousers, which will keep the cold out even further. Fishermen should always be sure that ice can take their weight before standing on it.
Finally, show courtesy to other anglers and general members of the public. Always check before casting to see if anyone is standing a walking in direct line of the hook. Be wary of dogs and other animals that may have got into the water anywhere near rods, there is a chance that they could become tangled in the line and although they may not necessarily drown, this experience is likely to cause an animal a great deal of stress.
Finding and buying Rod and Reel Combos on eBay
Using eBay is a fast and simple way to find a great deal on a new or used fishing rod and reel combo. Here are some quick tips to understand how to get the best out of eBay search functions when looking for the perfect rod and reel combo set.
Use eBay's tailored search filters to find exactly the right rod and reel combo, to start, type "rod and reel combo" into the search bar at the top of the page and wait for the results to display
Once a set of product listings has loaded, it is actually possible to filter the rods on display by the type of fishing they were designed for. Users can browse rod and reel combos for course, sea, fly and other fishing styles so that they know they are only looking at equipment that will be of interest to them.
Before you place a bid on eBay, make sure you are aware of exactly what you need to buy. Do some research on the seller – check their feedback and familiarise yourself with how you're protected by eBay and PayPal.
Check the details in the listings and factor postage and packing into the price you are prepared to pay. If the item you're buying is valuable, ensure the seller gets appropriate insurance.
Conclusion
Fishing is one of the world's favourite pastimes and everyone who participates in the sport from true veterans to absolute novices all hope to achieve the best catches they can by getting the right rod and reel set-up. One option that saves anglers time when looking for a great ro