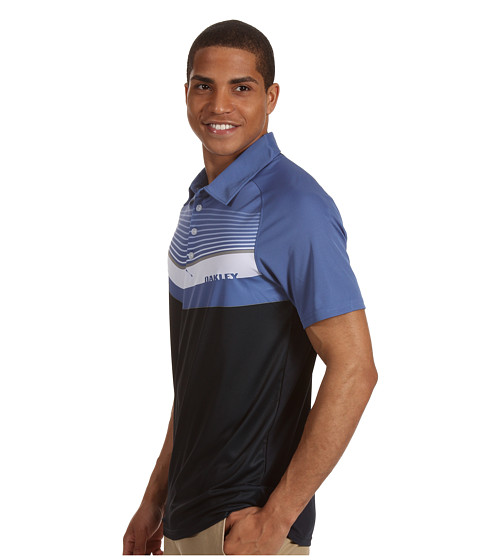 The moment a golfer steps out of the clubhouse he or she is on show, even on a public course. Fulfilling the minimum dress code is just the start. True golfers understand the necessity of being well-dressed.
At the same time they know that if their strokes don't live up to their appearance, they are going to look ridiculous. So clothes should be chosen with an eye to performance as well as being eye-catching. They should fit comfortably, feel light, allow freedom of movement and never hinder it.
Not only do good clothes make the game what it is, they can help to bring out the best in the players themselves. Knowing they look good can boost confidence, and that in turn can help raise the level of play. On the other hand, if you feel less well-dressed, you may produce less good shots. The shirt is central to the whole look.
The four factors
There are four key factors to consider when choosing a shirt made specifically for playing golf and which differentiate it from its casual wear cousins:
Design – in terms of both appearance and performance
Fabric – natural, 'technical' or a blend
Brand – golf heritage or name for sport
Price – getting the best deal with eBay
1. Design
If the world of sports should ever encounter that of style and luxury it would definitely be on the golf course. The result could be sophistication and refinement in action, or a disastrous clash of colours and patterns. In the 1970's, golf was not immune from the tasteless fashion of the era. Every colour imaginable was given an outing.
As the end of the twentieth century approached, golfers began to tone down their use of primary colours. The entry of companies like Nike into the golf market helped matters. Dedicated fashion designers ironed out the extremes in golf fashion by introducing well-cut polo shirts..
The pivotal polo shirt
Most golf course dress codes require players to wear a shirt with a collar. Button-down collars and tennis shirts are usually acceptable put most people – women and men alike - opt for the polo shirt.. Combining fashion and function, it's the perfect piece of clothing to make a golfer feel comfortable and look great on the green.
This perennial of the wardrobe has a sporting heritage. Shirts which were put on over the head and buttoned to the neck were adopted by the polo players of the 19th Century British Army because the style stopped their shirts flying up into their faces when at full gallop.
In 1927 Edward, Prince of Wales, later and briefly Edward VIII, asked the Court hosier A J Izod to create a knitted shirt to wear while hunting. The result, shown in a 1936 edition of The Tailor and Cutter, looks identical to a modern polo shirt.. According to the T&C, the Prince ordered a dozen. "This fashion alone kept factories in the North of England and Scotland working two or three shifts a day for many months". It was to figure more on the fairway than in the field.
Today's classic polo shirt is characterised by:
Shirt sleeves
Pique knitted fabric
Ribbed fold-over collar
Short placket – the opening which covers the fastenings
Three button is the norm, but four allows more ventilation
Often with a crest
Sometimes with a breast pocket.
Within these deceptively simple parameters there are significant variations which can affect the appearance and performance and of a player.
Appearance aspects
It only takes a quick tour of golf shirts on eBay to risk being overwhelmed by the variety of choice. Where to start? Here is some simple advice.
Shirt tips
Solid pastel colours, even shades of pink and lilac are acceptable in a polo shirt
Horizontal stripes with muted and bright colours in counterpoint are a classic
Consider how the shirt teams with the trousers. If one is bright (red, pink, yellow) leave the other neutral (brown, black white). Both can be patterned provided the pattern does not dominate both shirt and trousers.
Strong contrast of dark top and light bottom works for the trim figure, but not for everyone.
Traditionally men's shirt sleeves should be three quarters of the way to the elbow (if the elbow can't be seen, the sleeve is too long)
For women, sleeveless or capped sleeved shirts are allowed, provided they have a collar, but be aware of the risks of perspiration and sunburn
Slim-fit styles in stretch fabrics for women comfortably follow the contours of the body.
Having pattern on pattern can create a cluttered look. If you fear the look is too busy, it probably is.
Pattern on pattern can work when the pattern isn't dominating both the shirt and the pants.
Colours don't always have to be bright to make a statement. Keep colours in the same palette to create balance.
Performance aspects
There are those who claim that the choice of shirt can be next in importance to the choice of driver,, putter or sand wedge.. Anyone who has ever felt a hot, sweaty shirt grab at their shoulder when taking a swing can verify the importance of the cut of the garment.
Being uncomfortably hot or cold, restricted from free movement or battling sticky sleeves can really hinder your game. Note how pros tug their left sleeve upwards before hitting a drive. This keeps the sleeve from grabbing the shoulder on the backswing. A well designed golf shirt should allow space for free movement between the shoulders, so important to the execution of a model swing. Conversely, golfers should not wear baggy shirts that can get in the way of fluent movement. A form-fitting shirt that allows leeway is the ideal.
2. Fabrics
Natural fibres
Think polo shirt,, think cotton. It could be finest Peruvian pima, pique knit to give a fine waffle effect; a good cotton polo shirt clearly says quality. Likewise a fine merino wool look great and can be that bit warmer. But will shirts in these natural fibres work as well over 18 holes as they do for a walk in the park?
Certainly, they are breathable, which is the number one requirement for comfort. But they do tend to absorb moisture, whether from perspiration or a light unexpected drizzle. That can make them heavy and stick to the body. If the breeze gets up they can then feel clammy.
Technical materials
Recently, manufacturers are incorporating new technologies that keep golfers cool, dry or warm depending on the ambient temperature. These so-called 'technical' fabrics are light, breathable, flexible and able to 'wick' (draw) moisture away from the body and back into the atmosphere to keep the wearer dry. They can be more durable, hold up better after much wear and many washes than cotton does by itself.
Check the shirt's specifications for materials like polyester (which has come a long way since the 1970s), spandex, nylon, mercerised (pearl) cotton or Lycra. Many have their own brand names so check the listing the item's features.
Often shirts are a blend. For example, an all-round, reliable jersey knit shirt can be 61% cotton and 39% polyester for combining lightness, durability, easy care and breathability. A high performance, figure fitting polo shirt can be 84% polyester and 16% elastane.
Fashion note: These stretchy shirts look fantastic on models whose job is to work on their figures. However, they could be less than flattering to the rest of women kind and mankind, too. A looser but still fitted style could be a better idea.
As well as enhancing performance and silhouette, fabrics can be engineered to provide UV protection from the sun, which can otherwise reach the skin during the hours of exposure entailed in the sport. They can also incorporate anti-microbial properties to ward off odours.
For playing in cold/wet conditions, shirts made out of Gore-Tex provide warmth and waterproofing without adding bulk. Lycra in a shirt has the advantage of allowing the player to bend and reach with their drives.
3. Brands
More than any other sport, golf attracts a mix of genres when it comes to clothing brands:
| | |
| --- | --- |
| Names known universally for sport | Nike, Adidas and Puma |
| Names specific to golf | Ping, Lyle and Scott, Pringle, Ashworth and Callaway |
| Famous fashion designers | Hugo Boss, Armani, Lacoste and Ralph Lauren (the Polo collection, of course) |
Serious technological advancements in the golf shirts clothing industry add to the performance of any serious golfer. Both Nike Golf and Adidas Golf have created moisture wicking technologies to inspire confidence in your golf shirt on the golf course. From Nike Golf, Nike Dri-Fit, keeps you dry and comfortable on the golf course, as it wicks unwanted moisture away from your skin to the surface for rapid evaporation. Created by Adidas Golf, Adidas ClimaCool, offers superior moisture wicking management for fast cooling and quick drying comfort in your golf shirt for a cool comfortable game of golf.
Many of the top golfing-specific brands manufacture superb ranges, styled for wearing in any weather condition that can be encountered when out on the course. These world famous golf clothing brands appreciate the importance of striking a balance between fashion and practicality, offering all sorts of innovative materials and features of design to keep players driving, chipping and putting in total comfort and peak form.
Lyle & Scott and Pringle, both established in Scotland in the 19th as luxury knitwear companies, went on to launch golf clothing ranges, successfully taken up in the 1970's and 1980's by players such as Tony Jacklin, Gary Player, Nick Faldo and Greg Norman.
Faced with such a diverse choice, many individuals go for clothing that has been endorsed by pro-golfers. Not only is this likely to make a sought-after fashion statement, but it will be most appropriate for playing the game itself.
4. Price
Opting for the highest profile brand names and celebrity endorsements is the safest way to meet expectations of high quality, flattering, fashionable, fit for purpose, long lasting golf clothing. Usually this reassurance comes at a premium price. So it can be worthwhile exploring lesser known brands which can offer quality at affordable prices.
Shopping on eBay provides the ideal forum for price comparisons. With little trouble it's possible to find high-end shirts at medium range prices; whilst reputable smaller brands can be on offer at commodity prices.
Buying Golf Shirts on eBay
Golf shirts of all kinds are readily available on eBay.. With access to a huge range of sellers, tracking down the right golf shirt for you is simple and convenient. Many vendors offer free shipping and competitive prices. Once you have a clear idea of the sort of golf shirt you need, just navigate to eBay..
While you shop, don't forget balls,, tees,, shoes, and other appropriate clothing for the course. To start shopping, go to the Sports and Leisure category. Click the Sporting Goods portal and click Golf .
Categories: The Categories list on the left side of each page will help you narrow down your listings by item type. You'll find links for Accessories , Apparel , Bags , Balls, Books , Videos , Golf Club Components, Footwear, Golf Carts<, Cars,, Schools, Lessons, Experiences,, Tee Times<, Green Fees,<Training Aids, <Vintage,, and Other Items.. As you refine your search you'll be able to narrow down your choice by subcategory.
Product Finder: Use the Golf Clothing Finder to quickly narrow down item listings by type of shirt, brand, model, condition (new or used), and product material.
Keyword search: Search eBay listing titles for specific words. For example, if you want to find new golf shirts for men, type the keywords "golf shirt men new" (without quotation marks) into the Search box. Click "Search title and description" to expand your results. Visit eBay's Search Tips ppage for more tips on searching with keywords.
If you can't find exactly what you want, try browsing eBay Stores or tell the eBay Community what you're looking for by creating a post on Want It Now,, or save a search oon My eBay and eBay will email you when a matching item becomes available.
Buy Golf shirts with Confidence
Make sure that you know exactly what you're buying and understand how eBay and PayPal protect you.
Know your item
Read the details in the item listing carefully.
Remember to add delivery costs to your final price. If you're buying a high value item, check that the seller will insure it until it is delivered to you.
If you want more information, click the "Ask seller a question" button on the seller's profile or the "Ask a question" link at the bottom of the item listing page.
Always complete your transaction on eBay (with a bid, Buy it Now or Best Offer) otherwise you will not be covered by eBay Buyer Protection.
Never pay for your eBay item using an instant cash wire transfer service like Western Union or Moneygram. These are not safe ways of paying someone you do not know.
Know your seller
Research your seller so that you feel safe and positive about every transaction.
What is the seller's Feedback rating?
How many transactions have they completed?
How many positive responses do they have?
What do buyers say in their Feedback?
Are they positive about the seller?
Most top eBay sellers operate like retail shops and have a returns policy.
Do they offer a money-back guarantee?
What are their terms and conditions?
Buyer protection
In the very unlikely event that you do not receive your item or it is not as described, eBay Buyer Protection your purchase price plus original delivery cost.
Conclusion
At first sight a golf polo shirt is clothing at its simplest. But with the aid of this guide it's easy to appreciate the details of design and fabric that make the difference between ordinary and special – both in terms of appearance and performance. And with eBay there is no need to raise capital to raise one's profile on both the green and in the clubhouse.