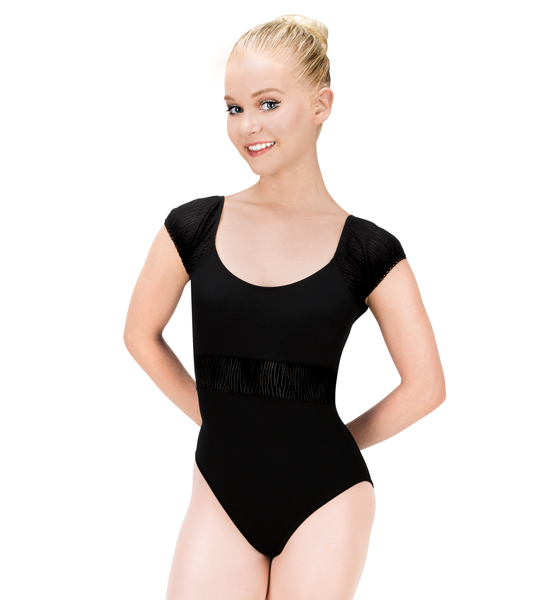 A leotard is a tight garment that is used for exercise and performance sports by young girls and women. The main characteristic of a leotard is the fact that it covers the body from the shoulder or neckline to the upper part of the thighs. Women's leotards became popular in the 1980s and they are used today as exercise wear as well as in ballet and dancing performances. The name of the garment comes from Jules Léotard, who designed it for circus performances in the nineteenth century.
Leotards are available in a wide range of styles and colours and many of them feature intricate patterns and shiny accessories, especially when they are intended for artistic performances. Women's leotards can be worn on their own or paired with tights or tutus. In order to find a flattering leotard that fits well and is suitable for a specific event, it is useful to have some basic knowledge of various types of leotards and the way they can be worn.
What Makes a Leotard Flattering
Several things can make a leotard flattering and perhaps the most important of them is the style. Women's leotards come in a wide array of designs, featuring various necklines, sleeves, and leg lines. Not all leotards look the same on every woman, mostly because of the diversity of body shapes. When shopping for a flattering leotard, women should pay attention to its characteristics in order to make sure it looks good on them, not only when standing, but in movement as well.
Flattering Leotard Necklines
Leotards are available in a wide variety of necklines, ranging from V-neck to boat neck. V-shaped necklines come in various heights and women can choose a daring or modest style, depending on how much cleavage they are willing to reveal. The rule of thumb is for larger chested women to avoid wearing very deep V-neck leotards. Other popular styles of leotard necklines that are flattering include a scoop neck, also known as a boat neck, which has a wide U-shape. Necklines with a square-like shape are known as sweetheart necklines. A flattering neckline for women with smaller breasts is the mock wrap neckline.
Flattering Leotard Sleeves
When it comes to the sleeve length, women can choose from several styles, including tank, camisole, 3/4 length, long, and cap sleeve. Each of these styles can be flattering in its own way and women should decide which one works best for them according to their body shape and reason for wearing a leotard.
One of the most popular types of leotards is the tank one, which is designed in a manner that enhances a woman's body line. Classic tank leotards feature high scoop backs and scoop necklines, but some models have low V-gathered backs. Camisole leotards are popular among contemporary and ballet dancers and they often have circular or scoop backs and gathered fronts. They come in a wide range of colours and patterns and are often used by dance schools as uniforms, which is why women should consult with their instructor when choosing a camisole leotard for dancing classes.
As their name suggests, long-sleeved leotards cover the entire arm, while 3/4 length means that the arm is only covered to the midpoint between the wrist and the elbow. Cap-sleeved leotards are similar to those with short sleeves, except that the cap does not reach the entire arm and covers only the shoulder. One-sleeve leotards are also available in different styles.
Flattering Leotard Leg Lines
Leotards come in two types of leg lines, with the more traditional and popular style being the ballet cut. This type of cut means that the fabric curves around the uppermost part of the thigh. The other style is called jazz cut and the fabric sits higher on the hips. Leotards with a jazz-cut leg line are often considered more flattering because they may make the legs look longer.
Fabrics for Women's Leotards
Women's leotards are available in several different fabrics, some of them being more comfortable and flattering than others. The ideal leotard fits tight on the body to provide it with a flattering look, while offering freedom of movement at the same time. A very popular option is a blend of cotton and Lycra, which offers the advantage of being non-abrasive to the skin and soft to the touch at the same time. Another option is the nylon-Lycra combination, which allows the wearer to remain dry when exercising or dancing because it quickly evaporates moisture. Other fabrics may include elegant choices such as crushed velvet, which looks very flattering because it shines in different lights when moving.
Other fabrics are available for leotards, including wool and wool blends, but the ones above are preferred because they stretch well and provide the wearer with plenty of comfort. In the recent years, microfibres have been added to many leotards in order to make them more similar to athletic sportswear. As leotards need to stretch well to allow freedom of movement and be lightweight at the same time, elastic is often added to the fibres mixture. This synthetic fibre that is also used in jumpers, jeans, and tights increases the elasticity and durability of a leotard. Moreover, it allows the garment to fit tightly on the body, thus being flattering for various body shapes.
How to Choose a Leotard That Fits Perfectly
Just like in the case of jeans or other clothing items, the sizes of leotards vary from a manufacturer to another and, for this reason, the best way to find a fit that looks flattering is to take accurate measurements with a measuring tape. Women can then compare the results they get with the size chart below and decide which size suits them best.
| UK Size | Age | Chest (cm) | Waist (cm) | Torso (cm) |
| --- | --- | --- | --- | --- |
| XS | 14-15 | 84-91 | 63-68 | 136-146 |
| S | 15-16 | 89-96 | 66-71 | 147-156 |
| M | 16+ | 91-101 | 68-73 | 158-163 |
| L | 16+ | 99-106 | 71-76 | 160-165 |
When buying a leotard in a sports store or online, it is important to try it on before deciding to buy it, in order to make sure it fits well and looks flattering at the same time. When trying on a leotard, women should pay attention to the way it feels and looks when they bend forwards, backwards, and to the sides. A well-fitting leotard should not pull between the legs or under the arms and, if this is the case, a larger size may be needed. On the other hand, a smaller size may be a better choice when the leotard looks and feels baggy in any way.
How to Buy a Flattering Leotard on eBay
Whether you are looking for a ballet leotard or simply for an exercising one, there are so many models to choose from that you may sometimes find this task a difficult one. However, the trick is to see as many styles as possible in order to settle for one that is both flattering and comfortable. The best place to do so is on eBay, as this website provides buyers with an impressive selection of leotards in all sizes, colours, and styles.
Another benefit of buying a women's flattering leotard on eBay is the user-friendly search system of the website, which allows you to find what you need without hassle. Start by typing the words 'women's leotard' in the search bar and then simply browse through the pages of results you get. In order to make everything even easier, refine your search results by criteria such as price, location, size, colour, style, and more. This way, you could find a flattering leotard in a matter of minutes.
It is always important to pay close attention to the sizing information provided by the seller, because this is the safest way to make sure the leotard is a good fit and that you do not have to send it back. In order to save some money when it comes to delivery fees, you could choose to purchase a new leotard from a seller that is close to your location.
Conclusion
Leotards are essential garments for women who love dancing or simply for those who enjoy exercising while wearing one. Women who are interested in buying a new leotard can choose from a wide variety of styles. In order to discover the most flattering leotard for them, women should take into account several things such as their body shape and the reason for which they wish to buy a leotard.
Women's leotards are available in numerous sports stores as well as online, so the choice is quite vast. eBay offers a great selection of leotards for women of all ages and shopping on the website is extremely easy. All a buyer has to do is decide upon a style and browse through the numerous styles available. Whether one is looking for a specific leotard model or is browsing the selection looking for inspiration, there is certainly a flattering model for everyone on eBay.