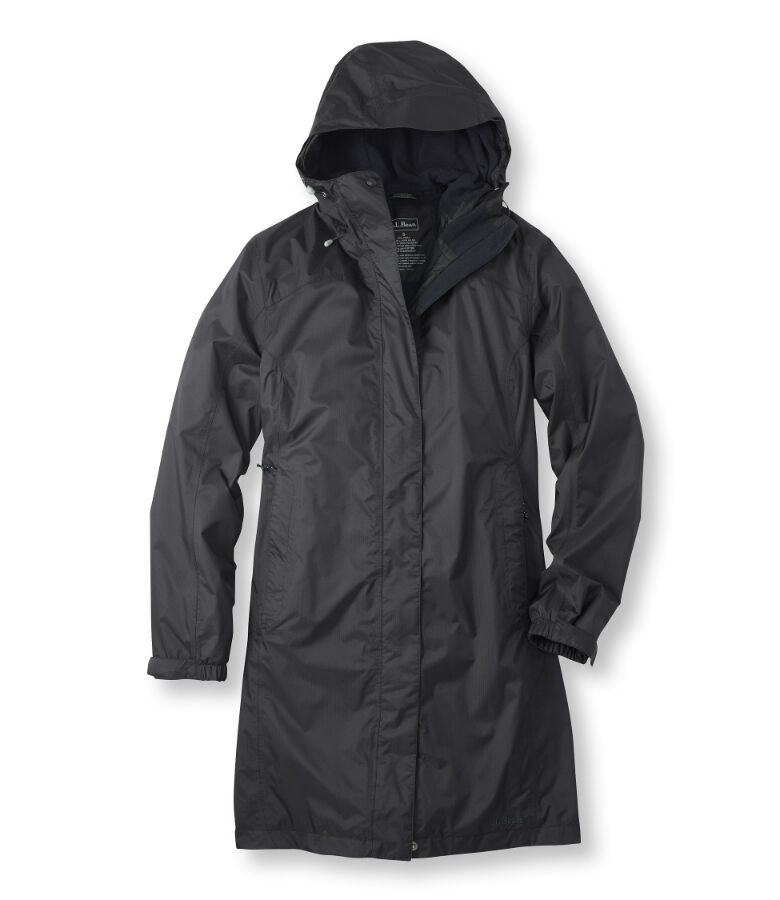 Raincoats are an indispensable item in rainy climates, and can be a fashionable addition to a woman's wardrobe. Raincoats are produced in a broad range of colours, designs, and materials, and buyers can find many opportunities to purchase coats that match their personality and style. The length and cut of a coat are primary considerations, as is the inclusion of a hood. The lining of a raincoat is also important, as products are available with wool, fur, and fleece interiors to provide warmth in cold weather. A coat that fits well improves comfort and appearance, so it can be useful to take measurements of the wearer's body.
Raincoats can be purchased from department stores, clothing stores, and online retailers. Marketplaces like eBay have a large selection of used and new raincoats for buyers to choose from. Before committing to a purchase, take the time to shop around and view the full selection of products available. Begin by selecting the style of raincoat, and refine choices by its materials and colour.
Style
The first step in buying a flattering raincoat is choosing its style. There are numerous types of raincoats available, and the decision between them depends on the buyer's needs and personal preferences. Consider how the coat will be used and where it will be worn to help make a decision.
Short
Short raincoats are designed much like a standard jacket. They hang to the wearer's waist and tend to be form-fitting. They may either button up or zip up at the front. These jackets often include a pocket or two to help wearer's keep their possessions dry, as well. There are mid-length coats that hit at the hip, also.
Long
Long raincoats are similar in style to trench coats. They generally hang to the knees to keep the wearer's legs dry while walking in the rain. These coats button up at the front, and often include a sash or belt for added style.
Utility
Utility raincoats are designed for wearers who would like to keep possessions safe and dry within their coat. Made with large pockets on the front or sides, these coats are relatively long, and hang to about mid-thigh. Utility raincoats typically button up at the front, and may also be designed with a belt or sash.
Sport
Ideal for running or other activities, sport raincoats feature a clean, straightforward design. They zip up at the front, and have little adornment or extra features. These coats tend to be form fitting, without any folds or loose fabric.
Poncho
The most basic form of raincoat is the poncho. These items are large and can be slipped over a wearer's clothing, bag, and other accessories. They are inexpensive and convenient, though not as visually appealing as other types of raincoats.
Hoods
Not all raincoats have a hood. In fact, some of the most attractive products are designed without one. For extra style, choose a hoodless raincoat and pair it with an umbrella. Just be sure the colour and design of the umbrella and coat complement one another.
Materials
The materials used in a raincoat can affect its comfort, appearance, and its effectiveness at repelling water. Both the exterior and interior of a raincoat can be made from several different materials, and choosing them is the next step in buying an attractive raincoat.
Exterior
The exterior of a coat determines how well it breathes. Inexpensive, plastic raincoats like ponchos can become stifling, causing the wearer to sweat. Instead, look for raincoats that are made from a blend of two or more materials, such as cotton, polyester, and nylon. These materials help keep the wearer comfortable by enabling better circulation of air.
Lining
Many raincoats are designed with a lining to help keep wearers comfortable and warm. In some cases, a lining may be thick enough to stand in for a winter jacket. Raincoats lined with fur, wool, or fleece can be stylish, as well.
Removable Linings
Wearers who would like their raincoat to be a bit more versatile can find items with a removable lining. These can be used in both cold and warm weather.
Colour
The colour of a raincoat reflects the wearer's personality and style. Raincoats are normally produced in solid colours. Earth tones provide a quiet, but attractive approach that feels natural in a cloudy setting. Look for neutral beiges, browns, and greens to blend in with a buyer's wardrobe and appearance. Other raincoats feature bright, warm colours. A yellow raincoat defies dark weather and promotes a sunny disposition, while pinks, reds, and oranges can also be a way to stand out in a crowd. Buyers looking for something more timeless can choose raincoats in black, grey, or white.
Clear
Buyers can also find transparent raincoats. These may have a colour tint, or they can be colourless. Transparent coats allow buyers to show off a dress or outfit they are wearing underneath the coat without worrying about the rain.
Gloss
Many raincoats are shiny in appearance. These eye-catching items can be made in any colour, though black and red are especially popular.
Prints and Patterns
In addition to solid colours, raincoats can exhibit prints and patterns, such as floral. Be cautious with these, as busy or loud designs can be distracting. Instead, choose subtle stripes or dots, and forego the bold and garish designs.
Size
It is important for buyers to choose items that fit well, as size plays a role in both the comfort and visual appeal of a coat. In the case of some form-fitting coats, products may have measurements for the bust, waist, and hips. If a coat is only listed by its size, however, it is still possible to find well-fitting coats by using body measurements. Buyers can use a flexible measuring tape to measure their bust, waist, and hips, and the following chart to determine the best size.
| Rain Coat Size | Bust (cm) | Waist (cm) | Hips (cm) |
| --- | --- | --- | --- |
| 8-10 Small | 83-87 | 63-67 | 88-92 |
| 10-12 Medium | 88-92 | 68-72 | 93-97 |
| 14-16 Large | 93-98 | 73-78 | 98-103 |
| 18-20 Extra Large | 99-107 | 79-90 | 104-112 |
Buyers may also wish to take the length of a coat into consideration, especially if buying online. Measure the length of the wearer's body beginning from the protruding bump on the back of the neck. Measure straight down, and compare the number with the number displayed on coats that have a length listed on the label.
How to Buy Raincoats on eBay
A huge selection of women ' s raincoats are available for purchase on eBay. These products can be new or used, and may be sold by either professional clothing retailers or private sellers. To find the full range of items, type "raincoat" into the search field on the homepage. The search results page will present a high number of listings, which can be refined by adding additional keywords. For example, to see listings for all raincoats with hoods, add "hood" to the existing keyword. You can also use category options on each page to narrow listings. A number beside the name of each category indicates how many relevant items it contains, so click on these to find the best options available.
Once you have found the type of raincoat you are interested in buying, take the time to inspect the item listings. Click on the name or image of any listing to see more information. Read the description provided by the seller for information about the materials, design, and colour of the item. In some cases, there may be a photo or stock image, and sellers will provide additional information about the product if it differs from the photo. Be clear on the price of the item, its shipping charges, and the seller's accepted payment methods before committing to buy.
It is also worth taking the time to research sellers before making a purchase. Click on the name of eBay users to see their full profile, which contains information about the accuracy of their item descriptions and their shipping speeds. You may also view comments left by previous buyers about specific aspects of a seller's performance.
Conclusion
Women's raincoats are produced in a broad variety of styles, sizes, and materials. Some are simple, and designed only to protect the wearer from the rain. Many are quite fashionable, however, and can be worn confidently in any setting. Consider the style of a coat to begin shopping. Short raincoats are form fitting, and tend to be sleek. Long raincoats are similar to trench coats. Consider utility or cargo raincoats for carrying items that need protection from the rain, and sport coats for jogging and other activities. Select warm, inner linings if the coat will be used on cold days, and consider a removable lining if looking for a more versatile raincoat. Choose colours that suit the personality of the wearer, and take measurements to find the best-fitting products.
Raincoats are available from clothing and department stores, as well as online retailers. A vast selection of raincoats can be found in marketplaces like eBay, an easy and convenient way to browse and acquire new styles. Shop around before buying a raincoat to find the best prices, and choose raincoats that are as attractive and flattering as they are functional.