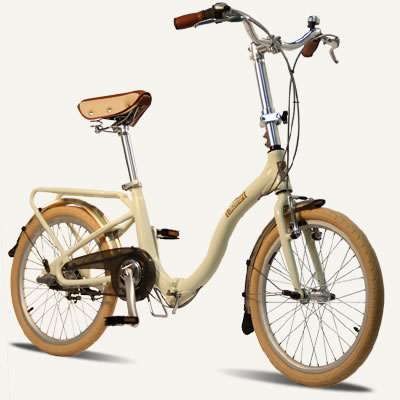 The first folding bicycles emerged as a portable form of transport for infantry in the late Nineteenth Century. Since then, the folding bike has become popular with many cyclists thanks to small storage requirements and the enhanced portability that a folding bike offers. The need for a folding mechanism often means that a folding bicycle is heavier and more expensive than it's none folding counterparts, though for cyclists looking for a folding bicycle the benefits outweigh this.
Folding bicycles are useful for those who need to travel part of their journey on public transport, for example by train. While many train services have restrictions on commuters bringing none folding bikes onto trains, there are often fewer or no restrictions on folding bikes. Folding bicycles also fit more easily into cars, and are easier to store generally. Though folding bicycles are sometimes considered an unusual speciality, eBay offers a wide range.
Folding Mechanisms
The most distinctive element of the folding bicycle is the mechanism used to allow the bike to be folded into a more compact state. There are three main methods used in modern folding bicycles.
The half or mid fold. This kind of folding method is often used on bicycles which use the traditional diamond frame, which is the standard for non-folding bikes. This method uses a hinge point built into the frame which allows the bike to fold roughly in half.
Clamps allow for the raising or lowering of the seat and steering columns, and this is sometimes combined with a folding steering tube. Folding bikes using this method often have larger wheels, which can be similar in size to none folding bikes. While this means that the bicycle will fold into a less compact size, this makes this kind of mechanism useful for cyclists who prioritise the comfort of the ride over the portability of the design. Larger wheels also allow a bike to be more effective in a wider range of terrain, such as rough ground. This mechanism may be more useful for those who intend on riding the bike over longer distances.
The triangle hinge. This design involves the use of a hinge to allow the rear triangle of the frame and the rear wheel to be folded underneath the main frame tube. Other parts of the bike, such as the steering tube and wheel fork, may also fold. This often allows for bikes which can fold into a more compact size. The time it takes to fully fold or unfold the bicycle is also generally faster, though the speed varies depending on the kind of latches used. The wheels on most folding bikes are considerable smaller than none folding bikes, which allow for a smaller folded size but can also reduce the speed and comfort of the ride.
The break-away folding bicycle often involves both folding hinges and part disassembly. While this can often lead to a more compact folding size, it can take more time to fold and unfold the bike. The wheels of the bicycle will also generally be smaller than those of none folding bikes.
Frame Design
By necessity, there are generally fewer variations of frame used in the construction of a folding bicycle. While some folding bicycles continue to use the diamond frame which is almost ubiquitous amongst none folding bicycles, this frame is difficult to fold to a great extent without losing some of the shapes structural integrity.
Folding bikes which use diamond frames often offer a more comfortable ride, particularly if the model has larger wheels, which may be comparable to that of a non-folding bike. The step through frame is a common design for use with folding bicycles, as it is suitable for a wide range of physical ability, age and size.
The step through design of frame has a lower, or completely removed, top bar. This means that it is easier for a cyclist to mount or dismount the frame, and can also be safer in the event of a cyclist losing balance as the rider can step through the frame with less risk of becoming entangled with it. However, step through frames often use thicker metal in its tubing, as it must compensate for the loss of the structural benefits of the diamond frame.
Weight and Portability
The central feature of the folding bicycle is its enhanced portability. Enhanced portability can often come at a cost, with bicycles that fold into a more compact size often being less suitable for riding over long distances. Elements like smaller wheels and more folding parts can mean that the bike is smaller when folded, allowing for greater portability. A key element to consider is the weight of a bicycle, as the cyclist may often have to carry the folded bike. As is the case with non-folding bikes, a great deal of the weight of a folding bicycle lies in the material the frame is manufactured.
Steel
Steel has long been used in the manufacturing of bicycles due to the ease with which it can be worked, and its wide availability. Though the metal has waned in use amongst modern bicycles, steel bicycles are often among the least expensive available. Steel bicycles offer a good amount of strength, and often offer a smoother ride due to the fact that steel absorbs a degree of shock. This can be important to consider with folding bicycles, and the smaller wheels and frames they often entail. A major drawback for steel folding bicycles, however, is the weight. Steel is one of the heavier metals used in the construction of bicycles, and this is important regarding the portability of folding bicycles. Steel is also susceptible to rust, but as long as it is properly maintained can offer a good deal of longevity.
Aluminium
Aluminium has come to replace steel as the most commonly used material in modern bicycles, thanks to developments in industrial welding techniques. Aluminium bicycles offer another affordable choice, generally being only slightly more expensive than steel. The primary advantage aluminium has over steel when it comes to portability is a greater weight to strength ratio, meaning that an aluminium bike can be stronger while weighing less. This kind of bicycle is often more rigid. While this can mean a less comfortable ride on rough ground, this matters less with folding bicycles which are more likely to be ridden on flat, paved surfaces. Aluminium fatigues from repeated use somewhat faster than steel. However, such frames are generally expected to last between five and ten years, and aluminium is not susceptible to rust.
Carbon Fibre
Carbon is an increasingly popular material for bicycles, though is unusual among folding bicycles. While carbon fibre is one of the more expensive bicycle materials, carbon fibre folding bicycles are some of the lightest available. The material is very strong, and also resistant to corrosion. However, carbon fibre is a brittle material, and can crack under the strain of a crash, or eventually from the strain of repeated use. For this reason, carbon frames are designed to bend, and the material allows the frame to be bent back into shape without losing its strength.
Titanium
Titanium is the most expensive metal widely used in bicycles. It is a very light and strong material, and in folding bikes is often used in the construction of a range of ultra lightweight folding bicycles. Titanium is also highly resistant to corrosion. The key drawback of titanium, however, is the expensive cost, which can put the price point out of range of many cyclists.
Frame Size
While it is important to measure the bicycling inseam of the rider when purchasing a none folding bike, this is less important for folding bicycles. Unlike none folding bikes, which can come in a wide range of sizes for different heights of rider, folding bicycles are largely built as one size fits all, with the standard folding bicycle being suitable for rider heights ranging from 4'10" to 6'4". Components such as the seat post can often be adjusted to suit a range of heights, and the bicycles are also often designed to be unisex.
Finding a Folding Bike on eBay
A wide range of folding bicycles is accessible on eBay through the Cycling Section of the Sporting Goods portal. The Folding Bikes section can be found under Bikes. Here it is possible to filter available folding bikes by many parameters, including by price, condition, frame size, wheel size, material and colour, making it easy to find a folding bike that matches any particular specifications.
Important information, such as the size of the wheels and the material the bike is made of will generally also be readily visible on the item's listing, meaning it is possible to see at a glance the important specifications of a particular bike. Further information for a particular item can also be found on that item's page. Here, information about the seller, such as feedback and reviews, can be found, allowing a purchase to be made with confidence. It is also possible to ask the seller a question about the item here.
To find a specific folding bike, it may be faster and easier to use the search function available at the top of every page. For more information on effectively using the search function, go to the Search Tips page.
Conclusion
The folding bicycle is popular amongst all kinds of cyclists, from casual riders who don't have the space for a full sized bicycle, to commuters who need to carry their bikes through public transport. Folding bicycles range from almost full sized bikes that fold for storage, to ultra-light bikes that can be folded up into small carry cases. eBay offers a wide and accessible selection of folding bicycles.