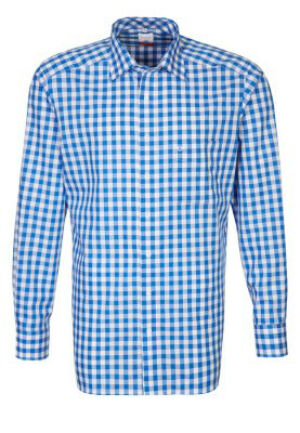 Formal shirts are typically an article of clothing that has a collar, sleeves, and cuffs. Men wear formal shirts in professional, upscale social, and formal ceremonial environments. Formal shirts accompany other formal wear, such as ties, pants, and a suit jacket. In the United Kingdom, the term "dress shirt" defines a type of formal shirt. Formal day shirts are worn at work and white dress shirts comprise nighttime social garb. Regardless of the definition of a formal shirt, virtually every formal shirt has buttons that fasten down the middle of the shirt.
Men have many options for buying formal shirts. They can shop in the men's department of large department stores. There is a wider variety of formal shirts in men's clothing shops, especially those that specialise in men's formal wear. For instance, tuxedo shirts can only be found in formal wear shops. eBay, the leading online auction site, is the best online option for finding a formal shirt that fits properly. Men who want to buy a formal shirt need to be fitted before deciding on a formal shirt style. This means men need to learn about formal shirt fabrics, the features of formal shirts, and the tips and steps to follow during the fitting process.
Formal Shirt Fabrics
The fabrics used to make formal shirts can slightly alter the formal shirt size. In particular, cotton can shrink if not cleaned properly, and thus, men who buy formal cotton shirts may have to add a half or full size to compensate for shrinkage. Here are the three primary types of formal shirt fabrics.
Cotton
Despite the potential for shrinkage, cotton is by far the most popular formal shirt fabric. Professionally woven cotton formal shirts provide excellent body heat and moisture conduction, high durability, smooth touch against the skin, and the capability to regain their original shape after being ironed. Formal cotton shirts also do the best job of projecting vivid colours and patterns.
Synthetic Fibres
While synthetic fibres, such as polyester, come close to matching cotton's durability, they do not approach cotton's other strong attributes. Synthetic fibre's stain resistance and wrinkle-free properties appeal to some shoppers, but the fibres do not breathe well, and they do not feel as smooth on the skin as cotton. Formal polyester shirts appeal to the cost-conscious consumer who can only afford to buy formal shirts at rock-bottom prices. Nonetheless, stay away from formal shirts that are constructed with more than 50 per cent unnatural fibres.
Silk
Silk sits on the other end of formal shirt price spectrum. It is a luxury fabric the possesses high sheen and light drape. Often worn by royalty, silk formal shirts do not have the longevity that make synthetic and cotton formal shirts appealing to consumers. Not only do men's formal silk shirts cost more than any other type of formal shirt, they also cost more to maintain.
Formal Shirt Features
There are various features to consider when purchasing a men's formal shirt. Finding a properly fitting formal shirt requires men to learn about the different types of collars and cuffs available.
Collars
Point collars are the most popular type of formal shirt collar in the United States, as this type of collar is found on roughly 95 per cent of dress shirt racks. The advantage of wearing this collar is that the long, closely set collar points that run at 60 degree angles lengthen the face. Spread collars possess points that run away from the collar, with angles greater than 90 degrees. Spread collars work best for men who have small- to medium-shaped faces, as the points spread out a man's features. This type of collar is pervasive within the United Kingdom. Button down collar shirts have points that fasten to a formal shirt. Men who live outside of the United States typically do not wear this style of collar.
Cuffs
Cuffs are an important feature, since they are the only parts of a formal shirt that are exposed on a man wearing a suit jacket. Button cuffs wrap around the arms and then button into place. Men can find formal shirts that contain one or two buttons, as well as a small button on the sleeve that prevent a formal shirt from opening and exposing a man's wrist. French cuffs present men with a more formal cuff option. The French cuff folds back and is attached with cufflinks, which create a distinguished appearance that is often found in European social circles.
Tips for Fitting a Formal Shirt Properly
Fitting a formal shirt can be problematic, especially when men go by the outdated size chart that breaks down sizes by general terms, such as small, medium and large. Men's formal shirts need to be fitted by taking measurements of the neck, arms, and chest. The best way to receive accurate measurements is to use a tape measure, although having a tailor take the measurements is the preferred method for obtaining a formal shirt fit. Many formal shirt brands offer cuts as features of their formal shirts. "Cut" refers to how a shirt was cut and sewn. Men who have wide shoulders should opt for the athletic cut to accentuate their athletic physique. Athletic cuts are also more tapered than regular cuts. Unless marked otherwise, formal shirts are regular. Men who are larger than average can find some full cuts, which means the torso section of the formal shirt fits loosely because of the addition of extra sewn fabric.
Here are some tips to follow for obtaining an accurate men's formal shirt fit: first, two fingers should easily slide between the neck and shirt collar; second, the shirt should be tight enough around the arms to require the unbuttoning of the cuffs to remove the shirt; third, sleeves should be long enough that when a man raises his arms, the cuffs do not move up the arm; fourth, shoulder points should extend no longer than the end of each shoulder; and finally, there should be 2.5 to 7.5 cm of fabric room when the shirt fabric is pinched in the chest area.
How to Fit a Formal Shirt
Whether a man utilises the skills of a tailor or decides to fit himself, the following steps need to be followed for fitting a formal shirt properly. Tailors provide the better measuring option because some measurements require men to form awkward body positions.
Measuring the Neck
Begin by measuring around the centre of the neck by using a tape measure. Place two fingers under the tape to ensure that there is enough room between the neck and the collar. Wrapping the tape measure tightly around the neck results in a tight fitting collar. As with all measurements taken for fitting a formal shirt, write down the neck size on a notepad.
Measuring the Chest
Wrap the tape measure around the chest, under the arms, and across the back area just a few centimetres below the shoulder blade. Once again, do not wrap the tape measure too tight, as it is important to have enough room around the chest area to prevent restricting movement. To be on the safe side, add 2.5 cm to the chest measurement to ensure a looser-fitting formal shirt.
Measuring the Arms
Rest the tape measure on the base of the neck, which is the area that connects to the shoulder. Hold the beginning of the tape measure with one hand, and then pull it to move over the right shoulder, down the upper arm and elbow, and ending on the right hand. Pull any slack from the tape measure. The final measurement of the arm stops at the end of the wrist.
Other Tips for Fitting a Formal Shirt
It is a good idea to take each body area measurement at least twice, and then use the average measurement to fit for a formal shirt. When in doubt, add a half size to each measurement. A wide tie can cover up a collar that is too large, but there is no help for compensating for an uncomfortably tight-fitting collar.
Men's Formal Shirt Size Chart
The following chart is intended to provide men with an overview of the various formal shirt sizes. All sizes are displayed in centimetres.
| | | | | | |
| --- | --- | --- | --- | --- | --- |
| Size | XS | S | M | L | XL |
| Neck (cm) | 33.5-35.5 | 35.5-37 | 38-39 | 40.5-42 | 3-44 |
| Chest (cm) | 86-91.5 | 91.5-96 | 99-104 | 106.5-111 | 114-119 |
| Sleeve (cm) | 80 | 82.5 | 85 | 87.5 | 90 |
| Body Length (cm) | 66-68.5 | 68.5-71 | 71-73.5 | 73.5-76 | 76-78.5 |
Some men may need to order custom made formal shirts because the neck, chest, or sleeve measurements do not correlate to one size. For instance, a man may measure as a medium for sleeve length, but measure large for the neck and chest areas.
Buying a Formal Shirt on eBay
eBay offers men a wide selection of formal shirts. Men type a few keywords into eBay's search engine and then navigate through the search results pages to find sellers that offer the formal shirts that meet their purchasing criteria. The best search strategy is to type specific keywords, such as "large men's formal shirts" or "men's red formal shirt". After finding a seller that meets your criteria, click the product page link to view the seller's product page. Here, you find an enlarged photograph of the formal shirt, as well as information about delivery terms and types of payment the seller accepts.
Formal shirt buyers should consider purchasing from eBay's Top-Rated Sellers. These sellers have established a strong reputation for selling high-quality products and offering generous return policies. You should only buy a formal shirt from an eBay seller who allows at least 14 days for returns. eBay also publishes customer feedback on seller product pages. Look for sellers who have earned positive feedback over the past year, especially the sellers that have received positive feedback for selling men's clothing. You may find a formal shirt seller who bundles a shirt with a clothing accessory, such as cufflinks.
Conclusion
Formal shirts offer men the chance to exude style and sophistication. This is why men typically wear formal shirts in just a few environments. Men's formal dress shirts comprise an important part of a man's professional wardrobe. Other types for formal shirts can be worn at upscale social events and for formal ceremonies that include weddings and funerals. Formal shirts made with cotton are the most popular type of formal shirt due to cotton's durability and smooth touch on the skin. Virtually every formal shirt possesses cuffs, sleeves, and a collar.
Men can fit themselves for formal shirts, but it is recommended that a tailor perform the measurements for two reasons. First, tailors provide expertise that many men do not have. Second, some of the measurements require men to perform awkward movements, which can distort the measurements. This is particularly true for sleeve measurements. Once a man receives a proper formal shirt fitting, he can then express his personality by choosing among a wide assortment of colour and pattern designs.