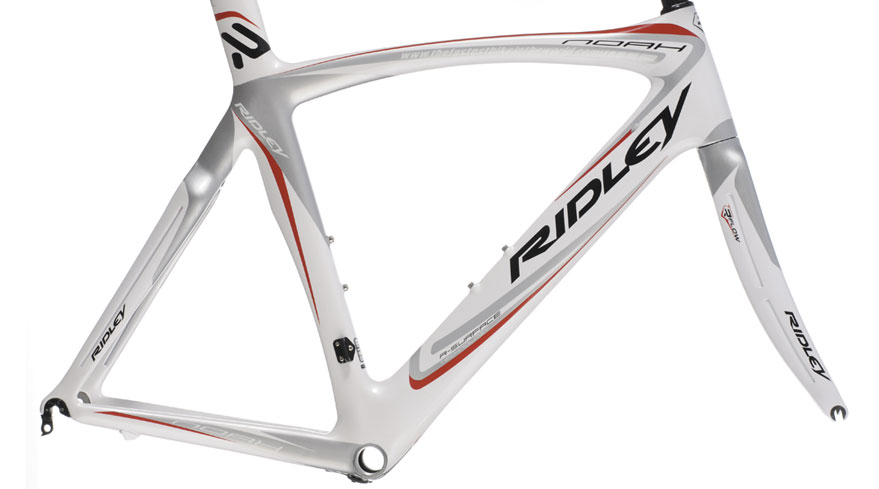 Many experienced cyclists will understand that a poor frame can affect the performance of a bike drastically. A good frame is vital to the stability as well as the overall safety of a bike so it's certainly important to seek out a replacement frame should the original frame that a bike came with become rusted, damaged or worn out in any way.
This eBay guide will focus on how to choose a fantastic new frame for a road bike, looking at what materials are available, what frame size is required dependent on a person's height, tips on buying road bike frames on eBay and more.
What Materials Make the Best Road Bike Frames?
Road bike frames are most commonly made out of metal or some form of metal alloy. Out of these metals and alloys, there are four materials that frames are most commonly constructed from. Here is a basic guide to the advantages and disadvantages of each frame material, as well as suggestions as to which kinds of cyclists may prefer each different frame.
Aluminium
Aluminium has been used to make bike frames for many years now and the fact that it is both a hardwearing and inexpensive material is probably one of the reasons that it has been popular for so long. Aluminium frames are gradually becoming less common as it is heavy and is slowly being replaced by other materials. Although many would see this weight as a negative thing, the extra ballast that an aluminium frame gives a bike does actually keep the vehicle more stable. An aluminium frame would be ideal for anyone who is looking for this kind of stability in their ride as well as anyone who is interested in a cost effective yet hardwearing bike frame.
Chromoly
This alloy is now generally one of the most popular materials used in the manufacturing of bike frames. Light yet durable, chromoly frames are often recommended by cycling experts for anyone from a beginner to an intermediate level. The only negative that chromoly possesses is that it is rather stiff and some riders will not appreciate how little give a chromoly frame will give them. Anyone who is not too concerned by the material their bike frame is made from who would like a bike which gives them an all-round good performance will find that chromoly is probably the best material for them.
Titanium
Titanium bike frames are extremely well sought after by cyclists for a number of reasons. Firstly the metal is particularly lightweight when compared to other similar compounds, giving any bike that a titanium frame is fitted to a responsive, sporty ride. In a similar way to aluminium, titanium is also extremely hardwearing and it's this mixture of durability and lightweight properties that make it such a popular option for bike frames. The only issue with titanium frames is that they are reasonably expensive and as a result, quite rare. That certainly isn't to say that there are impossible to find however and there is often a reasonable selection of titanium bike frames listed on eBay.
Carbon Fibre
Last but not least is carbon fibre. Again, carbon fibre bike frames are rather sought after and is probably the lightest material out of the four on this list. Carbon fibre is much more common than titanium and is probably slightly more affordable also. The most attractive property of carbon fibre is that it is extremely light and this makes it sought after by cyclists who compete in race competitions. Finally, it is worth noting that although carbon fibre is usually very strong, it has the ability to shatter if the structure becomes compromised. For this reason, it's strongly advised that it isn't used as a frame for a children's bike.
How Important Is Frame Size?
Frame size is one of the most important aspects that a cyclist needs to get right when choosing a new frame for their road bike.
This is such an important factor to get right because a bike can be extremely dangerous if the frame that is fitted to it is either too small or too large for the rider.
When a frame is too large, it will often mean that a rider will not be able to control the bike with an acceptable level of competence. As a result they may not be able to stop the bicycle in the case of an emergency or may even find that they lose control of the bike whilst riding at speed; both of these instances could have catastrophic consequences.
If a frame is too small for a rider, then they run the risk of hitting the handlebars with their knees whilst riding. At the very least this can be a painful inconvenience but again, if this were to happen at speed, there is a chance that the cyclist could be thrown from their bike.
To know which bike frame size will be right for them, a rider needs to know both their height and their inside seam measurement, the table below should be used as a reference point so that cyclists looking to buy a road bike frame on eBay can be sure they are buying a product which will be a safe as possible for them to use.
| Cyclist's Height | Cyclist's Inside Seam | Advised Frame Size |
| --- | --- | --- |
| 5' 0" | 28' | 15" |
| 5' 2" | 28' | 16" |
| 5' 4" | 29' | 17" |
| 5' 6" | 29' | 18" |
| 5' 8" | 30' | 19" |
| 5' 9" | 31' | 20" |
| 5' 10" | 32' | 21" |
| 6' 0" | 33' | 22" |
| 6' 2" | 34' | 23" |
Following these guidelines will ensure that riders will have full control of the bike they are riding. In the case of cyclists whose heights do appear to be in between a frame size, it's always better to go down a size than trade up. For example, a rider who is 5' 7" would be better advised to look at an 18" frame rather than a 19" inch model.
Should Cyclists Buy New or Used?
There is often a debate as to whether it is better to buy new or used bike frames when looking for replacement parts for road bikes. Whilst obviously a used frame is likely to be more affordable whilst on the other hand the attraction of a nice paintjob and a fresh frame will appeal to many who will be sure that a brand new model is the only option for them. More thought should be given to this decision than most people would initially assume.
If a cyclist is a complete beginner or is still relatively new to the sport, it's advised that they look for a used frame as it is worth them trying to save a little money everywhere they can so that that might be able to afford a brand new frame in future.
Whilst metals like aluminium and titanium will work well as second hand frames, any buyer looking at a used carbon fibre frame should be sure to inspect the frame carefully in the pictures provided by the seller. A good seller will also list the condition the frame is in on the listing's main page.
New frames are suggested for children as kids tend to put their bikes through a greater deal of wear and tear than an adult would. For this reason it is worth starting from scratch, rather than with a frame that a child has already worn out.
Used road bike frames often offer a huge amount of value for money in a way in which many people do not realise. Many of the bike frames listed on eBay have been kept in top working order by their original owners and searching for a used frame is a great way to unearth a bargain.
Buying Road Bike Frames on eBay
Cyclists often find that eBay is one of the most useful resources on the web for finding specific replacement parts for their road bikes and frames are one of the most commonly sold spare bike parts on the site, leaving users with a huge selection of designs to choose from.
eBay users who are searching for bike frames will notice that once they enter a search query such as, "road bike frames", they will be presented with the option to filter their search using the menu on the left hand side of the page.
Filtering results by categories means that users can easily find exactly what they are looking for by narrowing down thousands of listings to a specific few that will be of interest to the buyer.
When searching for bike frames using eBay, users are able to browse listings by frame material, bike type, condition, brand and even by price range. All the categories that appear are relevant to the products a user is searching for, for example, if a buyer would also like to buy a new set of wheels for their road bike, the materials, brand and bike types available as filters change to match the wheels on offer.