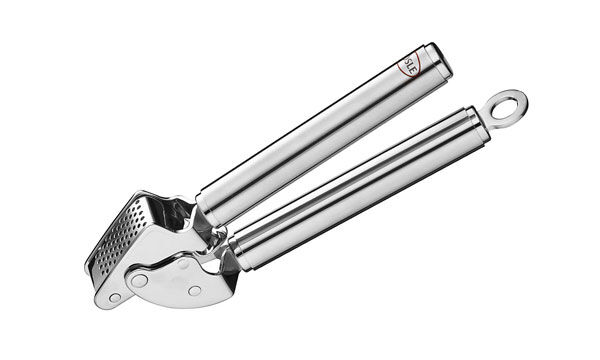 For many cooks a garlic crusher is an essential item in the kitchen. Crushing a garlic clove can intensify the flavour of the garlic as more of the cell walls are broken down in the crushing process, resulting in a stronger taste than is normally achieved by chopping garlic with a knife. For recipes that require a lot of garlic, a crusher can speed up the process of preparing this pungent ingredient, with the added advantage of helping to avoid the odour of garlic lingering on the hands.
About Garlic Crushers
Garlic crushers – sometimes called garlic presses – are any devices that crush cloves of garlic into a paste or puree. Methods vary from forcing the garlic through a series of small holes to a rolling-pin style that simply and quickly crushes a clove on a flat surface. Garlic does not need to be peeled when processed in most crushers, saving time and effort.
Types of Garlic Crusher
A number of different types of garlic crusher are available, each with particular characteristics that will meet any individual's specific requirements. Researching the different types will allow to identify the style that most suits their needs and budgets.
Hinged Crushers
Available in a range of materials, such as metal and plastic, the hinged garlic crusher is a popular option. One advantage of this type of press is that a number of small cloves can be crushed at the same time, without the need to peel the clove, and the crushing can be carried out directly over the pan or bowl – removing the need for a chopping board. Hinged crushers can be bought with removable hoppers to facilitate easy cleaning, and often include features for other culinary purposes, such as stoning fruit or crushing shells.
Screw Crushers
Screw crushers work in a similar way to the hinged variety, but instead of pressure being exerted by squeezing the handle, the garlic is crushed through a mesh by the downward action of a screwed plate inside a tube that is constructed of high-grade plastic.
Rocker Crusher
Another style of garlic crusher is the rocker crusher, which is a simple device that finely minces the garlic on a flat surface; the garlic is contained within the rocker itself, which makes it easy to store the puree until it needs adding to the recipe – the design of the rocker makes this process easy, too, as the garlic is simply scooped out of the rocker into the pan. Also available in metal or plastic, in a range of colours, this gadget is easily stored and easily cleaned, being dishwasher safe in most cases.
Rolling-pin Crusher
A variation on the rocker style is the rolling-pin style crusher, which consists of a small, heavy metal bar with a ridged section in the centre. Using the flat ends of the bar first to squash the clove, the centre section is then rolled over the garlic to mince it very quickly and efficiently. With no movable parts, this is easy to use and clean.
Mechanical Crushers
Some garlic crushers are more technical in design and can be a real boon to cooks with limited strength or mobility in their hands. The twist style crushers are small containers into which the peeled cloves are placed; the lids are put on and twisted and the series of prongs on the underside of the lid and in the bottom of the container crush the garlic quickly and easily. A more advanced crusher is available for larger quantities, consisting of a drum with stainless steel blades that perfectly minces garlic at the turn of a handle. Both of these items will handle other foodstuffs as well, earning them a place in any well-equipped kitchen.
Buying a Garlic Crusher on eBay
Registering with eBay is a quick and easy process, and, once completed, allows the safe bidding for items in a wide range of categories, including Food Preparation & Tools in which category garlic crushers are listed. Registered bidders can then browse items and access information to help make informed decisions about the products and auctions available on the site.
Do the Research
Anyone wanting to bid for an item on eBay should first do some important research on the desired item. Identifying the looked-for features is one place to start – if the crusher is to be used for large amounts of garlic, or several times a day, then the quality and grade of material will play a part in the decision; occasional users of a garlic crusher may not need to purchase a very heavy-duty implement, whereas a kitchen professional would find it false economy to bid for a lightweight or less robust crusher.
Searching within eBay Categories
Identifying the correct category for finding the right item is simple; typing "garlic crusher" into the search bar will result in a selection of options that can be narrowed down by the use of the panel of the left of the screen – narrowing the search by price, for example, or by material or colour. In this way, it is possible to refine the original search to ensure the final selection of products matches the bidder's requirement exactly.
Bidder Queries
Those with queries about a product can access information by clicking on the listing for the individual item; once on the listing page, there is a link to a Q&A section that will answer most commonly asked questions regarding the product itself. If no questions have already be asked and answered in this section, it's possible to ask the seller directly for information about the item. Information about the seller is also available in this section of the listing page, as well as details regarding the payment and delivery of items.
Seller's Feedback
Feedback on eBay exists to provide further details about sellers to ensure that bidders have as much information as possible before making a purchase or taking part in an auction. Checking the feedback from other bidders or purchasers can help prospective bidders make an informed decision about whether or not to enter into a contract with a particular seller.
Choose Sellers with Top-Rated Feedback
Sellers with top-rated feedback have achieved this by offering quality in both product and service. Bidders looking for excellent service and products can maximise the chance of a smooth transaction, sourcing a satisfactory product and a suitable after-sales service, by paying close attention to the seller feedback section of the listing page. Sellers with an excellent or very good rating will have already proven themselves reputable and accommodating, and the resolution of any issues is likely to be handled quickly and successfully when dealing with sellers with top-rated feedback.
Sensible Bidding
When bidding for any item on eBay, it is essential that all costs be taken into consideration. Buyers should identify their own financial limit for the transaction and pay close attention to extra costs, such as shipping, as these can add a significant amount to the final price of an item. Investigating the approximate price of a garlic crusher in the wider marketplace is wise prudently bidding in online auctions. Entering a highest bid automatically can help buyers to keep within a budget; the highest bid needs to be considered carefully, based on how imperative it is for the bidder to purchase a particular item. Once the highest bid has been decided and placed, nothing needs to be done except wait for the final outcome of the auction; if having been outbid during this time, eBay will send a notification, and at this point it is possible to increase the bid or not. Many eBay listings will offer a Buy It Now option, which can be useful for items that are competitively priced – this facility removes the need for bidding and waiting for the results of an auction, which is particularly useful if the item is required quickly.
Find Garlic Crushers on eBay
eBay searches are designed to make finding an individual item easy and straightforward. Once on the homepage, use the dynamic menus to search in all categories or in a specific section of the site; for garlic crushers, the Home & Garden tab will open a menu that allows browsing by room. Selecting kitchen from these options will lead to another menu that offers a number of choices, one of which is Food Preparation & Tools. Clicking this link will display the listings for this category, which can be further refined by using the panel at the left of the screen – Garlic Presses and Crushers is clearly marked and will redirect to the listing for all items that match that criteria.
Conclusion
Garlic has long been linked to a healthy diet and any device that can help in the preparation of this beneficial ingredient is worth investigating. The type of crusher purchased will ultimately depend on the requirements of the individual; eBay's comprehensive listings offer a variety of styles and prices that will suit all needs and all budgets.