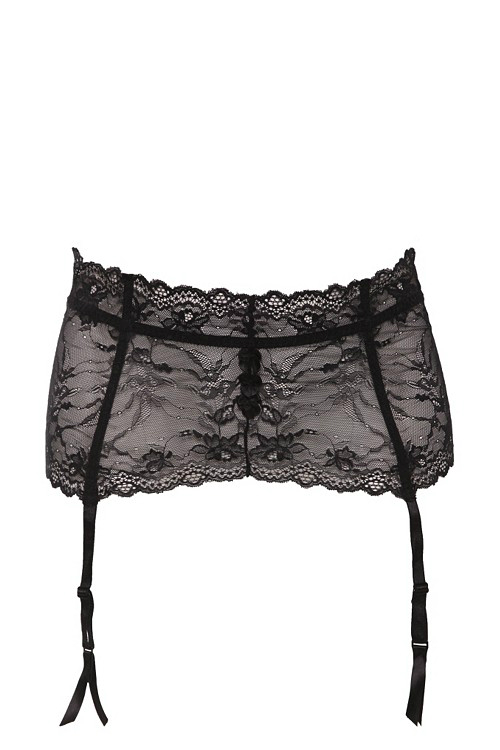 Garter belts are a component of lingerie that are meant to hold up thigh high stockings. Most garter belts have clips or buttons that keep the stockings in place, and they are a great and more comfortable alternative to standard pantyhose. Garter belts are also seen as a bit sexier than traditional stockings, and may be a part of a lingerie set that includes a corset, teddy, or some other type of lingerie. Garter belts come in a variety of styles and colours and can be purchased to match existing bras, or come in a set that includes matching knickers, bras, and stockings for a lovely lingerie combination.
Garter belts range from slim bits of fabric that go around the waist to tummy covering shape wear that extend above the panty line. When it comes to garter belt shopping, it's a matter of personal preference and what occasion the garter belt is for. A pretty, lacey, white garter belt may be perfect for a wedding night, and a garter belt with more support could be great for everyday wear under work clothes. Although garter belts are made to hold up stockings, they can simply be for aesthetic purposes, too. For women that enjoy the feeling of stockings but not pantyhose, garter belts can be wonderful; but there are many different cuts, styles, and types of garter belts to select from.
What to Consider Before Buying a Garter Belt
First, the consumer must decide if the garter belt is simply for nighttime wear and fun, or if it will be worn practically underneath clothing. The reason for this is that fun garter belts may not be made of the same high quality materials as garter belts that will be worn for everyday wear, and fun garter belts also may have more bells and whistles such as lace, ruffles, bows, or crystals.
An everyday garter belt will be simpler and more supportive. A price point should be established, and the consumer should have an idea of what colours and styles of garter belts she likes before shopping, and how much support she needs as well as what types of garter belt clasps she would like, such as clips or snaps. Size is another consideration; garter belts should fit snugly but not be cutting into the skin or uncomfortable. Some garter belts are adjustable for a more convenient way to fit the garter belt to the body as the wearer sees fit.
Types of Garter Belts
Garter belts range from skinny lace belts to tummy covering, wide garter belts that offer more support. There is a wide range of selection and variety when it comes to picking a garter belt, so it's really up to the individual consumer's personal preference when shopping for the perfect garter belt.
Garter Belt Sets
A garter belt set may come with matching knickers, stockings, and a bra. This will provide the consumer with an already put together outfit that can be worn anytime. Some garter belts are meant to go with certain bras and can be purchased together. Alternately, a neutral coloured garter belt such as black could go with any type of black bra or knickers. It's really up to personal tastes. A garter belt set is an affordable way to get a complete lingerie set for a great price and not have to worry about matching the garter belt with existing lingerie.
A garter belt set is also great for special occasion wear such as a wedding or formal event where the consumer wants to feel a little more pretty and put together underneath her clothing. A beautiful garter belt set can make a woman feel beautiful and elegant even if nobody sees it.
Garter Belt Styles
Garter belts range in style from narrow belts that merely sit around the waist, to wide-strapped garter belts that almost come down like a small skirt around the thighs. Support garter belts come up almost to the belly button and may be made of stretchy material to help control a tummy pooch.
Some garter belts will offer little to no support at all. There are also garter belts that look like a leg garter and are made of stretchy, lacey elastic that go around the waist with skinny garters hanging down.
To choose the best style, the consumer should note what she is looking for exactly. There is a big difference between garter belts for everyday wear versus garters for pleasure and fun wear only. Also, if a consumer is going to wear the garter belts every day for work purposes, she should avoid garter belts that have a lot of bulging details like layers of lace, elaborate bows, or lots of ruffles. These will create lines under the clothing instead of a smooth silhouette. A plainer garter belt should be chosen for everyday wear.
Garter Belt Fasteners
There are several types of fasteners when it comes to garter belts. The most common way to fasten a garter belt to stockings is with little clips. These can be made of plastic or metal. Typically a garter belt will have two clips for each leg; one in the front and one in the back. Another way to fasten garter belts is with buttons. The buttons slide into a large closure over the top of the stocking. This can be difficult, and clasps tend to be easier to fasten.
A third type of garter belt doesn't actually have fasteners at all, but is simply a stretchy cotton lace garter belt attached to stockings that have built-in garters. The whole thing is one piece that is simply slipped on to give the illusion of a garter belt. This may be convenient and comfortable for women that have trouble with the fasteners on standard garter belts.
Garter Belt Materials
Most garter belts are made of lace with some stretch to it, as well as satin or silk. Garter belts are generally made of the same materials that bras and knickers are made out of. More supportive garter belts may be made of nylon and spandex. The nylon garter belts are likely to be more comfortable than the lace garter belts and are generally meant for longer, more supportive wear.
The wider the garter belt is and the more forgiving the material is, the more supportive and comfortable it will be. There are also shape wear garter belts that have hook and eye closures going up the front of the garter belt and are meant to conceal a tummy pooch.
Garter Belt Sizes
Without knowing which size to purchase, it's all a guessing game. A size chart is one of the biggest advantages that shoppers have when shopping online. With the size chart listed below, the correct size can be easily compared with measurements of the wearer, and determined.
| Size | Smallest Measurement (cm) | Largest measurement (cm) |
| --- | --- | --- |
| S | 48.26 | 66.04 |
| M | 63.5 | 83.82 |
| L | 71.12 | 96.52 |
| 1X | 86.36 | 109.22 |
| 2X | 96.52 | 121.92 |
| 3X | 111.76 | 147.32 |
| 4X | 134.62 | 157.48 |
When the size is easily determined, making a purchase of a garter belt can be that much more simplified. Knowing the correct size can also help save from any returns down the road.
How to Buy a Garter Belt on eBay
Buying a garter belt on eBay can be a lot of fun. Feel free to peruse different colours, styles, and types of garter belts from the privacy of your home. To get a garter belt that fits perfectly, take a tape measure and measure your waist. The garter belt should fit comfortably, and some are adjustable. Typically the size you'll wear in a garter belt is the same size you'd wear in a pair of knickers, since both fit snugly around the waist. Purchase an adjustable garter belt to create the perfect level of comfort for yourself. Search garter belts to see what the available styles are, and you can tailor the search based on your favourite lingerie brands, colours, styles, and sizes of garter belts.
Find out if other items can be bundled with your garter belt, such as stockings or knickers, and look for local sellers to make your experience shopping on eBay more personalised and less costly; if you pick up your garter belts in person, shipping fees could be waived. Shop with confidence from sellers that have high ratings and fabulous feedback, and feel free to communicate with sellers if you have questions about the garter belts or need to see additional photographs before purchasing.
Conclusion
Women have worn garter belts for decades, and they have stood the test of time. Garter belts these days are beautiful, stylish, and can even be a comfortable way to enjoy stockings without tight, constricting pantyhose hurting the waistline. The right garter belt can make a woman feel beautiful and feminine while keeping stockings where they should be and not slipping down or getting twisted. Garter belts can also be used for fun in the evening and to match a gorgeous lingerie set. Brides like to wear white lace bridal garter belts under their wedding gowns for a more formal, elegant feel on their special day.
Buying a garter belt can be a lot of fun on eBay, and there are many styles and brands to choose from. Purchase garter belts to match existing bras and knickers, or buy an entire garter belt set that comes with bra, knickers, and maybe even a matching pair of stockings. Whether the garter belt is meant to conceal a tummy, or simply to make the wearer feel beautiful, every woman should have a garter belt or two in her lingerie drawer to inspire confidence as well as be a convenient way to wear stockings without the fuss of pantyhose or thigh highs with no support. Purchase garter belts on eBay without having to deal with salespeople; looking for garter belts from home and buying from sellers can be very satisfying and enjoyable.
Sources:
eBay UK