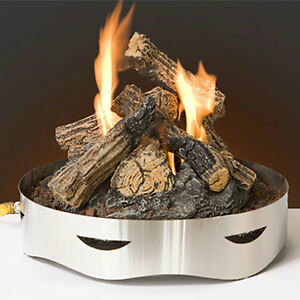 A gas fire is the focal point of a living room and no longer just considered as a way to heat the room, with ornate and modern design features, a gas fire is much more than a heating appliance. The range of designs that are available are vast and with the correct research on the types and design will ensure a product that will last for many years and enhance the ambience of a living environment.
About Gas Fires
Gas fires are a modern blessing and despite the furore over gas prices, gas is still the cheapest fuel to heat a home. The first domestic gas fire is known to have been around 1813, where a flame was lit over cast iron metal objects. In a domestic setting, the first gas fire was in 1882 and consisted of a Bunsen burner flame and an asbestos backed turf which produced the hot flame. During the 1930s, gas fires were designed with the radiant ceramic columns that are seen in today's gas fires. In the 1950s, the gas industry was struggling due to coal being highly expensive, but in the 1960s gas become a popular heat source and gas fires were installed in houses that were being built as part of the Social programme. These early gas fires from 40 years are still in use in some homes today. In the 1970s, gas manufacturers started to drive forward designs as house ownership increased. Today, there are advanced ranges of gas fires with modern and traditional versions available.
Choosing a Gas Fire
The range of gas fires available can make for an arduous task when deciding on style and type. The focal nature of a gas fire opens up an array of choice and personal taste features very highly when choosing a gas fire. Another factor to take into consideration is to measure the room the fire will be fitted in. This is important for the type of gas fire and to get the most efficient heating output for the size of the room.
The Different Types of Gas Fires
There are two types of gas fires. Inset and outset gas fires. Inset gas fires sit in the opening of a wall just behind the hearth. An outset gas fire sits outside the wall and on the hearth. There are three sub-types of gas fires available. The following table describes these.
| Type | Description |
| --- | --- |
| Power Flue | An open fronted gas fire fitted with an electric fan which pushes the flue gases out. This fire needs an electrical supply. |
| Balanced Flue | Glass fronted fires are available in inset or outset types. The flue gases are ventilated to an outside wall via an inner tube and the outer pipe draws in air for combustion. |
| Flueless Gas Fires | Flueless gas fires have no outside wall or chimney requirement. These fires are fitted with a catalytic converter which converts the carbon monoxide to carbon dioxide. |
There are two classes of flues and always check with an accredited gas fitter to ascertain the type of chimney and flue, ensuring the chimney and flue is suitable for the type of fire being considered.
Brick Chimney
(Class 1)

A brick chimney is easily recognised and is suitable for all types of gas fires.

Metal Flue
(Class 1 & 2)

A twin metal flue which is suitable for a large range of as fires. Usually fitted with a metal cowl on the roof.
Newer properties that have no chimneys could well be fitted with a pre-cast flue. This is a narrow flue that is manufactured into wall and travels vertically towards the roof. Check with an accredited gas fitter to ascertain the type of fire that is suitable for this class of flue. Gas fires come in a range of fuel types and displays.
Pebbles
Log Effect

Coal Effect
Some manufacturers may offer more ranges of fuel effects.
Contemporary or Traditional
A contemporary gas fire can be inset, outset or a basket type fire. These fires come with a range of trims and finishes, such as chrome, brushed steel and different colours that can be combined with existing decor. With a range of fuel types, designs with a modern twist, a contemporary fire will complement a room with a modern feel. A hole in the wall gas fire is a popular modern design that is widely available. This type of fire was once thought not to be cost efficient but advances in gas efficiency have dispelled this myth. Plasma fires are increasingly popular and offer attractive features that are pleasant on the eye and the surroundings. A glass fronted version will keep heat contained but that's not to say that an open fronted hole in the wall design will not give a generous heat output. This type of fire will add to a home that is centrally heated. A traditional gas fire is more commonly an outset gas fires that sit on a hearth or is wall mounted. This type of fire is more suited to a traditional home and offers a good source of heat output. More often than not, a traditional fire will be finished in brass and black with cast iron fascias which are removable to ease cleaning. This fire is a popular choice for young families as they are glass fronted, therefore giving some protection to protect against inquisitive fingers. It is, therefore, important to ensure a fire is protected by a suitable fire guard.
No Outside Wall or Chimney
New-build homes in the United Kingdom are built without a chimney and some have no outside wall. Previously, electric fires were the only option, but advances in gas fire technology have given flueless fires in a wide range of modern designs. This type of fire can be free standing or wall mounted. Fitted with a catalytic converter like a car which converts carbon monoxide to carbon dioxide, there is a minimum room size requirement for this type of fire.
Conclusion
A gas fire is a purchase that needs to be considered in detail. Remember, a gas fire will be something that that will be sat in front of for many years and will be a focal point of a room. A new gas fire purchase can be confusing and it is important that all aspects of purchasing a fire are factored into the decision. Not only that, there are health and safety requirements that have to be adhered to and it is important that advice is taken prior to making a commitment to buy. Do the research and ensure that the right fire supplies the needs and this is of paramount importance to ensure a smooth transaction and avoid unnecessary returns and refunds. With all of that taken into consideration, a gas fire will be a purchase that will bring enjoyment, enhance and warm a living room.