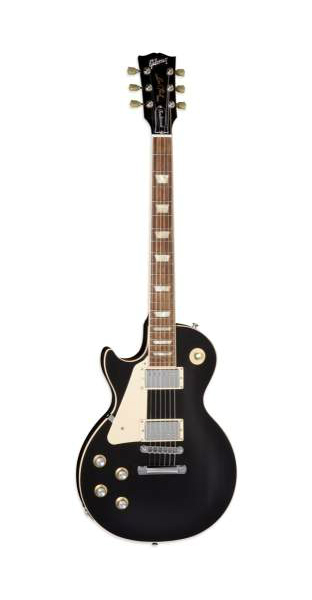 The
Gibson Les Paul
is an iconic electric
guitar
used by a wide range of rock stars in the past and present, including Slash from Guns N' Roses and Billie Joe Armstrong of Green Day. There are some variations on this rock classic, but the Gibson Les Paul is renowned across the world and available right here on eBay.
About the Gibson Les Paul Brand
Les Paul is the name of a series of electric guitars produced by the Gibson guitar corporation, based in Nashville, Tennessee in the USA. Despite this, most people use the company name when referring to the guitar rather than simply calling it a "Les Paul".
The guitars mostly share a similar body, with variations on the colour, material, and pattern used to give each one a unique appearance or sound. One can be assured that finding a likeable aesthetic is unlikely to be a problem. Further to the design and build, the biggest variations come in the form of the pickups, tuners, and bridge.
If buying a new model, buyers can expect to pay anywhere from a couple of hundred pounds up to several thousand; this will ultimately depend on whether a new model or a second-hand / used guitar is being purchased. Of course, there are benefits to both kinds of purchase, with the former option being cheaper and the latter ensuring an unused and high quality guitar.
Choosing a Gibson Les Paul on eBay
There are commonly a wide range of Gibson Les Paul guitar models available on the eBay marketplace in both new and used condition; massive sales success and popularity has led to the creation of so many different models of Gibson Les Paul. The below table details some of the more popular models sold on eBay and a description / comparison of their design and features.
| Model | Description |
| --- | --- |
| | The Standard model is one of the best-known Gibson Les Paul guitars. The Gibson Les Paul Standard's key features are as follows: Body: Made from solid mahogany with a choice of finishes Neck: Made from solid mahogany Pickups: Coil-tapped BurstBucker Pro Rhythm and BurstBucker Pro Lead pickups in both the neck and the bridge Tuners: Grover Locking kidney tuners with 18:1 tuning ratio Bridge: TonePros Tune-o-matic bridge and stopbar tailpiece |
| | The newest Gibson Les Paul Custom is based off the Custom model from the 1950's era, except with a number of modern adjustments. Body: Made from solid mahogany body with a hand-carved maple top Neck: Also made from solid mahogany with a 22-fret fingerboard Pickups: Gibson's 490R in the neck and 498T in the bridge Tuners: Metal tulip tuners Bridge: Gibson's Nashville Tune-o-matic bridge and stopbar tailpiece |
| | A little cheaper than the previous two models, the Gibson Les Paul Studio was released in 1983 and still enjoys a popular reputation today. Body: Made from solid mahogany with a solid carved maple top Neck: Also made from solid mahogany in a slim, '60s-style profile Pickups: Coil-tapped Gibson 490R and 498T humbucking pickups in the neck and bridge Tuners: Tonepros vintage style tuners with a 14:1 tuning ratio Bridge: Tune-o-matic bridge and stopbar tailpiece |
| | The Gibson Les Paul Traditional is an older model that has recently been revamped to celebrate the 2013 "Year of Les Paul". Some fresh innovation has been pumped into the original specifications of this popular guitar, which costs around the same price new as the Gibson Les Paul Standard model. Body: Similar to the Les Paul Standard, using sold mahogany Neck: Rounded '50s-style neck profile, built from mahogany Pickups: Gibson's '57 Classic pickups Tuners: TonePros vintage style tuners Bridge: Tune-o-matic bridge and stopbar tailpiece |
Making an Informed Decision when Buying on eBay
There are thousands of trustworthy sellers on the eBay marketplace as well as a number of security features in place to ensure that members follow the code of conduct in making transactions. One of the best features is the eBay ratings system.
Viewing eBay User Ratings
User ratings are awarded upon successful completion of a transaction by both parties involved. Buyers can leave sellers positive, neutral, or negative feedback with a comment, whereas sellers may only leave a positive feedback and comment. Choosing a seller that has made several successful sales in the past is a safe way of ensuring that a transaction is more likely to proceed without any problems; remember, though, that everybody has to start somewhere. In cases where a seller has a high amount of feedback, most trustworthy sellers have a positive score within the upper-ninetieth percentile range.
Asking about an Item
Images are the only means of viewing an item before a purchase; thus, if the pictures do not show a particular feature of the product or it is not listed in the description, then there is a form in which a question can be posed to the person listing the item. They can then choose to respond to this question and post it on the sale listing for future buyers to see if they so wish.
Delivery Charges for Guitars Bought on eBay
When buying from eBay sellers, buyers should consider that there are usually postage charges attached to the transaction. In some cases, the seller can and will opt to include these in the cost of the transaction or negate them altogether for small and low-weight items. For guitars, which are very heavy and sizeable, it is likely that the sellers will charge rather high costs for delivery of the guitar. Where possible, it would be beneficial to search for sellers within a commutable distance for local collection; otherwise, caution should be given towards the additional charges incurred for postage.
Other Considerations – Guitar Accessories
There are a number of guitar accessories on sale on eBay supplementary to the instruments. Particularly if buying a guitar for the first time, consideration should be given to other essentials that enhance or support the use of the guitar. These are generally optional and depend on personal preference. The following are a few key items that should be considered when making a guitar purchase:
| Accessories | Description |
| --- | --- |
| Plectrum | Plectrums are small, thin shaped pieces of plastic, which are used by many guitarists to pluck the guitar strings. This accessory is useful to prevent the fingers from becoming sore as a result of constant playing. In many cases, plectrums are used to play electric guitars, with acoustic guitars producing a better sound when played with the fingers. |
| Guitar Strap | A simple guitar strap is useful for when playing standing up, as the hands are too busy playing to support the guitar's weight. |
| Guitar Tuner | A guitar tuner is useful for keeping the guitar in-tune. Advanced players can often tune their guitars without the need for an electronic tuner, but this accessory is useful for beginners. |
| Spare Guitar Strings | A spare set of strings can be useful in case of damage or breakage to any of the original strings although this is rare, and the originals can last for years of playing. |
Finding Gibson Les Paul Guitars on eBay
Most guitars, if properly listed by the seller, will be found under the Guitars category on eBay, which is a subcategory of Musical Instruments. When landing on the eBay homepage, the simplest method of finding the guitars section is to position the cursor over the Sports & Leisure category on the left side of the page until the sidebar appears, and then click on Musical Instruments. From here, the Guitars subsection can easily be seen on the screen, with further links available to filter results by Accessories, Acoustic, Bass and Electric. By clicking on More Categories, further categories will appear too.

An alternative means to finding Gibson Les Paul guitars is to search by specific model name. This can easily be achieved by beginning to type the name into the eBay search bar. Popular pre-determined categories, which sellers can target specifically with their items, will be displayed based upon the text string entered into the bar.
Conclusion
The Gibson Les Paul guitar range enjoys a popular and long-standing reputation as being high-quality in terms of build and sound. Due to its extensive history, there are many different models now on offer, which suit a range of musicians from beginner to advanced level. On eBay, sellers frequently list second-hand Gibson guitars, which can further reduce the price tag on acquiring a good quality guitar. If purchasing a guitar as a first-time buyer interested in learning the skill, one should take into account what accessories might be needed to supplement the guitar.