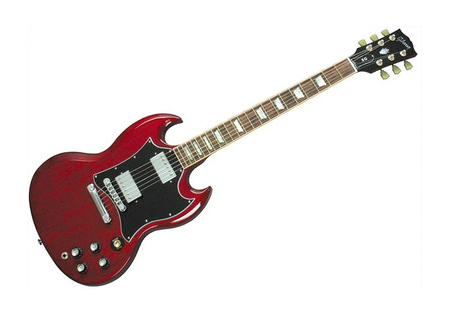 The Gibson SG is the parent name for a range of guitars produced by the company Gibson. It is one of many guitar product ranges owned and manufactured by Gibson, one of the leading and most well-known guitar companies in the industry. Though purchasing directly from the manufacturer can be costly, it is useful to know that many of these models can be found in excellent or even new condition, at a heavily reduced price, on the eBay marketplace.
About the Gibson SG Brand
There are over 50 different models under the Gibson SG guitar range, each sporting a variety of features, design, and customisation options, and a wide-ranging price tag. These models can vary anywhere from a couple of hundred pounds up to several thousand, if purchased new directly from the manufacturer and retailer, Gibson. Due to second-hand sales, there are generally a great number of guitars available with different designs and finishes on eBay from a variety of sellers. Owing to the long-standing reputation and popularity of the company, there are also hundreds of reviews available online to guide buyers when making a purchase.
Choosing a Gibson SG on eBay
The huge range of Gibson SG guitars can make it difficult to decide upon a model to purchase, though the price tags associated with some of the models will go some way to shaping this decision. Below are a number of the popular models produced by Gibson that are commonly listed on eBay under the SG range, and their key features:
Model

Description

Gibson SG Standard

The SG Standard affords a wide array of customisation options. Designs include Heritage Cherry, Classic White and Ebony.
Body: The body is crafted from solid mahogany wood, with a beveled edge to enhance user comfort. There are two "horns" at the upper edge
Neck: The neck is also crafted from solid mahogany, which affords good strength to the instrument
Pickups: Uses the 498T and 490R pickups that were common in the 1950's model
Tuners: Genuine TonePros™ vintage-style tuners
Bridge: The Tune-o-matic bridge provides a firm base for the guitar's strings and allows easy modification of string settings

Gibson SG Original>

Introduced in 1961, this SG Original model has been used by a number of rock and blues legends.
Body: Finished with a high-gloss effect, the body is crafted from solid mahogany
Neck: Made from solid mahogany with a streamlined '60s profile
Pickups: '57 Classic humbucking pickups feature on both the neck and bridge
Tuners: TonePros™ vintage-style tuners accompanied by a 16:1 gear ratio
Bridge: A common feature in Gibson guitars, the Tune-o-matic bridge features a Lyre vibrato tailpiece

Gibson SG Special

The SG Special is marketed as a favourite of rock-lovers and sports an edgy look with a range of striking finishes and features unique to this model
Body: Uses Gibson's traditional rounded-neck '50s profile built from solid mahogany and with Ebony or Heritage Cherry finishes
Neck: Solid mahogany with an SG Rounded, unique build
Pickups: Gibson 490R and 490T uncovered pickups
Tuners: The 14:1 ratio Vintage tuners have perloid buttons for a unique look
Bridge: Nashville Tune-o-matic bridge with chrome plating

Gibson SG J

A good option for those on a smaller budget, the Gibson SG J is a newer model off the production line with an affordable price tag
Body: Built from a solid mahogany wood, this guitar offers four worn-effect finishes
Neck: This particular model has a maple crafted neck, sporting a '50s profile, and a rosewood fingerboard
Pickups: This model uses 490R and 490T humbucking pickups in the neck and bridge respectively
Tuners: Vintage-style tuners have a 16:1 gear ratio
Bridge: Also uses the Tune-o-matic bridge with a stopbar tailpiece
Ensuring a Safe and Efficient Transaction on eBay
The eBay marketplace has a wide range of safety features in place to ensure that buyers and sellers coordinate themselves in a professional manner and complete all transactions smoothly. The following are a number of recommendations towards making an informed and safe purchase.
Seller Feedback
After completing a transaction, both the buyer and seller involved can leave feedback for each other as a means of informing other sellers of whether the user is reliable. Whereas sellers may only leave positive feedback for buyers, a buyer can choose whether to leave positive, neutral or negative feedback, along with a comment. Before making a purchase, it is advisable to view a seller's previous feedback in order to determine how trustworthy they are. Reliable sellers generally have a percentage feedback score in the high nineties; however, it is not uncommon for sellers with a very large feedback history to have a few negative comments.
Large Scale Sellers
When viewing an instrument, if the seller has a great deal of feedback, then it is possible they either run a business through eBay or have an eBay shop. Like other online retailers, these are special areas of eBay that allow a seller to list many items in one place. If a seller looks trustworthy and has good prices, then it is worth investigating whether they have other items on sale.
Asking Questions
It is possible to ask questions regarding a specific item listing by contacting the seller through a form; this can be accessed by clicking the relevant link from the item listing and submitting a query. The seller can then answer this question, with the response being returned as a direct message. They may also choose to post the question on the item listing as an FAQ.
Accessories to Purchase with a Guitar
Purchasing a guitar, much like purchasing a car or bicycle, is something that must be fully thought-out; there are a number of accessories that can and should be used to ensure that the instrument is kept in good condition. Others are simply useful, or essential, in order to fully enjoy the experience and for practicality. Below are some of the more common accessories purchased with a guitar.
| Accessories | Description |
| --- | --- |
| Guitar Strap | This is simply a strap that fastens to the guitar in order to allow the player to wear it over their shoulder. It is an essential accessory when playing standing up, and even sitting down whilst playing is more difficult if having to support the weight of a strapless guitar. The eBay marketplace has a wide range of straps of varying materials available. They can be purchased in a range of fabrics, including leather. |
| Plectrum | A plectrum is a small piece of plastic that is used to pluck the strings of a guitar and is usually held between the thumb and forefinger. The benefit of using a plectrum is that it reduces the stress on a player's fingers, which can easily become dry, cracked, and sore following excessive playing. Acoustic guitar players often opt not to use a plectrum, as the strings generally require softer or slower strumming and thus impact less on the fingers. Some also prefer the sound produced through the use of the fingers rather than a plectrum. These accessories are extremely inexpensive and come with thousands of design options. |
| Electronic Guitar Tuner | After playing for some time, it is not uncommon for guitars to gradually fall out of tune. This can be remedied by simply turning the tuning forks until the strings produce their original sound. This task can be achieved quickly and accurately using an electronic guitar tuner, which indicates whether the correct sound is being produced by each string. This task can be done without a tuner, though it is more difficult for beginners to gauge sing just the ears. |
| Guitar Carrying Case | When investing such a large sum of money in a guitar, it is wise to maintain the quality of the instrument through proper care, storage and transportation. This can easily be achieved by purchasing a carry case for the guitar, which will protect it against scratches and spillages. Many cases have optional padding to protect the instrument from breakage. |
Finding Gibson SG Guitars on eBay
When navigating to the eBay homepage, there are a number of categories immediately visible on the left side of the page. These provide the simplest way to narrow down search results and find a specific item. The Gibson SG guitars are electric guitars and can be found under the subcategory of Musical Instruments. From the Sports & Leisure category on the homepage, navigate through to Musical Instruments, and then to Guitars, choosing the Electric category specifically. A much faster method is also to begin typing the name of a Gibson SG guitar into the eBay search box, which will produce relevant search terms to choose from.
Conclusion
The Gibson SG guitar range enjoys a long history and great popularity, as well as being used by a number of famous musicians. As such, the range has over 50 guitars to choose from and imitations of famous musicians' instruments can also be purchased. The eBay marketplace is an excellent place to find a wide range of models to choose from
The guitars have a vast range of different designs and looks, features and finishes, so it is important to research these before making a purchase. Consideration should also be given to the accessories that might be needed to supplement the purchase and increase the practicality and enjoyment of playing the instrument, as well as protecting it from damage.
Due to many people commonly upgrading their guitar or selling an impulse-purchased instrument, a wide range of guitars in excellent condition can be found at heavily discounted prices on the eBay marketplace, in comparison to the price tag charged for a new instrument.