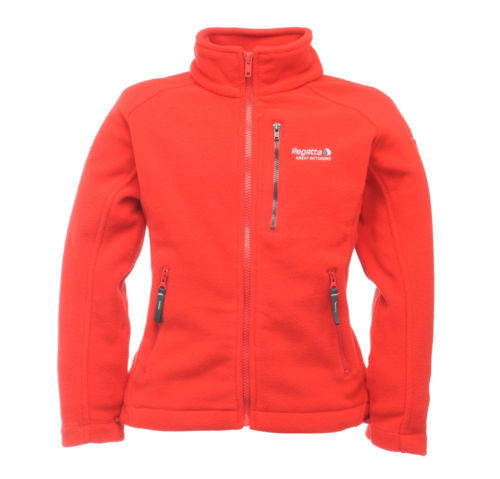 When the seasons begin to turn colder, and the days grow darker, the time for girls to start bundling up before heading outside draws nearer as well . While girls' jackets come in all shapes and styles, perhaps nothing is more comfortable than a soft, and warm fleece jacket. Made from synthetic fibres, fleece jackets work to keep the cold air out and warm body heat in. Like all jackets, fleece coats come in several styles from athletic to formal, that are appropriate for different occasions. Choosing the right girl fleece jacket depends on comparing several factors such as weight, fit, and style and then selecting the right coat based on the buyer's need. During the winter months, fleece jackets are often sold in department stores and it is often difficult to find a jacket for sale during the summer months. Online websites like eBay have a year round selection of fleece jackets for girls that are usually cheaper than most retailers.
Defining Fleece
Fleece jackets were first created in 1979 by the Malden Mills Company, now called Polartec. Prior to fleece jackets, wool jackets were presumably the best option for keeping warm during winter. However, woollen coats have some drawbacks, including their weight and potential absorbency. Wool is a thick, heavy fabric, and a full woollen coat can be quite the fashion statement. Designer Aaron Feuerstein wanted to create a warm jacket that was soft like wool, but lacked all its extra weight. He chose to create a synthetic polyester fibre known as PET, which shared some of the best qualities of wool while still being a lightweight fabric. The result was the first Polar Fleece jacket, now simply referred to as a fleece jacket.
Difference Between Fleece and Wool
Fleece jackets and wool jackets are remarkably different from one another, and buyers should try not to get confused by the terminology. In the broader scope of things, fleece does refer to the woollen coat of a sheep, but in the fashion industry fleece refers to the very specific Polar fleece fabric. Wool is a highly expensive fabric that is hydrophilic, non-flammable, and resistant to static electricity. Wool is also a completely natural fabric, because it comes from sheep hair.
Fleece jackets, on the other hand, are mostly made from synthetic fibres. Fleece is hydrophobic, meaning it resists water. It is also extremely flammable, unless treated with a flame retardant chemical, and this material also tends to generate a lot of static electricity. Fleece is lightweight where wool is heavy, making a fleece coat easier to move in than a woollen one. However, the lightweight nature of fleece makes the jacket far from wind and weather proof. Wind tends to cut straight through a fleece jacket while woollen jackets stop wind in its tracks.
Fleece Jacket Styles
Fleece jackets for girls come in many different styles. For younger girls there is always the adorable A-line fleece coat that keeps her warm while looking fabulous. Older girls that are more athletic will probably want an athletic fleece jacket, designed for outdoor performance. Fleece jackets can be divided up into two main categories: dress and athletic. Fleece weight, which is a measurement of the jacket's heaviness, is important to both these categories.
Fleece Weights
Lightweight fleece has its limitations, especially when worn in very windy weather. To get around this problem, designers introduced fleece jackets in different weights. Heavier weights sacrifice movability by producing fleece in a tighter weave. In exchange for losing its lightweight quality, heavy fleece jackets work wonders towards keeping out the wind. Weatherproof fleeces tend to lack great breathability due to the windproof membrane sandwiched between two fleece layers. Choosing the right fleece weight can be somewhat confusing, especially since different designers use separate labels for their fleece jackets. The chart below lists the different fleece weights, their purpose, and their names.
Fleece Weight

Description

Name

Highly breathable, lightweight fleece fabric that is perfect for outdoor exercising when generating high body heat. In extreme cold weather, it is worn under another jacket.

* PolarTec Thermal Pro Lightweight

* Patagonia R1

Midweight Fleece

Heavier than lightweight, but still breathable enough for running in cold weather. Can be worn by itself in moderate cold conditions.

* PolarTec Thermal Pro

* Patagonia R2

* TKA 200

Heavyweight Fleece

Worn for extreme cold to keep the body warm. This jacket is not suitable for strenuous outdoor activities since the fabric is not breathable.

* PolarTech Thermal Pro High

* Patagonia R3

Protects from the wind by using a thin membrane between two layers of fleece. Can be either lightweight, midweight, or heavyweight.

* PolarTec Wind Pro

* WindStopper

* WindWall

* Patagonia R4
Use the above chart to select the right fleece weight. Remember that the weight of the fleece influences how comfortable the jacket will be in different outdoor situations.
Athletic Fleece Jackets for Girls
Athletic fleece jackets are primarily designed for the outdoors, as well as girls who enjoy playing sports or exercising outside, could always use a warm fleece jacket. Most athletic fleeces are incredibly lightweight, but there are some mid-weight athletic fleece jackets that provide a bit more warmth. These lightweight coats are highly breathable, which is a tremendous benefit for outdoor jogging or running. Windproof jackets that use membrane fleece technology may not be the best choice for girls who exercise outdoors in the cold. These windproof jackets are a terrific option for long periods of standing outside in harsher climate. These jackets come in a variety of colours and are made by name brand designers like The North Face and Marmot. Athletic fleeces can make great everyday jackets, and even the top name brand choices can be surprisingly affordable when they are sold on eBay.
Dress Fleece Jackets for Girls
Dress fleeces come in all shapes and are worn on special occasions. A young girl might look precious in a Victorian fleece dress coat, while older girls may prefer a double breasted fleece dress coat . Dress fleeces are made from many different designers and, unfortunately, there is no uniform way to measure their fleece weight the same way that one would with an athletic fleece. Warmer fleece dress coats are usually lined with another material, such as silk or satin, on the inside of the coat to keep out the wind.
Sizing a Fleece Jacket for Girls
Size is crucial for purchasing the right jacket. Ideally, the coat should be somewhat snug around the body so that it reflects one's body heat. Jackets that are a size too large will not keep anyone warm, while jackets that are too small are simply uncomfortable and thus ineffective. Girls' sizes are labelled according to years, but this does not always mean that an eight year old girl will fit into an eight year jacket. The best way, of course, is to try the jacket on in the store and see if its fits. However, for online shopping, trying on a piece of clothing is impossible. That is why smart shoppers prepare themselves by grabbing a measuring tape and consulting the size chart.
Measuring Girls For a Fleece Jacket
For short girl jackets, like athletic fleeces and hoodies, measure around the chest and waist. Include hip measurements when buying slightly longer jackets like dress coats. Figuring out what size is needed, while remembering to add a few extra inches to the measurements to account is the next step for purchasing clothing worn under the jacket. If a girl's measurements fall between two sizes, choose the next size up. Also, remember that while pure fleece will not shrink, fleece blended with other materials such as rayon will. If the item is made from a blended material, choose a bigger size than normal to account for shrinkage.
| | | | |
| --- | --- | --- | --- |
| Size | Chest (cm) | Waist (cm) | Hips (cm) |
| | 56 | 53.5 | 60 |
| 5 years | 58 | 54.5 | 62 |
| 6 years | 61 | 56 | 64 |
| 7 years | 63 | 58 | 66 |
| 8 years | 66 | 59 | 70 |
| 9 years | 69 | 61 | 74 |
| 10 years | 72 | 62 | 77 |
| 11 years | 74 | 63 | 80 |
| 12 years | 78 | 64.5 | 83 |
| 13 years | 80 | 66 | 85 |
| 14 years | 83 | 67 | 88 |
Keep in mind that some manufacturers list dual sizes, such as 4-5 years. Whether the jacket is sold in single or dual sizes, use the above sizing chart as a reference point.
Buying Girls' Fleece Jackets on eBay
Buyers usually end up looking for fleece jackets on eBay for several reasons. One reason might be that the buyer has browsed the selection in their local stores, but found the prices to be too high and the selection too limited. Another reason might be that the buyer might be going on a trip to a colder area in the middle of summer and cannot find a jacket for sale in any of the local stores. No matter the reason, buyers can rest assured knowing that eBay always has a vast collection of fleece jackets available from sellers all across the globe. Available in a wide variety of styles and many different price points, there is something for everyone on eBay. Buyers who are on a tight budget will appreciate the fabulous deals they can find on eBay.
Tips on Buying Used Fleece Jackets on eBay
One of the best ways to save money on eBay is to buy a gently used item. Keep in mind that "gently used" is the key term here, so never purchase an item that looks to be in poor condition. For this exact reason, all sellers need to post a picture of the actual item for sale with their auction listing. Never purchase a used jacket based off of a stock photo instead of an actual photo. If the seller does not have a photo, ask for one. It is not worth your time trying to purchase an item if you cannot see an accurate picture of the product. Also, take the fabric of the jacket into account. Pure fleece jackets do not shrink, so their sizes remain the same whether they are new or used. If you are trying to purchase a dress fleece that is blended with a different fabric, consider purchasing the next size up to ensure the best fit.
Conclusion
When it comes to buying a jacket that can withstand even the harshest Arctic breezes, few clothing pieces can match the comfort of a fleece jacket. Whether a girl needs a pretty dress coat for a Christmas party, or a hardy outdoor jacket for a camping trip, fleece is the material of choice. Made to look like wool, but sold for a fraction of the cost, fleece is a highly versatile material. Lightweight fleece coats weigh the least, but they also have trouble protecting one's body from the wind and elements. Heavy fleece coats can be slightly bulky, but they do a tremendous job keeping their wearers dry and warm. Always consider buying jackets the next size up, to accommodate for the clothing worn under the jacket and to ensure that it fits properly. eBay carries the largest selection of fleece coats for girls in all different styles and sizes so that anyone can find their perfect jacket.